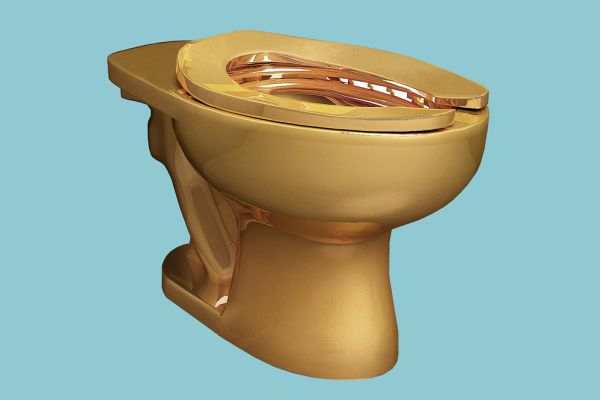 No funny business at the world's first solid-gold public toilet
It's been a long wait but the world's most outrageously opulent outhouse is open.
Italian artist Maurizio Cattelan's solid gold, Kohler-designed toilet is now a permanent installation at the Guggenheim Museum in New York City, not as a piece of art but as a working lavatory in a public bathroom.
The world has held on for many months while Cattelan was engaged with the finishing touches at a Milan foundry but from today the gleaming throne will open for business – anyone's business.
[dm-listing-recommendation experimentname='midcontent-listings' positiononpage='midcontent']
Not only is the public able to use the toilet, Cattelan says, the artwork is only "complete" when they do.
The toilet is titled America and the meaning is open to interpretation, but it's clearly making a statement which The New York Times describes as a "preposterously scatological apotheosis of wealth". Cattelan, though, doesn't want to get bogged down in the discussion.
"It's not my job to tell people what a work means," he has said previously. "But I think people might see meaning in this piece."
And though the world is likely to go potty with puns, this dunny isn't meant to be funny.
"There's the risk that people will think of it as a joke, maybe, but I don't see it as a joke," Cattelan said earlier this year.
Guggenheim officials expect long lines to use the fifth-floor bathroom and are ready to station a guard near the door to keep queues orderly – and also to prevent theft.
The 18-carat gold was chosen for its solidity but also means the toilet could be scratched.
Cattelan was in the full flush of his career in 2011 when he retired from the art world. However, a couple of years later the creative urge returned and he asked the museum if it would host the toilet.
The toilet-as-art concept seems random but there is a theme. In 2010, Cattelan co-founded a magazine titled Toilet Paper. Other historical art precedents include Marcel Duchamp's "Fountain" urinal and Piero Manzoni's "Merda d'Artista" – metal cans which may or may not have contained … well, we can guess the rest.
Marcel Duchamp's Fountain. Photo: Alfred Stieglitz
Reporters often get the chance to test-drive cars and sample products for review. But this was the first time The New York Times' Randy Kennedy was invited to try out a toilet.
"I've interacted with some art in my years of writing about it, but I had never urinated (if you must know) on someone's art, and it gave me pause," Kennedy writes.
"As a formal matter, I'll say that the sculpture really looks its best when in use, sparkling so much it's almost too bright to look at, especially during the flush, which may be a new postmodern sublime."
No one is yet privy to the cleaning protocol but while this isn't your average bathroom accessory or water feature, the methods may be simpler than we think.
Gold Prospecting WA's recommendations for cleaning gold include detergent and a toothbrush, white vinegar and salt or even Easy-Off Bam.
But Cattelan doesn't want special treatment for his work. He's just happy it's not on a pedestal or in a gallery.
"It's in a little room, just waiting for you whenever you need it," he says.
With The New York Times
[dm-listing-recommendation experimentname='below-content-listings' positiononpage='belowContent']
Keep up with Commercial Real Estate news.
Keep up with Commercial Real Estate news.