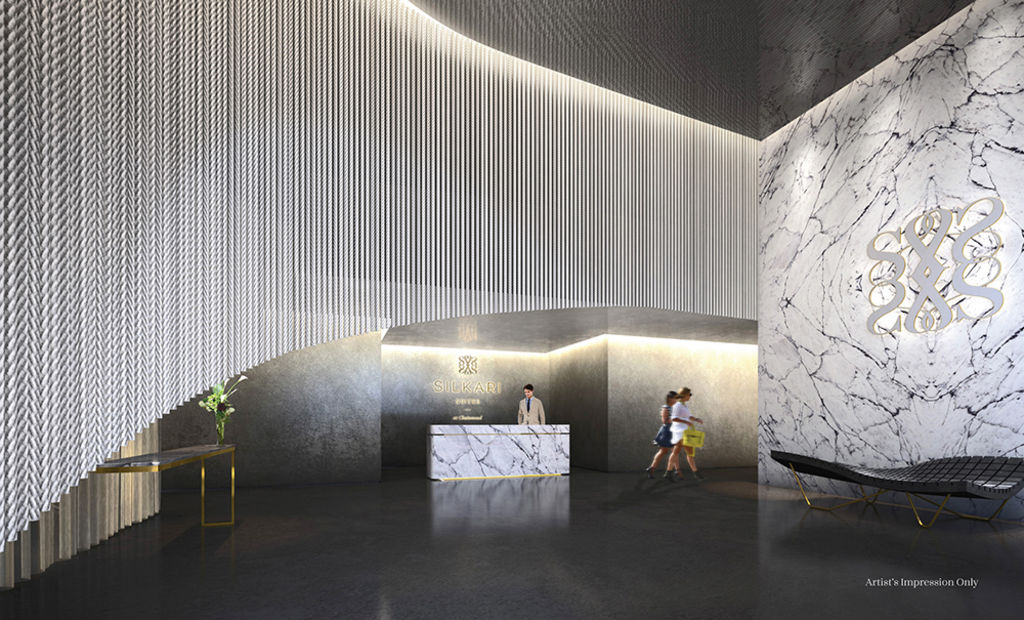 New player combines hotels and apartments in Silkari smooth style
Is it a hotel? Is it an apartment? Or is it a bit of both?
But whether someone's sleeping a single night in a space – or staying a lifetime – the design and build considerations are exactly the same, says Australia's newest hotel and apartment developer.
Australia's newest hotel and apartment developer, Silkari, has announced for new developments. Photo: Supplied
"It may appear to be challenging to have a brand that develops hotels at the same time as developing apartments," says Michael Guo, CEO of developer Visionary Investment Group (VIG) which is just launching Silkari to the market, with its set of new apartment buildings and hotels.
"Some may even consider it controversial. But both residential and hospitality properties are made for people to live in, for a short time, or for a long time.
"It's essentially the same kind of luxury experience you want for both. It's about the spaces and the quality of those spaces and the kind of experiences they offer. And I think everyone has a passion for, and aspirations for, the good things in life."
Australia-based Guo, who came here 11 years ago from the US where he'd studied economics, has announced four new developments, all championing a high level of bespoke luxury.
Michael Guo, CEO of developer Visionary Investment Group (VIG) which is launching Silkari to the market in Australia. Photo: Supplied
His first flagship development is set to be Silkari on Castlereagh, in the Sydney city centre, a mixed apartment and hotel offering above the sandstone arches of the 1875 heritage Porter House. Designed by Angelo Candalepas, of Candalepas Designs, it's a 36-level building with the lower levels, a hotel and the upper level home to about 150 apartments.
The next, purely residential, offering will be S Pagewood by Silkari with 219 apartments and 37 three-storey townhouses in the eastern suburbs. Then there'll be the all-suite apartment hotel Silkari Suites at Chatswood, with studios, one-bedroom, two-bedroom and penthouse suites at the suburb's new The Concourse precinct, by the concert hall and theatre, arts centre and the biggest events space on the North Shore.
Finally, there's a resort and spa on the NSW south coast.
VIG development director Richard Foley says the hotel and residential brand – called "silk" as a meeting of East and West, a nod to the historical trade between the two, with the ending of the word coming from luxury brands like Armani and Bulgari – aims to target a higher demographic.
"I used to be at Mirvac and they tried it with their apartments and hotel accommodation," he says. "But the quality of our offering is going to be amazing. It's for those who are wealthy but time-poor. I love building brands and I think this one has a big future.
"We've been very selective about our sites and locations, and it's about raising the expectations of our customers. Hotels now are often leading edge in terms of the design of their interiors since small rooms have to be more efficient. So designers often start with hotel rooms and then modify them to apartments."
Australia's newest hotel and apartment developer, Silkari, has announced for new developments. Photo: Supplied
Angelo Candalepas, who won a design competition for the site, says Silkari on Castlereagh certainly embodies the same design principles for both the hotel rooms, and the apartments.
"The design is about enabling the best possible urban outcome for the city," he says. "We started with first principles of elegance and timelessness in a very fashionable era.
"Both have the same sense of quality, whether the stay is ephemeral or long-lasting, and the level of comfort is very similar for each. One doesn't think a hotel should be any less comfortable than a home or vice versa.
"In that context, I think the Silkari brand has at its heart an interesting proposition that people may live in the same way they do normally as when they're having a higher level of enjoyment, on holiday."
Australia's newest hotel and apartment developer, Silkari, has announced for new developments. Photo: Supplied
A new developer creating both hotels and residential apartments may be a touch unusual now, but the brand and its mix has been welcomed by Urban Taskforce CEO Chris Johnson.
"I think it's always good to get new players into the system involved in property development, from a variety of places and directions," Mr Johnson says. "It's good too to have people doing different mixes.
"There's a growing interest too in the bespoke luxury approach to both hotels and apartments. Once, apartments were considered the lower end of the market, but they've now captured the very top end, often just as much as the big houses."
Australia's newest hotel and apartment developer, Silkari, has announced for new developments. Photo: Supplied
Jarrod Mander, Tourism Australia's general manager of investment, believes Australia needs new investment in the hotel industry. Only Perth and Brisbane are adequately supplied.
"Sydney and Melbourne could always absorb new supply, particularly Sydney," Mander says. "It's been under-supplied for quite a while, particularly since the Olympics. Tankstream and Greenland's Primus are the only new hotels.
"Sydney has seen a number of hotels being converted to residential while I guess, conversely, that boom in the residential market has enabled some hotels to come out of the ground in terms of mixed-use developments.
"But we do need more investment in hotels to attract more people to our destinations, and we need brands of product that will offer the kind of standard that high-yield visitors demand."
Guo, who's launching the brand Silkari with a grand black-and-white-themed cocktail party at Sydney's Town Hall next Wednesday, says that's certainly his aim. "We want to try really hard to be extraordinary. People have really high hopes and aspirations for the city of Sydney and we'd like to embed the brand in different forms as more business opportunities arise.
"We have a lot of capital attracted to Sydney. We all want to live the Australian dream, and we aim to help make that happen."