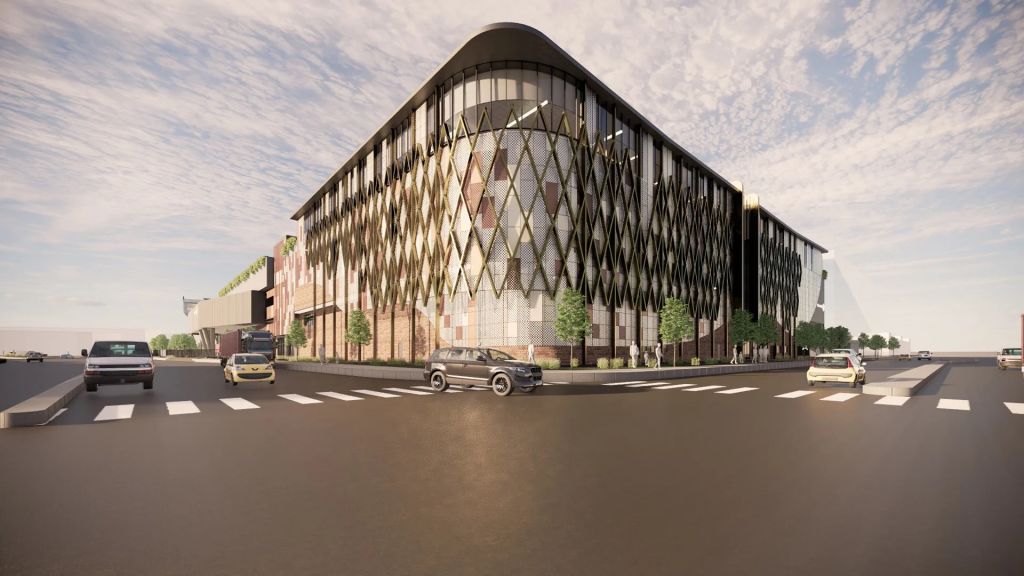 Multistorey warehouses are fast becoming the norm in Australia – but are they the best solution?
Multistorey homes, offices and even schools have been in vogue in Australia for some time, and now they're beginning to catch on in the industrial space.
Warehouses set over a number of levels, with truck ramps and docks located on different floors, have existed in land-constrained Singapore, Hong Kong, Japan and South Korea for many decades.
It's only in the last five or so years, however, that they have taken off in Australia.
A new report has found that nearly 40 multistorey warehouses – worth more than $600 million – are currently in planning or under construction in Sydney alone.
"It's being driven by both land affordability and consumer behaviour," said Dominic Sorbara, director of property at TMX Sydney, a local hub of international supply chain consultancy TMX Global. 
"Consumers have taken to e-commerce en masse and they're wanting delivery of consumer goods and groceries ordered online as quickly as possible.
"Meanwhile, the rising costs of industrial land are finally making the increased costs of multistorey warehousing make financial sense. Traditional users need flexibility to store what they need to facilitate large volumes close to urban centres."
More than half the volume of multilevel warehouses now underway in Sydney are being assessed or approved as state-significant developments as they represent such large sums of capital investment, with the threshold for consideration recently raised from $30 million to $50 million.
Over the next 12 to 36 months, many of these in the planning pipeline will come into action, including Goodman's massive brownfield development Axis Alexandria in Southern Sydney, and Charter Hall's Ascent on Bourke nearby.
Goodman has around 50 multistorey facilities globally and Ben McGlip, general manager developments, said the company was leveraging its experience elsewhere to increase Australia's share, often with office space co-located with the industrial side. 
"Goodman will build multistorey developments in locations where customers want them," he said.
"They are generally going to be in infill locations where land supply is challenged. We [are] ultimately building multiple layers of industrials, so effectively building land where people want to be."
Sydney is leading the way in Australia with these mammoth developments, mostly because the lower industrial land costs around other capital cities generally lend themselves to more traditional, one-level warehousing.
In Melbourne, TMX executive director property Justin Fried said other cities were being much slower to come on board. 
"We've seen the level of activity with multilevel warehousing going through the roof in Sydney, particularly in the last 12 to 24 months," he said.
"Melbourne hadn't seen that level of acceleration at this point in time. But we know that landlords and developers are now thinking about it.
"There are locations in Melbourne, for instance, which would be suitable, like Port Melbourne, the city fringe and the inner east like Mount Waverley, where there's great access to freeways and last-mile logistics and land supply.
"But so far, there's nothing that's been approved that's coming up for construction in the medium term. It will come in the future, but we are lagging two to three years behind Sydney. 
"All our markets have experienced significant increases in land values so there is the incentive to make better use of the land available."
The massive rise in warehousing needs that took place during the pandemic, when so many converted to online ordering, is likely to lead to continued pressure on industrial land close to all of the major urban centres.
In Sydney, there are currently 10 major projects in planning, under assessment or under construction in Southern Sydney, including Goodman's two two-storey warehouses of 16,070 square metres on Euston Road, Stockland's four multistorey warehouses over 42,800 square metres in Padstow, Logos's five-storey, 31,254-square-metre warehouse in Mascot, and Goodman's 47,000-square-metre multistorey warehouse in St Peters. Others are in Matraville and Banksmeadow.
Another major area is Western Sydney, with projects like five multistorey warehouses over 110,000 square metres in Huntington by Logos, a two-storey warehouse of 77,100 square metres by ESR Australia in Milperra, and Dexus's 58,574-square-metre two-storey warehouse in Prospect. 
North Sydney also has four multistorey warehouses in planning from Goodman, in Artarmon, Macquarie Park and Frenchs Forest.
"Multistorey warehouses are fast becoming the norm due to a combination of land affordability, constrained land supply and the pressure for last-mile logistics to service e-commerce businesses," said Nathan Cairney, TMX Global director of project services.
"But this doesn't necessarily mean multistorey warehouses are the best option for every business. 
"Occupiers should carefully weigh up all the options, including single-storey alternatives. They may be located more on the outskirts, but often offer the best solution in terms of rent, transport costs and delivery times."
Get a weekly roundup of the latest news from Commercial Real Estate, delivered straight to your inbox!