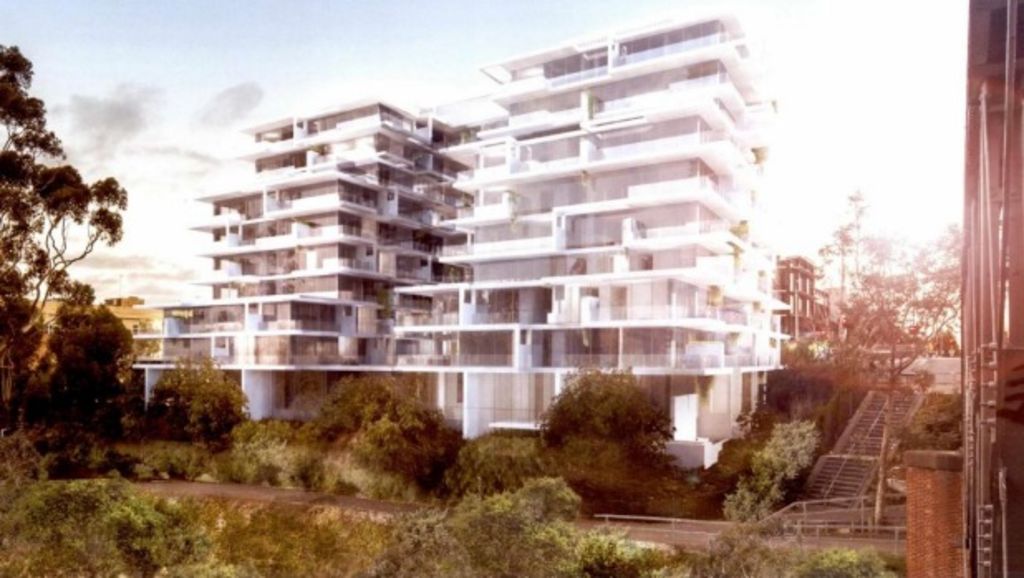 Million-dollar apartment views will cloud Yarra River corridor, say objectors
It will provide million-dollar views over the Yarra at one of its narrowest points, but opponents say the latest apartment plan along the river's banks is another small step towards ruining the corridor.
Developer Salta wants to build a 12-storey tower on a site in Victoria Street, Abbotsford, opposite Ikea and next to a popular walking and cycling bridge over the Yarra.
But objectors, including residents and the not-for-profit Yarra Riverkeeper, say the $55 million apartment plan needs to be far lower and further away from the river's banks than the planned 30 metres.
Yarra Riverkeeper Andrew Kelly, pictured in front of the Abbotsford site, says the proposed apartment tower is too high, and too close to the river's banks. Photo: Justin McManus
Salta's plan, which closes for comment at Yarra Council this week, comes as Planning Minister Richard Wynne on Tuesday announces new measures to stop "inappropriate development" on the river.
The Andrews government in opposition promised to introduce a Yarra River Protection Act to better protect the corridor and develop standardised planning controls along the river's length.
Salta's project will see 109 apartments built in an area where hundreds of new apartments have been built over the last decade next to the river.
There are at least five other apartment buildings higher than 10 levels in the streets surrounding the plan and next to the Yarra.
Salta, one of the city's larger residential apartment developers, has had an approval to build an office tower on the site for six years, but that permit expires in mid-2016.
The developer argues its new apartment plan will improve the river by gradually setting back the building from the banks, and restoring them at the same time.
Salta Properties' managing director Sam Tarascio​ said the design, by architects Bates Smart, would significantly rehabilitate the river banks, while landscaping would also enhance the connection from the river to Victoria Street.
And he said the generously sized apartments, even the one-bedroom units are more than 50 square metres in size, were aimed at owner occupiers who wanted larger, higher-quality apartments close to the city.
The Yarra Riverkeeper is a not-for-profit association set up to be the "voice of the river" and monitor its health.
Riverkeeper Andrew Kelly said the Salta project was so close to the water it was "very damaging to the whole experience of being in the river corridor".
He said Salta should reduce the height of the apartments significantly and step it much further back from the water.
Asked whether there was a justification for building so close to river because the site was next to amenities including tram lines, shopping and the river, Mr Kelly said there was "nothing wrong with building next to amenities – unless you are destroying those amenities by building there".