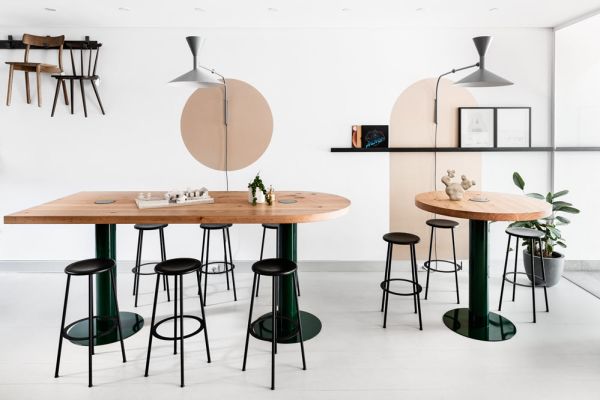 Millennials create demand for offices that are more like cafes
Millennials who demand that workplaces be almost extensions of their social lives are driving massive changes to the design of offices, the amenities they routinely offer and their atmosphere.
Especially popular are spaces that copy cafes or hotel lobbies, fully equipped kitchens where proper meals can be cooked from scratch, lots of social areas and club-like facilities to enable workers to go straight out after work.
A group of design experts say companies are now facing enormous demands to provide the right mix of all the elements in order to attract good young staff and manage to retain their services to slash the dizzyingly high rate of 'millennial churn'.
"Increasingly, most employees want to know what's in it for them," said Ronnen Goren, from Studio Ongarato. "So one company's offices are always being measured against another potential employer's offices.
[dm-listing-recommendation experimentname='midcontent-listings' positiononpage='midcontent']
The kitchen area in the offices of Techne Architecture + Interior Design. Photo: Tom Blachford
"Wages will always be one determinant of where millennials work, but the satisfaction and happiness quotient is also important and the design of the workplace contributes substantially to that. If they see a company is flexible and understands and adapts to their needs with innovation and dynamism, then that will always help."
As a result, workplaces are now including the kind of elements millennials love in their social lives.
Technē Architecture + Interior Design are now in huge demand, having made their mark designing in the hospitality industry, with projects such as Melbourne's iconic restaurant Movida Original on Hosier Lane, the four-level pub the Garden State Hotel
on Flinders Lane, and the recently refurbished Esplanade Hotel in St Kilda.
Technē designer Gabriella Gulacsi believes that there's a huge cross over between the design of hospitality venues and work spaces. Just as many people now like to work on their laptops in cafes and restaurants, so should some open spaces in the office mimic that experience.
"We're now putting a lot of those hospitality elements into the workplace," she said.
"In hospitality, we allow the patron to go on a journey and experience spaces and create a social fabric.
"We're now seeing people in the workplace wanting many of the same experiences, social connectivities and aesthetics. It's all about giving people opportunities for face-to-face social interactions and the confidence and spaces to be themselves, and elements that attract and excite people. That's what they're really focused on today."
A meeting room in the Techne Architecture and Interior Design offices. Photo: Tom Blachford
Dave Martin from the Sociable Weaver agrees. "It's now about bringing the workplace into a more liveable social environment rather than sitting almost in a little box for the day and going home afterwards," he said. "Millennials are definitely a big driver of that much more sociable environment, which often comes from their appetite for the sharing economy too.
"They're into sharing, networks and sharing information and services, and thrive in that kind of atmosphere."
The three designers, along with Dana Hutchins, also from Technē, are debating the trends, functions and purposes of workplaces at a panel on Designing Future Workplaces to be held at MPavilion in Melbourne's Queen Victoria Gardens on Wednesday, January 23.
One unexpected trend in the workplace among millennials has been for cooking meals in the kitchens. Goren said that was a reason why there was so much demand for office space close to fresh food markets and, working in Melbourne, he has seen premises near the South Melbourne Market, Queen Victoria Market and Prahran Market grow markedly in popularity.
"Having access to fresh food markets is now important to a lot of staff so they can create meals in a convivial workplace and make it feel even more sociable," he said.
"That's another factor that's now becoming more important.
"It also allows them to feel a sense of neighbourhood and community if they're close to a vibrant food and beverage scene."
The main office area of the firm's building. Photo: Tom Blachford
Martin has seen the same movement. "People want more open space and communal areas so they can break bread together – literally – and share meals and the creation of meals as that's a great way of interacting," he said.
"The conversations that happen from people preparing food together, or delivering food, is an important part of the modern workplace. In homes, kitchens are often the heartland, and now that's happening to the workplace too.
"We also like to bring nature into workplaces with elements like edible gardens to help that process, as well as good light, sunlight and good ventilation. It all helps create a good general vibe, as well as promoting better health and, in turn, productivity."
Fully-equipped kitchens are now often being provided in addition to the more regular facilities like end-of-trip bathrooms, yoga spaces, proximity to gyms, fitness classes and recreation, and amenities for bike riders. But the difference now is on emphasis.
Workers want a pretty seamless transition between all the different realms of their lives, and for them all to merge more.
"People are now using work as a springboard for their social lives, so they can go out into a social activity from work, with the office providing almost club-like facilities like good showers and places to change," says Goren. "It's much more about work-life balance."
And millennials are perhaps the first generation to elevate that in importance.
"People would always like to see more dollars in their pay cheque, but the value of working in a like-minded work space with a lot of those facilities is now just as important," Martin says. "It will be interesting to see where this will lead into the future."
[dm-listing-recommendation experimentname='below-content-listings' positiononpage='belowContent']
Keep up with Commercial Real Estate news.
Keep up with Commercial Real Estate news.