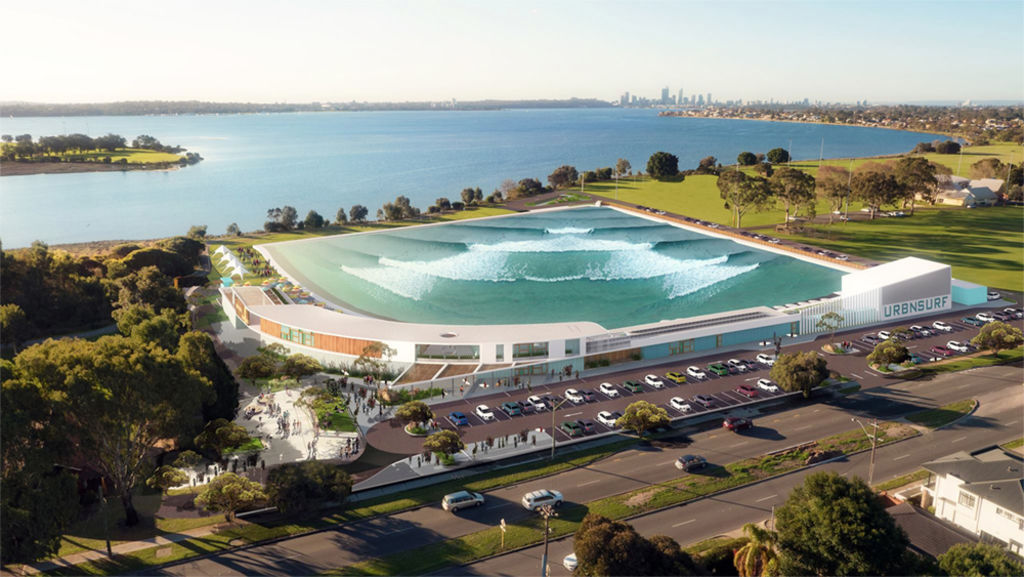 Massive $25 million surf park set to make a splash in Melville
Melville could be home to WA's first surf park with a $25 million wave lagoon proposed for the Swan River foreshore.
Perth-based company Wave Park Group has written to the City of Melville proposing to build a 2.4-hectare pool in Alfred Cove, on the site of the Melville Bowling Club in Tompkins Park.
The "wave garden" could produce surf as high as 1.7 metres and waves 110 metres long that could last up to 17 seconds.
Wave Park Group executive chairman Andrew Ross said there are hundreds of footy and cricket ovals in Perth, but not one facility for "wave-starved surfers".
"Perth is blessed with a number of idyllic beaches but the surf quality at some of those beaches is often poor, with over-crowding in the line-up also becoming an increasing issue," he said.
"Surfing is enjoyed by millions of Australians for excitement, lifestyle and recognised health benefits and is second only to AFL in terms of participation, so it seems fitting that Tompkins Park, a hugely popular sporting hub, could now include a surfs sports facility."
Melville Bowling Club president Gary McCormack said not all members were on board when it came to their home getting bowled over to make way for a surf park.
But he said Melville council had promised him it would build a swanky new club right next to the existing one.
The new facility will have synthetic greens, with roofs over the top and a bar and barbeques with views of the Swan River.
"We've had some discontented members saying we want to hang onto our club because it's a beautiful spot on the world," he told Radio 6PR on Friday morning.
"Having said that the council have promised to move us about four or five hundred yards to the side and build us a state-of-the-art bowling club.
"My personal opinion I would move tomorrow, it's only a couple hundred yards away.
"That's not the opinion of everybody and I'll probably cop a few knives in the back."
Mr McCormack was happy to spruik the surf park.
He even joked members could get free membership of the new wave park.
"Looking at the water park what a wonderful thing for Perth," he said.
"We could pack the flippers and the bowling bag".
Melville Mayor Russell Aubrey said it was early days but the city was looking at a prime location for the facility.
"As the city continues to plan for the future and the long term needs of all our residents, we are working to provide benefits to our community as a whole in terms of wellbeing, amenity and economics, and this proposal will need to present those outcomes," he said.
"In terms of process, the proposal will need to come before council accompanied by a detailed business case.
"Should council then endorse formal advertising of the proposal the community will be called upon to provide their feedback on the proposal and I would encourage them to do so."