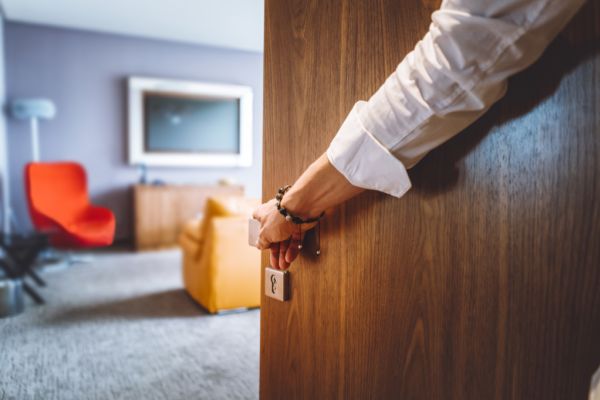 Mandatory quarantine for returning travellers won't be enough to save hotels from coronavirus downturn
A handful of CBD hotels in Sydney and Melbourne have seen a boost to their occupancy rates following last week's announcement of mandatory hotel quarantine periods for incoming international travellers, but the plan won't be enough to save a sector that faces a long recovery following the economic shock of coronavirus.
Hotels in Sydney, including the Swiss Hotel, and Melbourne, including Crown Promenade, are currently housing new international arrivals under the scheme with guests unable to leave their rooms and properties being monitored by police.
It's not known precisely how many hotels throughout the country will eventually be used to house international arrivals but, regardless of the numbers, it will not be enough to offset the dramatic decline in guest bookings that has rocked the hotel sector in recent weeks, according to chief executive of Tourism Accommodation Australia Michael Johnson.
"This initiative will assist a number of hotels for a short period of time, however, will not be the solution to what is a decimated industry," Mr Johnson said.
[dm-listing-recommendation experimentname='midcontent-listings' positiononpage='midcontent']
Eight out of 10 hotel rooms in Sydney and Melbourne are now empty, according to figures from hotel analysts STR, which were distributed before the government's new quarantine regime took effect.
STR also reported that cancellations outweighed bookings for every single day in each city across the three months to June.
Mr Johnson said  there had been several hotel closures across the country in the weeks following the government and businesses clamping down on unnecessary travel as well as the subsequent closure of state borders.
"When you turn off your total international market, your leisure market and your corporate market that's what happens," he said. 
For those hotels that are open, the going has been tough, with vacancy rates razor thin.
"I know hotels that are still open that are open on sub 2 per cent occupancy and they are still open and they are just losing money hand over fist," Mr Johnson said. 
Accommodation Association of Australia chief executive Dean Long recently told the Australian Financial Review that 70,000 direct hotel employees, such as cleaners or hotel receptionists, would be laid off in the next three months.
Two-year recovery 
But Mr Johnson was optimistic the industry would eventually recover, citing recent signs of hotels re-opening in China.
"We can see the light at the end of the tunnel looking at China re-opening their hotels."
"We are a resilient industry and we do bounce back," he said. 
Even during the current downturn some areas of the country were experiencing continuing demand, underscoring the importance of the government continuing to classify the industry as an "essential service".
"Those properties in close proximity to mining activities and similar, they are still doing quite well. Again, I think it is important that hotels can operate as essential services."  
But, he did not underplay the significant impact the closures would have on the industry in the coming months and years.
"In my 40 years in the industry I've never seen it like this," he said. 
It would likely be a "two-year recovery", with the biggest short-term opportunities dependent on tapping into the domestic tourism market.
"Once we turn the corner, our biggest opportunity will be our domestic market because I don't believe we'll be opening international right away so it will be the domestic market that will be the [basis for] recovery. 
"We're all becoming home bodies now, but rest assured we'll all want to get out and travel when this is over." 
Hotels innovating with 'isolation packages'
Before the government announcement, hotels were scrambling to offer tailored "isolation packages" for travellers returning from overseas or interstate, or even those looking for a quiet place to set up their work-from-home office, as the industry grappled with a dramatic decline in guest numbers in recent weeks because key domestic and international markets have been closed off.
"I think if there's been any innovation it has been to house those people who have needed to self-isolate and we have seen a number of self-isolation packages come to market," he said, adding that these packages alone were unlikely to "generate enough business to keep a hotel afloat". 
Sydney's luxury hotel Q Station on 33 hectares of national park on the harbour – formerly the North Head Quarantine Station – is one property offering such a package.
"We are perfectly set up for this," sales and marketing director Natalie Galipienzo told Commercial Real Estate. "Our customers might be people returning from overseas or having to self-isolate for other reasons, and we have three-bedroom cottages, too, for families.
The hotel is offering a 14-day self-isolating package from $100 a night. Grocery packs are available, as well as an all-day meal service for $70 a day.
"We have everything – the space, the isolation and the fresh air."
Serviced-accommodation provider Urban Rest has also responded to a slowdown in its traditional corporate traveller customer base by offering self-isolation packages.
Aimed at corporate travellers returning from overseas as well as local families seeking a more comfortable self-isolation experience, the package's nightly rates equate to less than half the company's standard rates, starting about $120 a night.
"Whilst we hope to see business travel, which is our normal target market, rebound over the coming months, the focus for us at Urban Rest, for the immediate future anyway, is to assist the community during this pandemic. We all need to play our part," Urban Rest CEO David Whelan said.
'Medi-hotels' the next step
Mr Johnson said that the next step for many hotels, including those currently closed, would be offering their properties to be used as makeshift hospitals if the rate of infection from coronavirus progresses and public hospitals are overwhelmed.
"There are also hotels currently aligning themselves or certainly registering their interest to support the government in the need for hospital beds.  It will depend on which way the virus goes– if we can flatten the curve there may not be a huge need, but, if it rises dramatically, there may be a substantial need for hotels to support hospitals," Mr Johnson said. 
This could result in several hotel floors being converted to hospital floors with with nurses in place, according to Mr Johnson. 
A less extreme measure could see properties transformed into "medi hotels" where patients in the final stages of recovery could recuperate. 
Major hotel brands like Quest Apartment Hotels, one of the largest owners of serviced accommodation in Australia, have already been holding discussions with federal and state governments about options for its properties in the weeks to come.
Standing down, not letting go 
Measures announced this week to provide for more flexible work conditions under the Hospitality Award would help operators to adapt their workforce to handle the crisis, with other measures like allowing for earlier access to long-service leave also helping.
"Hotels managers and management companies are doing their best to look after their workers right now," Mr Johnson said. 
The TAA is encouraging members who are faced with the prospect of empty properties and no future bookings to see if they can access the different grants made available under the government's two stimulus packages.
They are also encouraging hotel operators to stand down their workers rather than retrench them in order to ensure that they have a workforce in place for when travel restrictions are lifted.
"Stand down is something we've looked at so that they are still attached to the properties rather than having to go through retrenchment so then the employee has an employer but the employee is able to access the government payments," Mr Johnson said. 
with Sue Williams 
[dm-listing-recommendation experimentname='below-content-listings' positiononpage='belowContent']
Keep up with Commercial Real Estate news.
Keep up with Commercial Real Estate news.