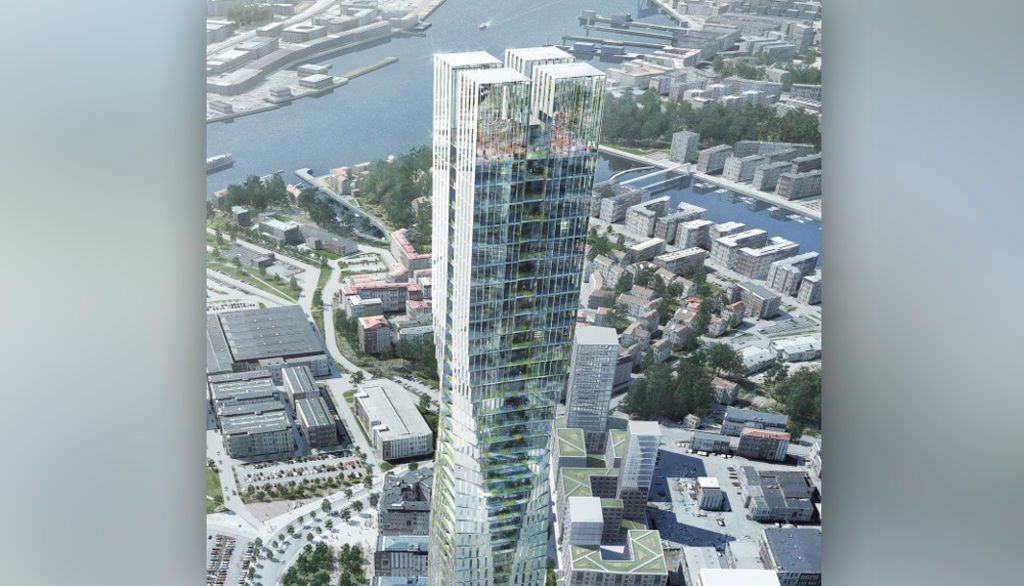 Lloyd Williams selling Hudson Conway headquarters
Lloyd Williams is finalising the sale of his long-time Hudson Conway headquarters in Southbank, after being refused permission to build a contentious 41-level Elenberg Fraser tower described by one City of Melbourne councillor as "a shocker".
The 248-250 Sturt Street site, covering 834 square metres, was instead offered with a permit for a 16-level, 91-unit residential complex, approved earlier this year.
The opportunity is speculated to be selling for more than $10 million – substantially less than it would have achieved, sources say, had the 304-unit tower been allowed.
That proposed building, with a unique twist designed into its lower half, was only the second of 17 large proposals to be discarded by Planning Minister Richard Wynne when it was reviewed by his urban design team mid last year.
Criticised for among other things, having bedrooms that relied on little light, planners argued the structure, which was built to the site boundary in parts, would burden neighbours, forced to provide greater setbacks for any of their future proposals.
The property is next door to the headquarters of the Melbourne Theatre Company, a department of the University of Melbourne.
Upon learning of the rejection last year, Mr Williams told The Age via text it was "bad luck", pointing out that similarly high density proposals had been approved in the suburb.
The shorter proposal does not overshadow Sturt Street Reserve parkland as the initial design did. CBRE's Mark Wizel, Bianca Butterworth and Lewis Tong represented the Williams family.
Pace buys off-market in Mount Waverley, twice
Pace Development Group has purchased its second middle-ring suburban site in as many months, this time in Mount Waverley.
The St Kilda-based builder is understood to be paying more than $7 million for two neighbouring High Street Road properties, covering an approximate 2550 square metres.
The parcel is expected to make way for a medium density residential project containing about 100 apartments.
The off-market deal was negotiated by Beller Commercial's Fred Nucara and Andrew Fawell who said Pace purchased the first site, at 554-558, before the owners of a second property, at 552, approached them to ask Pace if they wanted to buy it, too. The sale price equates to more than $3000 per square metres of land.
Pace recently paid more than $13 million for a 3661 square metre Doncaster East block permitted for a five-level structure containing at least 69 flats.
Commercial deal in Canterbury
A commercial property in leafy Canterbury is selling for a speculated $6 million. The 2837 square metre site at 319-329 Canterbury Road was marketed for its redevelopment potential – the zoning allowing for a structure four levels high.
The collection of showrooms, warehouses and a residence is a short walk to the Maling Road shops, between the Canterbury and Chatham train stations.
The site's value was affected by a road widening reserve which would extend about 20 metres deep into the site, covering some 800 square metres. The block does however have a wide 40 metre frontage to the busy thoroughfare. CVA's Ian Angelico was the marketing agent.
Piccolo buys AVI's Fitzroy HQ
Family developer Piccolo is paying Australian Volunteers International $7.8 million for its 1049 square metre Fitzroy land holding – almost $2 million more than expected when the property hit the market six weeks ago.
At 71-75 Argyle Street, on the north east corner of Fitzroy Street, and with a historic two-level brick building, the site was marketed for its high density redevelopment potential, recent new structures rising more than 11 levels. Savills Nick Peden, Clinton Baxter and James Lockwood were the marketing agents.
In neighbouring Carlton Piccolo has developed a 17-level apartment building on the former Electrical Trades Union building it bought for $5 million four years ago. In 2013 it paid the RSL $6.3 million for an outgoing club in Ormond Road, Elwood, which is nearly redeveloped.
Greenvale farm sells for $8.5m
A six hectare Greenvale farm – or as selling agency Jason Real Estate called it, an "outstanding development opportunity" situated "within an Urban Growth Zone" sold this week for $8.5 million.
Abutting the independent Aitken College, the 25-65 Hillview Road property was marketed to residential and retirement village developers as well as service providers, including within the aged care sector. The site, 15 kilometres north of town, was marketed by Jason Sassine and Sam Sassine.
Stereosonic founder buys another Fitzroy property
Three years after selling the Stereosonic dance festival he co-founded in 2008 to New York event company SFX for $75 million, entrepreneur Frank Cotela has invested part of his portion into another commercial property.
Mr Cotela was one of seven serious bidders contesting at this week's auction of a heritage double storey shop at 79 Gertrude Street, Fitzroy – a leased investment currently generating $65,000 in annual rent.
The sale price of $1.88 million, or $580,000 over reserve, reflected a yield of 3.4 per cent, a low rate usually achieved for similar retail assets in more established suburban strips like nearby Brunswick Street.
CBRE selling gents Rorey James, Josh Twelftree and Nick Hage said their result equates to a record land rate of $16,000 per square metre, up 60 per cent in two years.
The acquisition is the latest in Gertrude Street by Mr Cotela, also an active property developer.
Gatwick sale imminent: sources
It is almost certainly the end of an era – with speculation the sale of St Kilda's historic Gatwick Hotel could be announced before next weekend's Capital Gain, or shortly after.
The subject of a recent documentary The Saints of St Kilda, the rooming house has played an important role for decades welcoming some of Melbourne's most desperate people often as long-term residents.
The vendors, sisters, Rose and Yvette Kelly, now around retirement age, started working at the Fitzroy Street property at 14. Their late mother, Vittoria Carbone, instituted the establishment after running other suburban rooming houses.
Lemon Baxter listed The Gatwick late last year with price expectations of about $10 million. Marketed with a 12-month leaseback, the campaign targeted hotel and residential developers.
However a sale to a third target, an investor who may consider continuing a lease beyond 2017 – would, according to the Kelly sisters, prevent occupants within the 66 room hotel relocating to St Kilda's streets.
Richard Hutton and Jonathan Walls are the marketing agents.