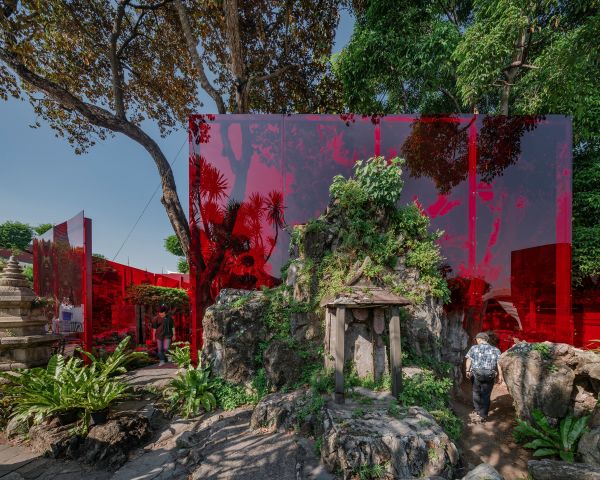 Landscape architects say they sometimes have to be subversive so that we can interact with nature
A room full of professional subversives? In plain sight, in daylight, in central Melbourne and in such non-statement clothing (well, a bit of black on black), and in such sensible shoes?
You'd better believe they are revolutionaries because in the third annual Landscape Australia Conference, held in Melbourne on May 11, that called together hundreds of practitioners and students to learn from leading international and Australian landscape architects, the constant subtext was how often they have to fight to save trees and push plans – either overtly or covertly – so that humans in urban landscapes have a chance to be interact with nature.
Place Lab made a bike parking station at Perth's Curtain University into a "bump" zone where people could randomly meet. Photo: Dion Robeson
These are the designers whose work frames built projects with living beauty – mainly at the pedestrian level but increasingly on vertical surfaces – but who too often hear the phrase, "alas, due to budget…." to rationalise starvation spends on their part of the job.
[dm-listing-recommendation experimentname='midcontent-listings' positiononpage='midcontent']
They hear it so often they find ways of achieving gorgeous green ends despite the obstacles.
Helen Smith-Yeo, keynote speaker and head of Singapore's STX Landscape Architects, admitted to being subversive "quite a bit because you have to do something you believe in, and somebody needs to defend trees".
In showing a range of stunning projects across Asia, Smith-Yeo showed where she had stashed cleansing water basins. At the French School of Singapore, Lycée Français de Singapour, during an 18-month build, she battled to save four stately rain trees "threatened from all sides". They survived and now provide vital shade in an equatorial place.
"It was such a simple idea to save some trees but it took so much pain to do it", she told.
Smith-Yeo talked of what landscape architects do to counteract the starkness of engineering and architectural efficiencies by emphasising the beauty of trees, water, light, patterning, texture and colour as vital inclusions in the creation of new places.
Oasia Hotel in Singapore has a screen planted with 20 different species by STX Landscape Architects. Photo: John Gollings
In New Zealand, where his company Landlab is reorganising huge stretches of the Auckland waterfront in time for the 2021 America's Cup challenge, Henry Crothers agreed that "being subversive is really important.
"It's important that we don't always do what we are told, but that we do what is right."
In post-earthquake Christchurch his company has put a cascade of terracing stonework down to the Avon River "to allow people to actually touch the water".
In greening up and massively reorganising Auckland's waterfront so that it encourages people and not cars to make the best use of it – "and it's now the most popular waterfront walk" – Landlab has also concentrated on re-establishing natural marine ecologies by bringing indigenous plants in from islands to recolonise the city edge.
Not a green project, "and one of the smallest we've done", yet one that exemplifies how landscape architects are so vital as the people's advocates in the built environment, Crother's company was asked to repurpose as a pedestrian and cycle path, an unused ribbon of Auckland's inner-city road system, "in a city collared with horrific motorway stretches".
Landlab's popular Light Path gave a new purpose to a redundant Auckland city motorway off ramp. Photo: Landlab
The designer says "we were initially asked to do a High-Line (similar to the New York's elevated linear park). "But we wanted it to be fun and make it a public space". So Landlab painted it pink, set up a long and changing sequence of lightposts, and can report that "Light Path is so embraced by the local community that 100,000 people a month are using it".
So many of the presenters told of fighting to retain or restage nature that the conference did become an inspiring call to arms for our practitioners to continue championing public green spaces where people actually want to be together, or to be quietly reflective.
Two projects detailed what wonderful laboratories universities can be, with the once-bleak Monash University campus– "buildings girthed with uninterrupted concrete", according to Jocelyn Chiew, now so verdantly remodelled and so effectively "given back to the users, that a lot of the learning has been extended outside".
Although any potential building space on campus is always precious, "we do not make tree removal easy", she said.
Monash University has transformed a once open, windy campus. Photo: Andrew Lloyd
At WA's Curtain University, Place Laboratory's Anna Chauvel detailed how making a new bike parking station into a green hillock between various faculty buildings effectively created a "bump" zone which "is all about encouraging people to interact. Because when people interact it might get things happening".
Of course, some aspects of landscape architecture are about staging nature in a collaboration that makes an art of the professional craft. Bangkok's Sanitas Studio founder Sanitas Pradittasnee, put a red Perspex screen around an historic symbolic mountain within the Grand Palace to encourage visitors to experience what she is always seeking in her work: "To bring the sense of nature that used to be in (built) spaces back again".
[dm-listing-recommendation experimentname='below-content-listings' positiononpage='belowContent']
Keep up with Commercial Real Estate news.
Keep up with Commercial Real Estate news.