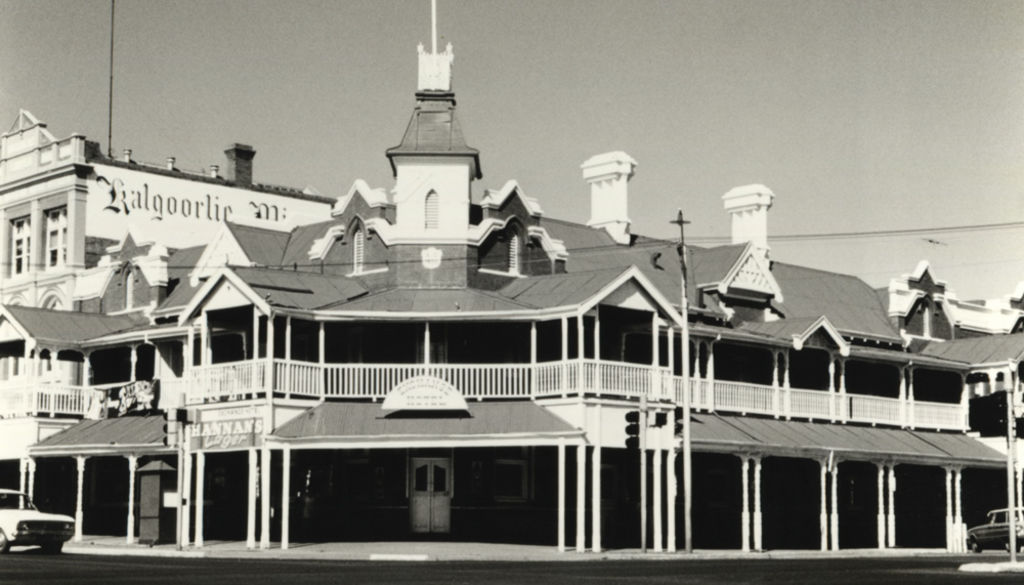 Landmark Kalgoorlie pub recognised with heritage listing
Kalgoorlie is raising a glass to one of the city's grandest and most photographed hotels after it was recognised with state heritage listing.
The WA Goldfields city's iconic Exchange Hotel on Hannan Street is a living reminder of the exuberance of the gold rush.
Designed by architects Hawkins and Sprigg and built in Federation Filigree style, it retains many original features, from stained glass windows to timber doors with architraves and a corner belvedere tower.
Kalgoorlie's Exchange Hotel circa 1950. Source: FA Sharr
Heritage Minister Albert Jacob said the prominent landmark hotel characterised the exuberance and prosperity of the hotel industry during the gold boom.
"The grandeur of the Exchange Hotel evokes memories of the economic prosperity that characterised Kalgoorlie during the gold rush," Mr Jacob said.
"This was a time when the gold boom was having a profound impact on Western Australia. The subsequent growth and development changed the face and fortunes of our State."
Proud as punch
Exchange Hotel co-owner Dave Allan proudly described the recognition as an exciting moment in history.
"It's a huge thing for the town," Mr Allan said.
"The Exchange Hotel has been a core to the Kalgoorlie community for 120 years.
"State heritage recognition now means the building has to be protected for the next 120 years."
Mr Allan said the listing would allow important access to state funding, which would in turn enable critical preservation work to the landmark building.
Elegant structure
An article printed in the Kalgoorlie Miner on April 13, 1901, said the new hotel – which replaced a hotel of the same name built on the site in 1894 – did credit to the town.
"In place of the wood and iron hotel structure of the old days, there has been reared up a fine, elegant brick hotel of two stories," the article reads. It goes on to describe the building as being of early English and Gothic influence, and calls the overall effect "very pleasing indeed".
The original Exchange Hotel, in 1898, photographed on a trades gala day. Source: Trove/Western Mail
Hotels were crucial to the economic and social life of the Goldfields as meeting places for mine workers, providing comfortable surroundings in contrast to their everyday experience.
Kalgoorlie, now a thriving city located in the Goldfields-Esperance region of Western Australia, was founded in 1893 during the Coolgardie goldrush. Originally called Hannan's Find, the name Kalgoorlie is derived from the Wangai word Karlkurla, meaning place of the silky pears.
In 1901, Kalgoorlie had a population of fewer than 5000. There are now more than 30,000 people in the city.