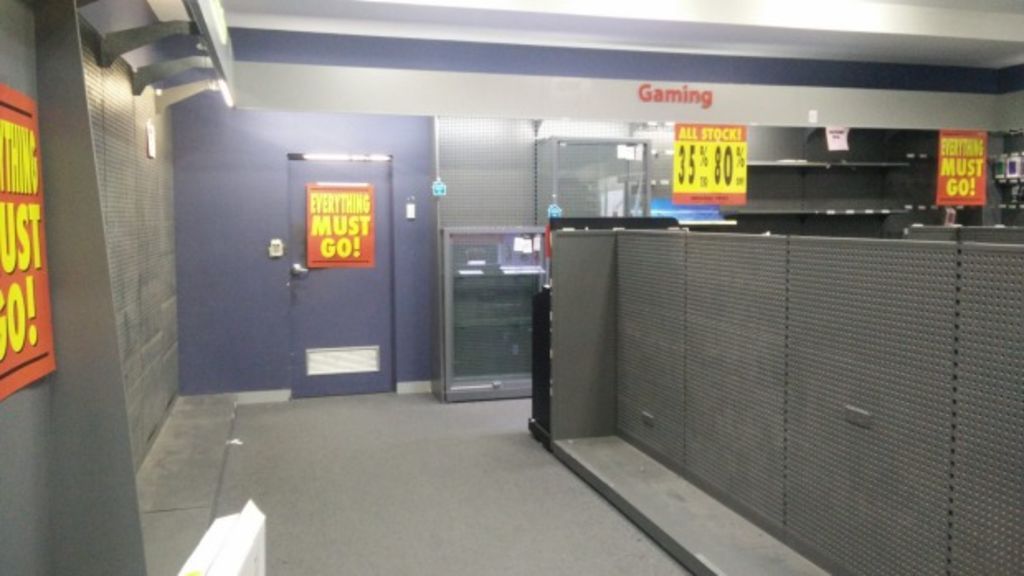 'It's depressing': Dick Smith employees and customers document the chain's demise
Dick Smith stores are being described as desolate, eerie places as the electronics chain limps towards its death this month.
A reddit page has become an impromptu digital shrine to the remaining 363 bricks and mortar stores across Australia and New Zealand, with their empty shelves and desperate signage.
On Wednesday, imgur user thebossadam posted a photo of the gaming section of a Dick Smith store, completely stripped of merchandise.
"Everything must go!" reads three signs pinned to the store's door and walls.
"I think everything has already gone," thebossadam posted.
"THE SHELF GET THE SHELF" posted one commenter. "TAKE THE SIGNS!" posted another.
The collapse of the chain after its sensational, $520 million stock market listing in 2013 along with the receivers' decision not to honour gift cards after taking control very early in the new year has led to a Senate inquiry into the collapse of listed retailers.
"My old store closed down last year. Looked worse than this because customers were monsters," posted one imgur user.
thebossadam shared his photo on reddit an hour later, attracting a stream of comments from users who said they were current or former Dick Smith employees and devoted customers.
"I went in today. It was depressing. The shelves were empty. The assistant looked soul destroyed. The things weren't that much cheaper," one user wrote.
"As an ex Dick Smith Employee, this saddens me," wrote another.
"My local Dick Smith was selling the security scanner gates from the front of the shop last time I was in there. That really drove it home for me," posted user Terminthem.
"There's at least four Dick Smiths near me that are all completely barren. Near one of them is an ABC Shop that literally had two shelves of stuff in it the very last time I ever walked in there. It was pretty surreal," posted another referring to one of the national broadcaster's chain stores that are also closing down.
The bittersweet exchanges continued on the reddit thread throughout Wednesday.
"The Dick Smith near my house was literally selling the shelves the other day," wrote one reddit user.
"Bought one," posted another.
"Tell them they're dreaming."
Despite outlining its schedule of store closures, Ferrier Hodgson said employees would be given their notice of termination only when the "exact date of their store closure is known".
If staff leave before they receive their redundancy notice they forfeit their right to a redundancy payment, making it difficult for many workers to make concrete plans and find new jobs.
Some employees dealt with the blow with black humour, judging by one imgur post.
A user posted a photo from the Glen Waverley store of the Steve Jobs biopic Jobs with a handwritten sign attached that read:" Looking for jobs? We are too !!!"
Some Dick Smith staff had expressed their anger by posting signs in store saying they didn't know when the business was closing and others asking customers for leads on new jobs.
Facebook group Help a Dick Smith Co-Worker is populated with posts by Dick Smith employees seeking jobs, or recruiters, brands and the general public posting job ads and grapevine tips about possible employment opportunities. The open group has 827 members.