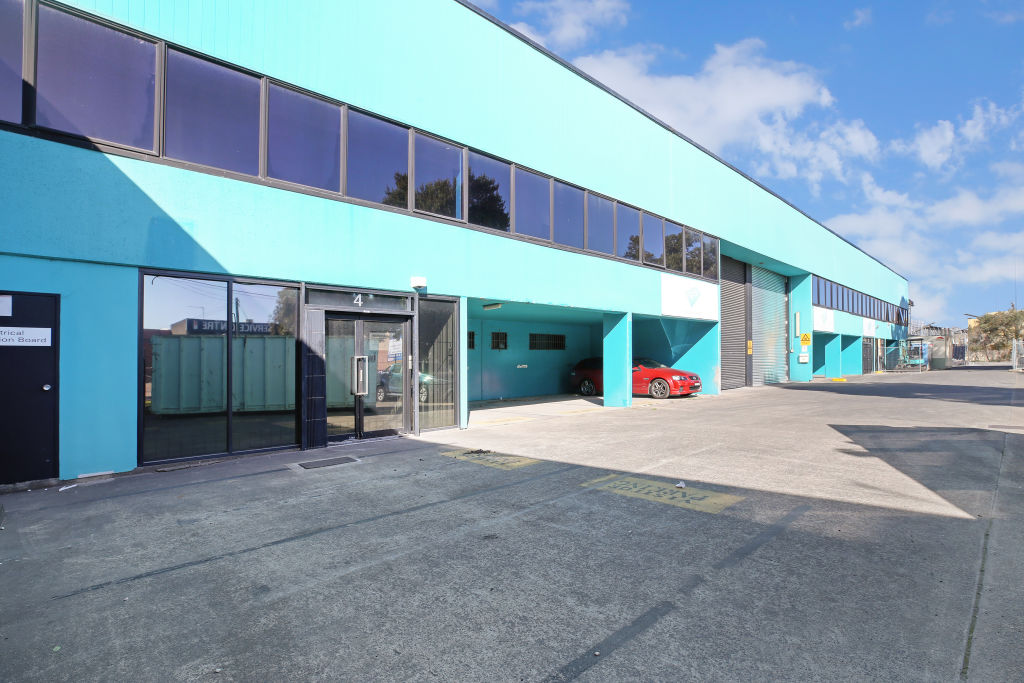 Investors hope to sell industrial 'super lot' in Alexandria for more than $25m
Three investors have joined forces in the hope of selling their adjoining industrial strata properties in Sydney's Alexandria for more than $25 million – and in the process reap up to 25 per cent more than if they were to go it alone.
The four strata units which make up the entire industrial estate at 64-66 Burrows Road occupy 4620 square metres of floor space on a site of 5543 square metres – a parcel with vacant possession that could appeal to industrial developers, large-scale land-bankers and owner-occupiers.
While the trend of selling collectively had been fierce in the residential market during the boom in the past few years, it is "quite rare" for multiple industrial owners to band together for a sale, LJ Hooker Commercial South Sydney selling agent Marcus Schraag said.
Despite the potential to fetch a premium when selling as a group, it is rare for multiple neighbouring properties to be untenanted at the same time as commercial property leases typically go on for at least five years – a coincidence in this case that prompted the collective listing.
Co-agent Michael Binskin said the properties could fetch $4500 to $5500 a square metre if they were sold individually, but that figure could shoot up to $5500 to $6000 a square metre if sold in one line.
"It's probably a 20 to 25 per cent premium when selling together, because it goes from a strata estate to becoming a freehold property," he told Commercial Real Estate.
"It's industrial zoning, so we're not talking residential upside or anything like that, but if you can unlock that floor space then you could benefit an owner-occupier or it could be a good strata (industrial) estate for a developer."
Future owners also have the option of occupying the space they need while leasing part of it out, before growing into the extra space when they expand, because large land holdings are becoming rarer, Mr Binskin said.
Similar to residential collective sales, demand would also come from developers wanting a large site for higher density industrial development, as the site is currently underdeveloped, Mr Schraag said.
"These owners are sitting on a development block but what they currently own isn't utilising the whole GFA (gross floor area) so to sell to a developer, they do need to sell together," he said, adding that the site had a potential 11,000 square metres of GFA.
"There's a big demand for industrial strata units in south Sydney and on that block of land, the floor space ratio is 2:1, so only less than half of the GFA is actually developed."
While the potential net rental of $200 to $220 a square metre would lead to a lower yield if sold to an investor, the future upside to the site "is where everyone's looking at", the agent said.
Mr Schraag noted that residential development and infrastructure in south Sydney, including WestConnex, has removed "a lot of smaller industrial strata units".
"You're left with scarce stock levels, so prices have gone up in that market so dramatically and developers are seeing there's such a demand for it that they're paying a premium for sites where they're able to develop that type of property on," he said.
Most interest is coming from domestic buyers, but the site is also appealing to property funds based overseas, especially China.
Industrial properties in the city's south grew by 14 per cent in the last
12 months, according to LJ Hooker Commercial's Industrial Market Monitor, which is due to be released this month.
Not far away, a 6168-square-metre industrial property at 6-8 Huntley Street, Alexandria, sold for $33.3 million in June 2018 – a result which the agent said proves the strong demand.
"It just shows that when these parcels of land do pop up, there's larger occupiers plus these large developers who will be very interested."
Expressions of interest for the Burrows Road property, which is also being sold by LJ Hooker Commercial Sydney City Fringe's Jim Marinos, end August 30.
Get a weekly roundup of the latest news from Commercial Real Estate, delivered straight to your inbox!