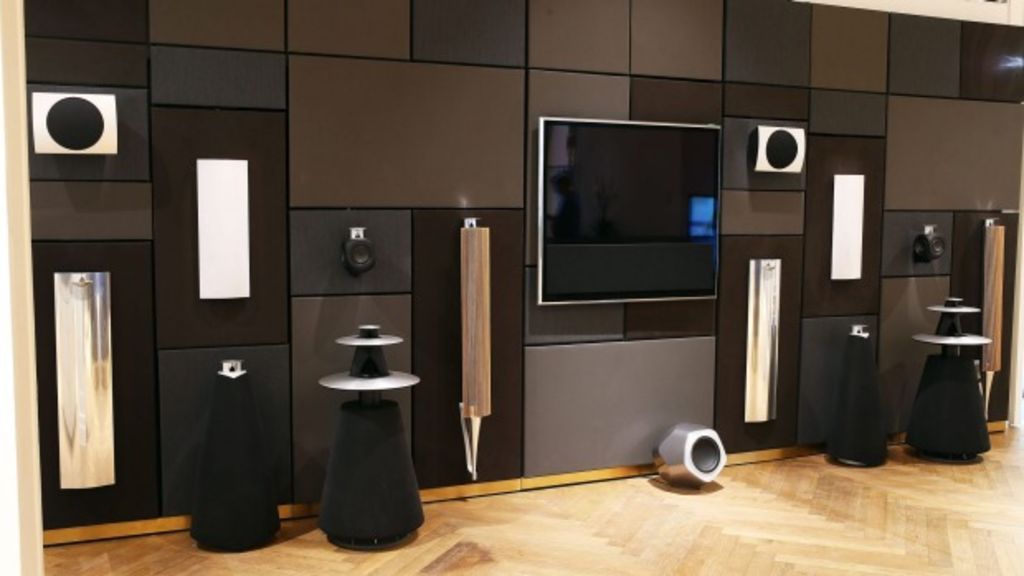 Inside the new high-tech Bang & Olufsen Melbourne flagship store
Unlike many of the ultra luxe fashion retailers at the Paris end of Melbourne's Collins Street, the team behind Bang & Olufsen's new sensory store doesn't want the everyday shopper to feel awkward about coming inside.
To the contrary, the store has been designed to encourage people to not only enter, but linger. There's a "chill-out zone" where people can sit and admire the products while sipping on a latte from the instore coffee machine; and a history area, where people can see B&O products from years passed.
Speakers and stereos on display in the B&O Play section of the store.
The inclusive nature of the experience reflects the brand's attempts to break away from its image of being out of reach.
Emerald Group Investments chief executive James Kennedy emphasises that while its products are premium, they're not crazily so – and in any case, people's expectations have changed. B&O's entry point is $200, with its most expensive speakers priced at $110,000.
"The entire market has shifted in its view of what's attainable and what's not," says Kennedy, B&O's exclusive Australian distributor. "It coincides with a more educated market now that has a penchant for luxury goods."
Modern and fresh
Located on the corner of Russell St and Flinders Lane, the store is B&O's fourth largest and one of only five sensory flagships in the world. In a coincidental homage to the 96-year-old brand's history, the building is also from the 1920s.
Inside, architects Bates Smart have maintained the original columns and implemented the same detailing on the wall panels and ceiling. Despite the traditional elements, the feel is modern and fresh thanks to high ceilings, crisp white walls and floors made of Scandinavian oak.
Julian Kipping, GM of Bang & Olufsen Australia and New Zealand, with the $100,000 BeoLab 90 speakers.
It wouldn't be a sensory store unless it had some high-tech elements. When you first walk in you wonder where all the merchandise is.
Wait a few minutes and you'll see that wall panels rotate to unveil speakers, and a raised platform in the middle of the store swivels to let you experience different TVs and speaker systems.
Music lovers can listen to their own collection when testing out the B&O Play range by connecting to the store's WiFi.
B&O general manager Julian Kipping says it's about improving the customer experience. "The sales will come from it, but what we do will do justice to the history and quality of the brand on a global scale."