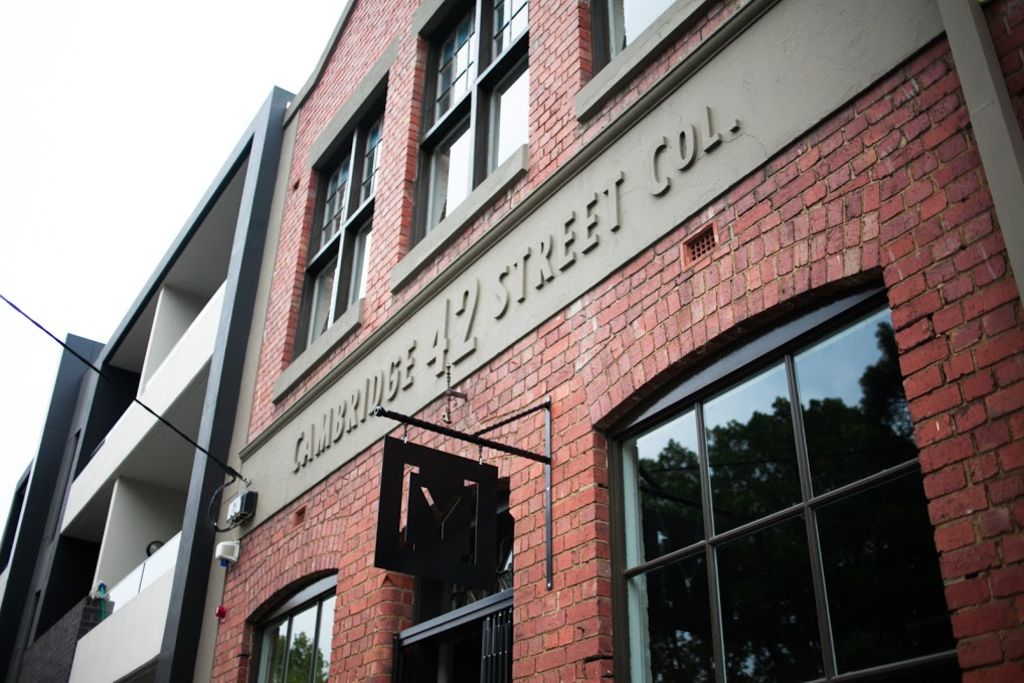 Innovation and friendship at the heart of cool Melbourne office conversion
It's a case of residential know-how being stretched to the big canvas in this Collingwood warehouse conversion – with some quirky interior accessories thrown in for good measure.
Here's the scenario. Your architect completes a renovation project on the family home. You're chuffed. A friendship forms – a creative connection, if you will. You desperately want to use them again.
Basically, you want to "get the band back together" for one last hurrah.
That's what happened when managing director of Yoke, Mehdi Qerim, decided to buy a warehouse in Collingwood to house his rapidly expanding creative services business using the profits from another business sale.
Yoke has grown from a staff of six to more than 40 since its move to Collingwood. Photo: Yoke
"This building came up for sale at the same time. It came up as a good opportunity to move the agency across and grow into it. We brought six people over," Mr Qerim says.
However, the warehouse was dilapidated. Once a factory, it was now in use as storage for a nearby art gallery.
It had one set of stairs, next-to-no natural light and no amenities.
But the basic ingredients were there and the old building was just screaming for a new lease of life.
In the heart of Melbourne's creative precinct, the large floor span of the warehouse would eventually allow Mr Qerim's company to grow from a suburban outfit of six employees to a fully fledged creative services agency of 40-plus staff.
Project designer Lee Harper and Yoke's managing director, Mehdi Qerim. Photo: Yoke
Mr Qerim phoned Lee Harper – the man who had done such a stellar job on his Hawthorn home.
"We had a working relationship from beforehand. Lee had done a beautiful renovation, including the project management and design, of our home in Hawthorn," Mr Qerim says.
"It was a stellar result and not only gave me confidence in Lee but also created the foundation for our friendship."
It was an open brief with collaboration the key word. Mr Harper hand-drew the designs and they set to work.
"I think the fundamental thing that has happened is we've gone with the industrial look but we've managed to create a warm and cosy environment. Industrial can often be stark. I think that's all the oak in the building.
"The use of steel throughout the building adds quite a height to the building. It combines to create a feeling of air and light."
Mehdi Qerim wanted a space that offered a warm take on industrial style. Photo: Yoke
Both describe the project management process as relatively smooth – with Mr Qerim's grand ambitions for the space only once creating issues.
"We didn't have three floors – we had two. Mehdi said 'Why don't we dig the floor out of the basement and create a third level?' You wouldn't believe how much trouble that caused," Mr Harper says.
Other issues surrounded letting light into the building – the property's design meant only one source of natural light was available, necessitating cut-throughs of floors and ceilings to let light flow through the building.
The warehouse conversion retains all the character of the original building. Photo: Yoke
Other than that, the main issues were attributable to the building's age and past usage.
"Permit difficulties, fire restrictions, access problems. No amenities, poor water supply, problems getting rid of storage, wiring problems – all the issues you'd expect with a new build but worse. This building really was a skeleton when we started," Mr Harper says.
Mr Qerim adds: "One particular issue we had… We had Lee design a custom built stairwell out of steel and I think the crane operator severely underestimated the scale of the project. We spent ages trying to figure out how to get it inside."
Meeting space inside the Yoke building. Photo: Yoke
The two joke that, had the construction process been documented by Grand Designs, it would have made great camera fodder.
"It was one of those days where you expect to get a bit teary and say 'Why did I take this on?'"
There was only one prerequisite for the building project. It had to incorporate the same floor product that had been used in the Hawthorn renovation.
"We had extensively used a flooring product in our home which was provided by a company in South Yarra, we wanted Lee to explore that product range in this building," Mr Qerim says.
Various products from the company – Royal Oak Floors – were used not only for the flooring, but as wall panelling and as part of the workstations too.
Yoke's kitchen space. Photo: Yoke 
"Part of the brief at the beginning was that Mehdi wanted this place to be fun," Mr Harper says. "You can pick up on that as soon as you walk in here and see people working in the space.
"There's a lot of amenity here. Showers, bicycle parking, there's an entire area downstairs where people can relax with tea and coffee."
In the front of the studio sits a bright-red Vespa scooter, welcoming staff and visitors as they enter the building.
Along with the old canoe hanging against one wall and various other eclectic pieces, it creates an air of mystery – but the story behind its presence is refreshingly down to earth.
"We've been big advocates of the the Alannah and Madeline Foundation and in a drunken stupor at one of their charity auctions, I bought the Vespa," Mr Qerim says.
"As neither my wife or I could ride it we decided to keep it here, as a tribute to stupidity, but also a sign of our commitment to the foundation."
A red Vespa sits at the entrance to the Yoke building. Photo: Yoke 
For Mr Harper, the Vespa is a symbol of the building's broader design aspirations.
"The Vespa is a retro nod to simpler times and I think the building tries to do that, too," he says. "We live in high technology times and stripping the building back to its bones tells us where we've come from, the building's got a lot of history."
Project breakdown
42 Cambridge Street, Collingwood
Purchased 2012
Purchase price $2 million
Renovations completed 2013
Renovation cost $1.4 million
Agency Lee Harper Design