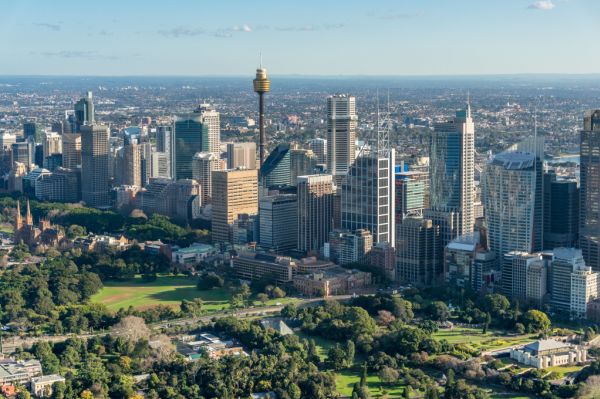 In the hunt for secure returns during coronavirus crisis, government-tenanted commercial property is among the most sought-after
The COVID-19 crisis is unlike anything the commercial real estate sector has experienced before according to agents, and this applies to the shift in the types of properties that are appealing to investors.
In Sydney, certain precincts within the CBD are traditionally thought to hold up better in an economic downturn, due to the nature of the industries they employ, according to Mitch Noonan, director of capital markets NSW at JLL.
"It would be hard to say particular streets or building types are more resilient than others, however, I would say that different precincts within the city would typically be considered [as consisting] of core fundamentals and therefore more resilient than others," Mr Noonan said.
"The same can apply on an asset-specific basis whereby assets which accommodate strong credit-rated or defensive tenants would typically hold more resilience."
But the nature of the pandemic, wherein huge swaths of the white-collar workforce has been ordered to work from home and tenants across all asset classes have sought rent relief, had shifted that line of thought.
"However, this time round there is a much larger focus on the tenant's ability to continue to operate and pay rent during the crisis and, as such, we are seeing strong demand for assets which have government-secured income as an example and those investors are agnostic as to location."
The reporting of many major tenants with national name recognition requesting rental relief or refusing to pay rent had challenged preconceptions about what secure income entailed.
"Real estate is largely about cashflow and security of income. This downturn has certainly challenged some of the views around contractual income," he said, adding that this would likely have an immediate impact on investor mindsets.
"There is a common saying in real estate that 'cash is king' – I have heard it a lot over the past eight weeks on various conference calls and I think what it means in this instance is reliability of income will always come out on top. I think we will see a renewed focus on that in the short term. Over the medium term, I think we will see the return of offshore investors with even greater force as Australia was already being seen as a beacon of security and this has been exemplified as, relatively speaking, Australia has managed the crisis very well from a health, government policy and fiscal stimulus perspective."
[dm-listing-recommendation experimentname='midcontent-listings' positiononpage='midcontent']
Shift to government-occupied assets in regions, too
The gravitation towards government-backed income isn't unique to the city either.
Burgess Rawson's Beau Coulter, who has handled a number of recent office sales in regional NSW and Victoria, said investors were honing in on assets leased to agencies such as Centrelink, which were as important during the pandemic as ever.
"I think the most important point right now is the fact that they are a non-discretionary asset," Mr Coulter said.
"Put simply, these services are essential, especially at times like these, making them somewhat 'defensive' asset classes."
Burgess Rawson has sold four Centrelink-leased assets already this year.
The Centrelink office building in Hamilton, in regional Victoria, sold in May for $6.75 million, while another at Kings Meadows, in Tasmania, traded for $4.5 million.
A property tenanted by Centrelink and the NSW government in Bega, on the NSW south coast, achieved $5.025 million, while the Centrelink at Bairnsdale, in regional Victoria, sold in February for $2.6 million.
Mr Coulter said buyers had been communicating their demand for government-backed assets during the pandemic.
"Government tenants are arguably more important now than they ever have been," he said. "I am seeing this off the back of the Hamilton Centrelink sale, with the pure number of calls I am receiving asking when the next government asset will be coming up."
Optimistic buyers still in play
Despite the shift to "secure" assets, Mr Noonan said the tightly held nature of the CBD market meant investors in solid economic situation wouldn't be afraid to invest.
"If an asset is offered to the market, which may not have the appropriate tenant mix today although it is well positioned to produce reliable income and value growth in the future, we are seeing investors show strong interest in those assets," he said.
In addition, the strong fundamentals heading into the pandemic bode well for a strong recovery.
"We led into this period very well positioned relative to previous cycles. Debt funding costs are at all-time lows, LTVs are much lower than previous cycles, the risk-free rate [10-year Australian government bond rate] was trading around 0.70bps, providing one of the largest risk premiums on our record, and our vacancy rate in Sydney CBD is well below the long-term average," Mr Noonan said.
He recently brought to market two adjoining buildings at 114 Castlereagh Street and 139 Elizabeth Street, one of the few properties to hit the market during the pandemic.
The property on Castlereagh Street is a seven-storey retail and office building close to the Sydney Westfield, and is leased to the St James Hotel on the lower ground level, ground level and the first level.
The property on Elizabeth Street is a four-storey building, housing Levendi Jewellers as the major tenant that leases the ground and lower-ground levels. The building is directly opposite Hyde Park and St James Station.
Both assets offer value-add opportunities, according to Mr Noonan's colleague James Aroney.
This could include "repositioning 114 Castlereagh Street to capitalise on the significant precinct enhancements, as well as the potential to redevelop Elizabeth Street [building] into boutique residential or mixed-use development".
Good time to buy for owner-occupiers
In the owner-occupier strata office market, prospective buyers are facing unprecedented conditions, according to Tim Noonan, director of Noonan Property (and no relation to Mitch Noonan).
"With record low interest rates and massive amounts of government stimulus, we are expecting commercial strata office values to increase," Mr Noonan said.
"It is cheaper to buy rather than lease at the moment, with interest rates at their current levels," he said.
Asked to nominate a type of building that would weather the crisis best, Mr Noonan said quality trumped everything in the Sydney market.
"Higher quality properties [heritage or otherwise] are typically more popular and easier to sell regardless of market conditions."
[dm-listing-recommendation experimentname='below-content-listings' positiononpage='belowContent']
Keep up with Commercial Real Estate news.
Keep up with Commercial Real Estate news.