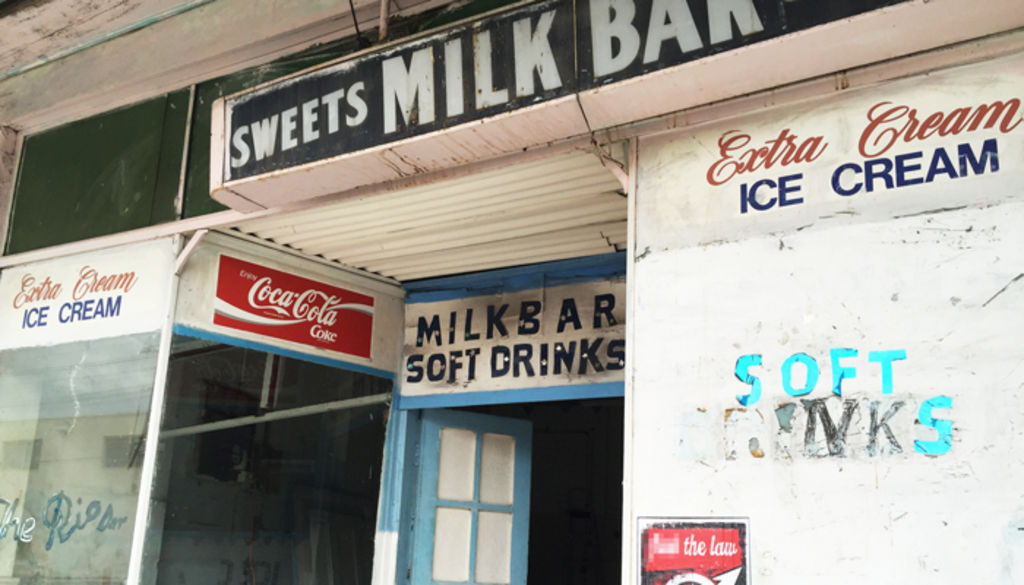 Iconic former milk bar The Rio gets ready for revival
One of Australia's most iconic old milk bars is undergoing a meticulous revamp to set it up for a new lease of life, with hopes a new business will retain all the charm and character of the original.
Famed 1950s milkshake palace The Rio, in the Sydney inner west suburb of Summer Hill, is now having its wiring, its sinking floors and broken windows replaced and repaired ready for its reincarnation.
The door is open and work has started on the old shop, with changes being kept to a minimum and heritage significance retained. Photo: CommercialRealEstate
It was bought for around $1.7 million at auction by Tom Alegounarias, the president of the NSW Board of Studies, and his wife Annetta Tourta.
Living in the area, and formerly regular customers of the milk bar with their children, they now plan to lease it out to a new tenant. A marketing campaign will be launched in two weeks' time.
Family business: George Poulos with his daughter, Aphrodite, and son Nik outside his milk bar in 2014. Photo: Wolter Peeters
"At the moment, we're having some work done there, but we're minimising the changes, and trying to keep them to an absolute minimum, while retaining everything of historical significance," Mr Alegounarias says.
"We're keeping everything important in the shop in careful storage. We want to lease the property to someone who wants to maintain both the structure and ethos of the place.
"We've had a lot of interest in it already, and hopefully it will end up with someone who wants to keep the heritage alive."
George Poulos with his family behind the counter of The Rio in its golden years. Photo: Supplied
The rent is likely to be between $1000 and $1500 a week, for both the shop on the ground floor of 126 Smith Street, on nearly 140 square metres of land, and the four-bedroom accommodation above. They could be rented together or separately.
It's most likely the bar will be turned into a cafe and takeaway, hopefully with all the retro charm of The Rio kept intact.
Macquarie University historian Leonard Janiszewski, an expert in Australia's milk bar culture, says it's vital that The Rio's esteemed heritage be kept alive.
The Rio in 2014. Photo: Wolter Peeters
In the 1930s, around 4000 milk bars were operating in Australia. It was important to preserve the few that remained as a treasured swig of our history.
However, Janiszewski, whose book Greek Cafes & Milk Bars of Australia was released last year, says it's going to be tricky to turn it into a going concern, with the local movie theatre gone and with so much competition from other cafes in the area – in Summer Hill itself, Petersham, Marrickville and Leichhardt.
"It's got to find a reason for people to keep coming back to it – not only the locals, but people from the surrounding suburbs," he says.
The 140-square-metre site comprises a ground-floor shop and a four-bedroom residence upstairs. Photo: CommercialRealEstate
"That can't simply be nostalgia; it has to create a great atmosphere in a style that's completely its own, as well as offering a good service.
"Originally it had a juke box, so that would be great, and if they put in something like a soda fountain, that could enhance its character too."
But new owner Mr Alegounarias is confident The Rio has a future before it just as revered as its past.
"It's in a high-traffic area with high visibility so I felt it was a safe investment," he says. "I hope the next operator runs it both as a good business and as somewhere that keeps the memory of its iconic status alive."