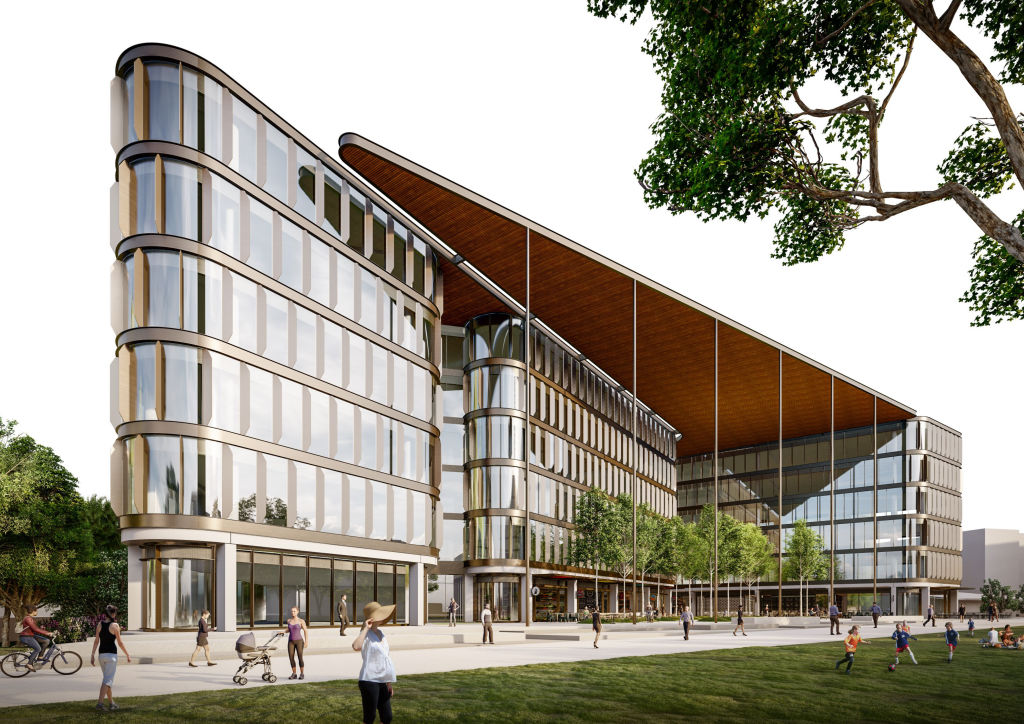 How the newest offices at Canberra Airport Business Park are raising the bar in wellness and sustainability
As workers gradually return to the office after many months spent working from home under COVID-19-related restrictions, the role of our workplace in our health and wellbeing – and that of the planet – has never been so important.
Industry experts say there is renewed emphasis on ensuring the spaces we spend much of our days in provide more tangible benefits both within and beyond our office doors.
"There's been a really big push in business parks and office space generally on wellness," says Richard Snow, head of property at Canberra Airport, home to the Brindabella Business Park.
Touted as one of the country's greenest business centres, the park is about to raise the bar even higher with the construction of  6 Brindabella Circuit, which will feature two new, mixed-use commercial buildings – the first new buildings in the park in 10 years.
Snow says the plan is to deliver environmentally sustainable buildings that are fully electric, carbon neutral (no gas boilers emitting carbon), and boast a gold WELL rating.
While building performance is now considered an essential component of building design, a new focus on human performance offers occupants more opportunities to cultivate a healthy lifestyle.
"The WELL building standard focuses on the occupant and their experience," says Snow. "The floorplate has been designed to have a high level of natural light, highly efficient air filtration with carbon filters on our airconditioning units, as well as a high level of water filtration."
Snow says the WELL ethos extends to technology which allows office lighting to change with the circadian rhythms of the body, softening the light later in the day as the sun goes down. 
Getting fresh air and exercise is easy with a covered, landscaped plaza linking the two new buildings and an oval on the doorstep for a lunchtime soccer game or bootcamp. There's also a gym and tennis courts nearby.
The plaza will play host to several new food and beverage outlets and the park is already home to services including banking, hairdressers and a dentist, and is within walking distance of all the retail offerings at the airport terminal.
Adina Cirson, ACT executive director, Property Council of Australia, says there's been a trend towards higher amenity in workplaces.
"We're seeing a further shifting away from people wanting to work in poorer performing buildings," she says. "Meanwhile, the vacancy rates for A and B-grade buildings continue to drop every time they're assessed."
The council's most recent ACT office market report showed the "hottest properties" were those offering office environments that "assist in staff retention by creating attractive workplaces".
"People are looking for that kind of higher-end product and employers are seen as an employer of choice if they have that higher amenity and collaborative spaces," Cirson says.
"[Developers] are trying to build in a bit of a wow-factor. Gone are the days where they're just building stock-standard product, now they're building places that are functional as well as beautiful."
Expansive foyers, water features, artwork and buildings with distinctive facade designs are all part of the mix in the Canberra office market, with energy-efficient buildings the norm rather than the exception.
"When the Green Building Council released their green-star rating, we were leading the way and tenants have really embraced that."
On a practical note, Cirson says more people are riding a bike to work or exercising during their work day, making end-of-trip facilities non-negotiable.
"It's driven by demand," she says. "If employers are wanting to be an employer of choice then they have to have co-working spaces, cafes, childcare, all the things that make many hours working in the office much more attractive."
A collaboration between Capital Airport Group and architects Bates Smart, the two new buildings at 6 Brindabella Circuit are an opportunity to showcase new standards for a future-focused office, says Snow.
"These buildings have really been put together to show the market that the Business Park is ready for a new step-up in the quality of what we can provide to tenants."