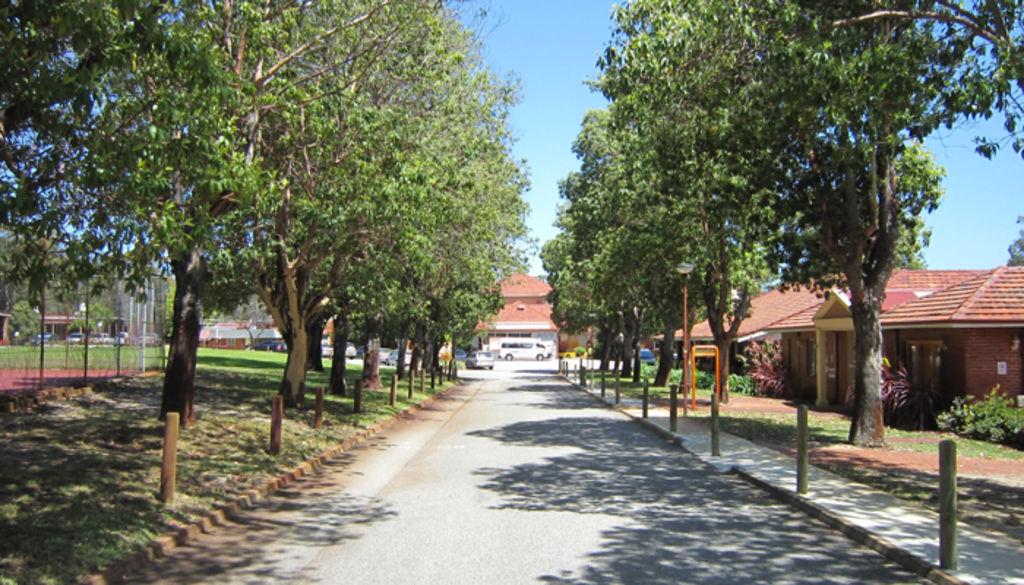 How hospitals are helping to resuscitate WA's urban communities
The rise of WA's mega health campuses such as the $2 billion Fiona Stanley Hospital is providing an unexpected boon for some inner-city suburbs.
Centralised health services in the big metropolitan hospitals has meant the closure of several suburban hospitals, including the Shenton Park and Swan District hospitals.
While closures may have provided initial pain for communities, they have also opened the door to healthy opportunities for suburban renewal.
The Swan District Hospital, closed in November 2015, is the latest to be given a new lease lease on life with the State Government announcing it wants to see the site sold and redeveloped.
Swan Health Campus, site of the old Swan District Hospital, in July 2015. Photo: Google
The former hospital is set on 10 hectares and has extensive garden areas.
Located 15 kilometres north east of the Perth CBD and just over two kilometres from the Midland business precinct, it would make an ideal location for developing modern apartments and commercial opportunities.
The existing hospital includes a mixture of 15 single and double-storey buildings. As only a couple of the buildings are suitable for reuse, it is more likely the site would be suitable for complete urban regeneration.
The old Swan District Hospital site includes a mixture of 15 single and double-storey buildings. Image: LandCorp
Lands Minister Terry Redman announced this month that the hospital would be sold off after a consultation process to help reduce the state's debt. LandCorp will call for interested developers to put forward proposal for the plum suburban site.
With a strong population growth and a burgeoning aging sector in the area, the City of Swan is keen to see the property rezoned for accommodation purposes.
Rare urban opportunities
Decommissioned hospitals often provide rare-to-find and sizeable parcels of urban space which provide exciting opportunities for upgrades to existing infrastructure or complete redevelopment.
In January the WA Government unveiled plans for a 1600-unit "urban village" development at the site of the former Shenton Park Hospital, which was decommissioned in 2014.
A 1600-unit "urban village" is planned for the former Shenton Park Hospital site. Photo: Landcorp
The hospital's long history would be preserved by the creation of a heritage precinct built around the historic Victoria House.
An avenue of Queensland box trees lining and the historic G-block facade would also be preserved.
The Shenton Park project forms part of a state government initiative to increase density in Perth's inner suburbs as the population expands to a predicted 3.5 million by 2050.
Princess Margaret Hospital, Western Australia's foremost children's hospital, may soon provide a canvas for creative urban redesigners after its operations are moved to the new Perth Children's Hospital later this year.
And Perth is not the only WA city using former hospital sites for urban regeneration.
In December, German retail giant Aldi announced plans to build a new supermarket on the site of the Old St John of God Hospital in Bunbury.
Aldi is coming: The old St John of God Hospital site on the corner of Spencer and Edward streets, Bunbury. Photo: Google
The 10-hectare prime inner-city site had sat vacant since the hospital closed in 1999 and moved to the new Bunbury Health Campus.
A civic heart
Around the world old hospitals are breathing new life into inner city communities.
Close to the Thames in South East London, an exciting project built on the grounds of the former Greenwich District Hospital has delivered London's first carbon neutral development.
The Greater London Authority in concert with the developers had agreed to provide over 600 new homes of which 50 per cent were set aside for social housing.
The former Greenwich District Hospital has delivered London's first carbon neutral development. Image: Supplied
Developers have been encouraged to provide public infrastructure including a library, swimming pool, leisure centre and healthcare facilities
The resulting masterplan was an impressive micro-city set on three hectares featuring a pastiche of maisonettes and townhouses, one to four bedroom apartments and a thriving 21st-century village centre with cafes, retail stores, public squares and gardens.
Green living roofs, electric car recharge points, rainwater harvesting and collection, a residents' car hire club and a centralised low energy plant to service the entire community are all modern clean energy innovations seen in the complex.
Disused hospital upcycling include a countless number of asylums in Great Britain which have undergone conversion into accommodation mainly due to the public's love of Victorian and Georgian architecture.