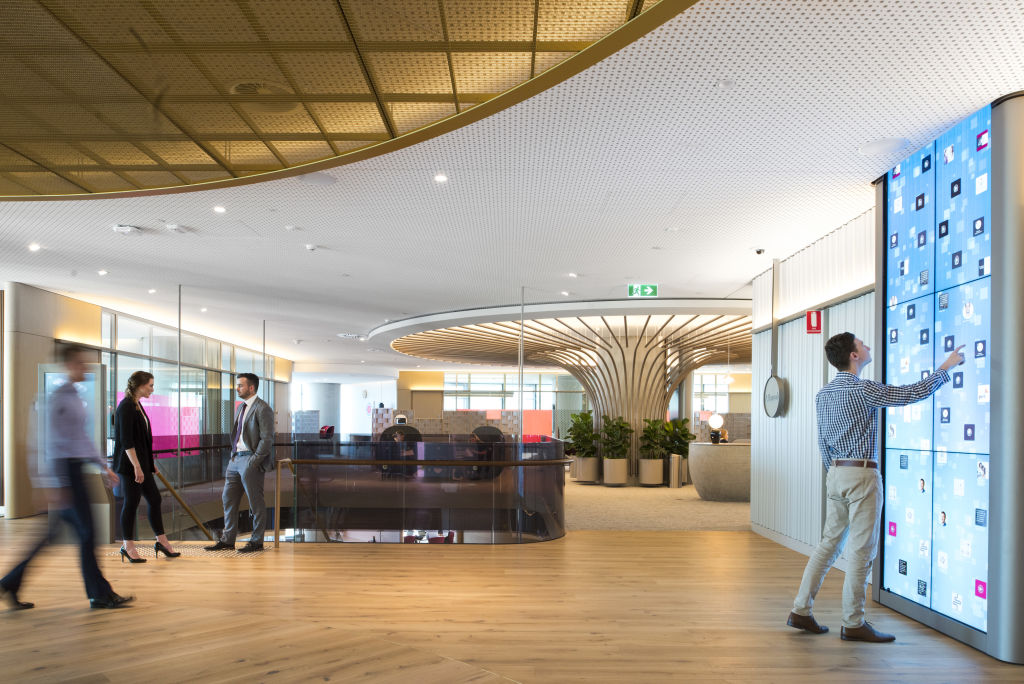 How client collaboration spaces are disrupting boardroom rituals
Inviting clients to a company's offices and then hosting a meeting in an old-fashioned boardroom is a ritual that hasn't changed since the early days of Mad Men's Don Draper.
But that last bastion of office tradition is now finally changing, with the emergence of special spaces dedicated to clients to encourage less formal interaction and more genuine team-work.
And those 'client collaboration spaces' are set to be the norm in five to 10 years' time in commercial property design, believes Angela Ferguson, managing director of interior design and architectural agency Futurespace.
"We were thinking about the type of world we are living in, with a lot of disruption from companies like Uber, Amazon and Airbnb, and a lot of change, and people wanting more choice with how they engage," says Ms Ferguson. "So we looked to the future of how business wants to engage with clients, and how we could disrupt the traditional boardroom mentality of client interactions."
Working with assurance, advisory and tax services provider PwC in the company's new Tower One offices in Sydney's Barangaroo, the result ended up being four whole dedicated client floors, connected by a central staircase and viewing platforms. They're fitted with both open and closed meeting spaces, co-creation and workshop areas, conference spots, a restaurant, café and bar areas, as well as spaces for quiet work or relaxation, all offering advanced technology.
Running vertically through all four floors is an interactive 'waterfall', a moving graphic touch screen with digital information about PwC experts and projects. On each level there's also digital information on rooms and facilities in the building, and about attractions in the surrounding neighbourhood.
The innovative concept, and its execution, has just won the Good Design Award Best in Class in the Architectural Design category 2018. The awards jury's verdict was that it is an inspiring design and a "brilliant example of the potential of good design to impact business, executed in an elegant presence that aligns with current brand … This is design excellence at its best".
In addition, the floors are now being talked about as a benchmark for future client spaces in both Australia and the world.
For PwC, they've had a dramatic effect. "We now have a lot more clients who want to come into our offices to work with us," says Debra Eckersley, PwC's new ways of working partner. "It does mean the juggling is a challenge, but that's a great problem to have!
"One of our objectives was to trigger different conversations with our clients as, when they come here, it doesn't feel like a corporate office; it's more boutique hotel meets premium retailers and premium airline lounges. Everyone has lots of different choices now about where and how to engage, and it has triggered those different conversations."
Clients often find out aspects of the firm they didn't know before from all the digital displays, they see projects underway they might like to contribute to, they have more opportunity to casually bump into different staff and, most importantly of all, barriers are broken down, says Ms Eckersley.
"It's about thinking of commercial real estate as more than somewhere to work, but a way of helping the culture you are trying to build and brand that you present to the market. The physical environment (is) sending out all the right messages about who we are and who we aspire to be."
Law firm Baker McKenzie hired design practice Hassell to create a welcoming environment for their clients too, with collaboration zones on all three floors of their Sydney offices. Visitors are shown to a waiting zone when they arrive which leads into a coffee bar, and they're offered space if they'd like to work between meetings.
"It's thinking about clients from their perspective rather than from the organisation's perspective," says Domino Risch, a Hassell principal.
"(Baker McKenzie has) had some really positive feedback from clients about how welcome they feel and it's had the effect of improving relationships, and breaking down barriers. It's so much more than occupying space; it's about making people feel good about where they are."
Think from the client's perspective when designing client collaboration space. Photo: Nicole England
Baker McKenzie national managing partner Australia Anthony Foley says that the workplace has proved transformative for business.
"The design captures so many of the aspirations we have for our firm," he says. "It reflects our ambition to be imaginative and bold, enhances our efforts to be collaborative and innovative, and it creates the space and flow for our people to come together with each other and our clients."
Client collaboration spaces are now taking off in the tech industries as well as the professional services sector, with more and more businesses now checking out the model. Futurespace's Ms Ferguson currently visits the PwC floors around twice a week showing other businesses, actively considering introducing similar facilities in their offices, how they work.
"It isn't a cookie cutter approach; you would design a bespoke solution according to different companies and their clients," she says. "Australian workplace design is among the best in the world in terms of innovation, and seeing clients is no longer about a boardroom with different degrees of formality, unchanged from Don Draper's day."
Get a weekly roundup of the latest news from Commercial Real Estate, delivered straight to your inbox!