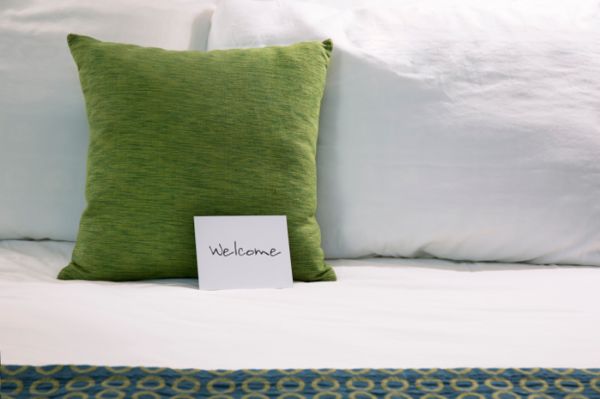 Hotels don't actually appear to be that scared of Airbnb – yet
Lydia DePillis
The hotel industry has been turning up the volume on its opposition to Airbnb in recent weeks. But it's not clear that the hotel operators themselves are getting more worried about the threat Airbnb poses to their business – judging from what they tell investors, at least.
A couple weeks ago, a large industry trade group called the American Hotel and Lodging Association put out a paper commissioned from Penn State's Center for Hospitality Real Estate Strategy showing that 40 per cent of Airbnb's revenue comes from people operating multiple units. The main message: Airbnb isn't just a platform for people to rent out their spare rooms.
"I think more recently we have wanted to have a data-driven discussion," says AHLA spokeswoman Rosanna Maietta.
[dm-listing-recommendation experimentname='midcontent-listings' positiononpage='midcontent']
The group's PR team went into overdrive again this week, after Airbnb admitted it had removed hundreds of listings from operators engaging in "unwelcome commercial activity" in New York before a data release.
"A company that talks about transparency isn't necessarily being transparent," said AHLA's head of government affairs, Vanessa Sinders.
Airbnb disputed the Penn State study's findings. "This study shows that the hotel industry gets what it pays for, which in this case is a specious study intended to mislead and manipulate," said spokesman Nick Papas.
"Airbnb is succeeding for the very simple reason that our hosts – the vast majority of whom are middle-class people sharing their homes in order to create supplemental income – provide guests authentic, transformative experiences."
Nevertheless, the AHLA is funding a second batch of research from Penn State that will provide more granular information on different markets to make its case in cities and states across the country, as they consider how to regulate the hotel industry's biggest new competitor.
So does that mean that large hospitality companies are actually getting more worried about the threat Airbnb poses to their business model?
Well, judging from what companies say to their investors, they don't seem too concerned. Although Airbnb barely came up on earnings calls in 2014, executives faced so many questions about the upstart in 2015 that some of them started preemptively addressing the issue in their opening remarks.
Most of them said that while it's possible Airbnb is affecting their ability to increase prices at times of peak demand in markets like New York and San Francisco – a phenomenon known as "compression" – they're not losing sleep over it.
That confident talk, however, comes with an asterisk: Things should be fine, as long as localities subject Airbnb to the same regulations traditional hotels have to deal with. Which explains why hospitality trade associations continue to wage political battles, sometimes overtly and sometimes under the radar, to make sure Airbnb stays in its lane: Leisure trips by people looking for something funkier than the sterile hotel experience.
Already, Airbnb is marketing itself to business travellers, and there are even reports that large residential landlords may be interested in renting their excess inventory on the platform – which could pose a more substantial threat.
So here's what executives have been telling Wall Street during conference calls to discuss their financial results. (Many of these companies hold large portfolios of hotels that operate under brand names like Hyatt, Marriott, and Hilton, which actually don't own most of the hotels that bear their logos.)
Pebblebrook Hotels CEO Jon E. Bortz, second quarter of 2015:
"So if you look at business around marathons as an example, where we used to have really intense compression and an ability to price that maybe what the customer would describe as sort of gouging rates. I'd say we've lost a lot of that ability at this point within the major markets where these events take place. I think that will change over time … as the industry becomes regulated. And when there is enforcement of the laws that take place, but that's still going to take several years."
Hyatt Hotels CEO Mark S. Hoplamazian, second quarter of 2015:
"Airbnb is focusing their attention on how they could be effective on the business travel front. But there are just some inherent differences in what they can offer and what hotels offer. And I think those differences are really, really material and substantive in terms of stay experience for business travelers. So, do I think that there will be incremental penetration, over time, for business travel? Sure. But it's not anywhere near the incidence of leisure travel and that purpose of stay."
Marriott International CEO Arne M. Sorensen, second quarter of 2015:
"We don't think it's a significant factor in terms of impacting our business today, and are optimistic that it won't become one, but we'll have to watch it and see."
Photo: Getty Images/iStockphoto
Intercontinental Hotel Group CEO Richard Solomons, second quarter of 2015:
"As a source of competition, it's small, in a market that is growing heavily. This is just a new dynamic and obviously because of the model, Airbnb is making an awful lot of noise, but it's not a new competitor. And, of course, the whole unregulated nature of that market is attracting the attention more and more of regulators. You'll have seen all the stuff around Uber. And I think it is important that consumers are protected and there is some real danger, particularly with the Airbnb model, of a lack of regulation and a consumer misunderstanding, which I think we're hearing governments talk more and more about."
Sunstone Hotel Investors chief executive John V. Arabia, third quarter of 2015:
"Obviously, we're going up against a constituency that is incredibly well funded, more funded, better funded than we are, but we'll see how it goes and win, lose or draw in San Francisco I believe that this is going to be a far more significant dialogue going forward. Because ,as you know, Airbnb and others are having an impact in certain hotel markets and we're just trying to level the playing field."
Starwood Hotels Chief financial officer Thomas B. Mangas, third quarter of 2015:
"As we've talked to our corporate clients, we don't see Airbnb as a particular threat to that business today. Maybe their business model evolves. But we are, given the kind of services that we're providing at our hotels and what we believe our corporate clients want, we believe that's a low-risk threat to our business."
Hilton Worldwide chief executive Christopher J. Nassetta, third quarter of 2015:
"We do not believe there is a material impact on the bulk of our markets or with our core business and leisure customers. As we speak to our largest corporate clients, we are confident that Airbnb will not satisfy a meaningful piece of their demand. … I think it's extremely hard for them to replicate what we are doing. And I don't think customers, suddenly woke up our core customers and said we really don't care about consistently high quality products and we don't need service and we don't need amenities. I just don't buy it."
RLJ Lodging Trusts CEO Thomas J. Baltimore Jr., fourth quarter of 2015:
"I think one or two of your peers have suggested that Airbnb has created about 200 basis points of supply impact. We really disagree with that thesis, and don't believe that the logic supports that. No doubt in special events in certain situations, we did see out in San Francisco that we had to that affected booking patterns. But at the end of the day, we had a fabulous performance of our hotels in the San Francisco area."
Andrew Sims, CEO of Sotherly Hotels, fourth quarter of 2015:
"We have not seen any disruption in our markets to date. We believe the negative Airbnb effect will be experienced primarily in the top five high rate gateway markets, where a low-cost alternative is an attractive option. We do not anticipate material impact within our footprint."
Mike D. Barnello, chief executive of Lasalle Hotel Properties, fourth quarter of 2015:
"Although it's incredibly hard to quantify, there is no doubt in our mind that Airbnb and other similar services are hurting our top performance on the margin. … Until the short-term rental sites and their hosts are held accountable to the law, we think they'll remain a threat to the hotels in major cities, which not coincidentally are the same markets in which we own hotels."
James L. Francis, chief executive of Chesapeake Lodging Trusts, fourth quarter of 2015:
"We can debate all statistics on Airbnb, but I don't think it has a major impact except for when you get the really frothy rates, whether it's the Super Bowl or something else."
Marc A. Hoffman, chief operating officer, Sunstone hotel investors, fourth quarter 2015:
"What I would say to you is that it depends street corner-by-street corner and market-by-market, but we certainly have seen whether it's Boston, Chicago, Orlando, San Francisco, our ability to spike rates on those sell-out nights has continued, there hasn't been any change to that in '15."
Neil H. Shah, chief executive of Hersha Hospitality Trusts, fourth quarter 2015:
"Our view is it that in the higher kind of compression period for leisure travellers it may be an alternative, but we do not believe that it's directly competitive to our portfolio. It's just not coming up as a truly significant impediment to growth for our operators today."
Washington Post
[dm-listing-recommendation experimentname='below-content-listings' positiononpage='belowContent']
Keep up with Commercial Real Estate news.
Keep up with Commercial Real Estate news.