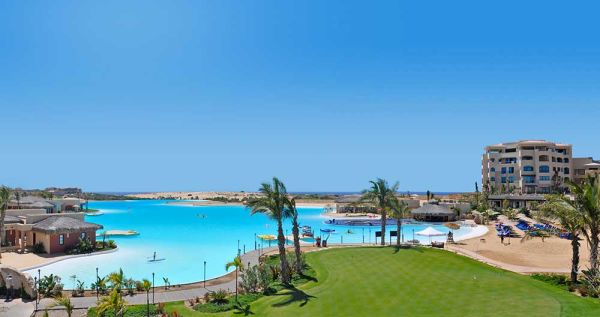 The hole in the ground that could help golf clubs ward off developers
A 17-hole golf course?
To golf purists, it might seem an abomination, but to those clubs hacking to get out of the financial rough, it could well prove the fairway to the future.
Many golf clubs around Australia have long been looking for ways to halt a downswing in the number of members, falling revenues and increasing costs with the introduction of more flexible memberships, shorter rounds and novelties like foot golf.

But with research commissioned by Golf Australia revealing half of Australia's 1,500 golf clubs are in "financial distress" now a number are considering a ground-breaking – literally – new scheme: to sacrifice one hole to create room for a man-made lagoon that could be installed to provide a money-making family attraction for the course.
The lagoon at Diamante Cabo San Lucas takes up four hectares. Photo: Supplied
"If you remove just one hole, you can put in a lagoon of 1.5 hectares to two hectares and have a huge outdoor park so people can still play golf but the rest of the family can come and have fun at the same time," says German Rocca, the Oceania regional director of Crystal Lagoons, a company that specialises in installing lagoons.
[dm-listing-recommendation experimentname='midcontent-listings' positiononpage='midcontent']
"We've done it in other countries, and it's worked really well. But in Australia we have a lot of golf clubs selling land to developers and, with the cheque, moving out further. But that doesn't make any sense; in 20 years, they'll probably be forced to move again.
"This is about giving the courses they have more value, about activating the land they have so they can still play golf but also improve their revenues."
One of the top courses in Mexico, the David Love III-designed Diamante Cabo San Lucas, installed a four-hectare lagoon and, with the increase in revenue, is now also constructing a second, Tiger Woods-designed, course. In Chile, sales of homes around the 27-hole Las Brisas course had slumped to just two a year until Crystal Lagoons built a 2.2-hectare lagoon and sales took off, with prices rising 200 per cent.
Rocca says he has held discussions with seven golf course operators in NSW and Queensland, discussing options for golf clubs that are facing financial difficulties, and has identified many more in those states, plus Victoria, whose futures are under a cloud.
Las Brisas golf resort was in a slump before it was rejuvenated by this lagoon. Photo: Supplied
Golf experts in Australia says it's an interesting prospect but, in practice, it may be hard to make happen. Club and industry advisory Jeff Blunden says Australia's planning regulations could present difficulties.
"But anything that can improve a club's offering and bring it in more revenue is something most clubs should be interested in," he says. "Against that will be difficulties based on planning and permissions and approval and inconvenience and cost.
"All sorts of opportunities are currently being considered by clubs. This idea might be the most visually appealing but it wouldn't necessarily be easy to achieve. At the moment, residential developments around golf courses seem to maximise the capital return."
With people too time-poor to play as much golf, spending down on golf equipment, investment in golf real estate falling, club member numbers down 50,000 from 2006's 446,500, and golf mostly relegated to pay TV, clubs are eager to find ways to hit and hope.
A number of clubs have already looked towards developers for help, like Brighton Lakes Recreation and Golf Club in NSW's Moorebank which entered into a joint venture with developer Mirvac to build a masterplanned community on part of the reconfigured course. That funded an upgrade as well as a new clubhouse and facilities.
House prices rose over 200 per cent after a lagoon was constructed at Las Brisas golf club. Photo: Supplied
Similarly, Sydney's Strathfield Golf Club sold 34 hectares of land under its clubhouse and its practice fairway to developers for $52.5 million for apartments and townhouses.
Others have come up with even more dramatic solutions, like the Kingswood Golf Course in Melbourne's Dingley merging with the Peninsula Country Golf Club in Frankston, and selling off its course to developers for housing for an estimated $80 million.
More modestly, the nearby Box Hill Golf Club has invested in its bistro and function venue to diversify – with 2,000 social members as against 1,000 golfing members.
Many more are examining a variety of ways to broaden their appeal and top up their finances, says Planet Golf author Darius Oliver, who specialises in golf course design consulting to clubs and developers.
"Lots of golf clubs have spent money on redesigning their golf courses in the hope of improving their appeal," he says. "Manly redesigned its golf club and made a feature of lagoons and water, so that is possible. But I'd imagine not many people would consider putting in a pool just to make it look beautiful.
"But there are a lot of clubs under financial distress whether they are at immediate risk of financial trouble or their future prospects don't look good."
The planned Wynn Resort redevelopment in Las Vegas replaces an entire golf course. Photo: Supplied
Golf Australia says clubs are trying many things, including much more engagement with social media, innovative membership models, more marketing and promotion, partnerships with other clubs or businesses and volunteer programs. Some are also trying to establish golf leagues.
Other strategies, says AusGolf editor Selwyn Berg, include FootGolf, played on a golf course using a soccer ball kicked into holes off the fairway, and a lot more nine-hole rounds. Of the lagoon idea, he's more sceptical.
"I think that's a little beyond my regular scope," he says. "But I suppose adding something that has something for the kids to do, even if it were a playground, could probably help, but the idea of giving up a hole for a lagoon …
"Golf is traditionally 18 holes and with such a traditional game the sacrifice of a hole … A hole is seen as something sacrosanct. But I suppose if there was some spare land down the side, that could be possible."
A rendering of Wynn Resort. Photo: Supplied
There are some golf courses which have gone the whole way, being completely replaced by massive lagoons. Late last year, Crystal Lagoons announced a 12-hectare lagoon will be installed on the Las Vegas strip as part of a US$1.5 billion redevelopment of an 18-hole course. The lagoon, at Wynn Resorts' newly named Paradise Park, will be the centrepiece of round-the-clock entertainment.
"But hopefully lagoons in Australia can sit side-by-side with the golf course to attract families and more players," says German Rocca. "It means water sports and cafes to help boost membership and participation, and finances."
[dm-listing-recommendation experimentname='below-content-listings' positiononpage='belowContent']
Keep up with Commercial Real Estate news.
Keep up with Commercial Real Estate news.