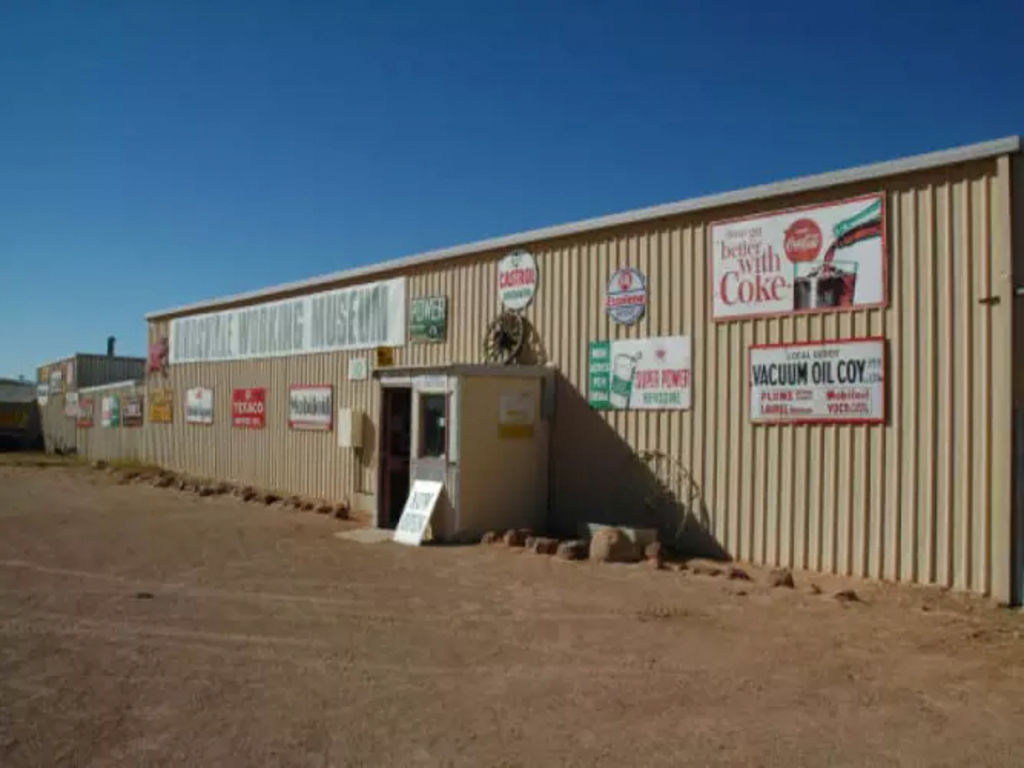 History for sale: 10 true-blue Australian places with stories to tell
From corner shops to outback pubs and rainforest retreats, commercial property in Australia represents the nation's colourful history, diverse community and famous geography.
On Australia Day 2016, as Australians celebrate the historical day and consider its meaning, here are 10 dinky-di Aussie places with their own stories to tell – and they're all for sale.
Birdsville Working Museum. Photo: Supplied
The town of Birdsville, in far south-west Queensland, was established in 1887 and is famous for its annual races, held every September to raise money for the Royal Flying Doctor Service. Former popular tourist attraction the Birdsville Working Museum is offered for sale with its extensive collection of quirky items, which reportedly includes a painting by Winston Churchill. The museum closed in 2011 after its owners retired.
The Braidwood Hotel. Photo: Supplied
Built in 1859 and first known as the Commercial Hotel, the Braidwood Hotel is believed to be Australia's only remaining three-storey corner Georgian hotel with a cantilever verandah. It has hosted the nation's first Royal Commission into police corruption as well as rock stars – Rolling Stones frontman Mick Jagger visited and played the piano during the filming of Ned Kelly, the 1970 movie he starred in. The Braidwood was also a location for the 1987 film The Year My Voice Broke.
The Vue Grand. Photo: Supplied
This hotel could be considered the original pub with no beer. The Vue Grand was built in 1883 not as a hotel, but as a coffee palace or temperance hotel. It was one of many buildings that cropped up in Australia at the time as a result of the worldwide temperance movement, which encouraged family values and discouraged drinking. Queenscliff was a popular seaside resort in the 1880s, with visitors arriving by paddle steamer after a two-hour journey from Melbourne. Even though the no-alcohol policy is long gone, beer on tap was not available at the Vue Grand until 2012.
Temora deli and sandwich bar. Photo: Supplied
Authentic corner shops, milk bars and delicatessens are hard to come by nowadays and those remaining are much loved by their local communities. The Temora deli, about 420 kilometres south-west of Sydney, has been operating for more than 50 years and is a big part of the town, supplying the Meals on Wheels service and school lunches. It's also famous for its "stuffed spuds" and fish and chips. The property includes a two-bedroom residence attached.
Markdale Homestead. Photo: Supplied
The garden at Markdale, in the NSW Southern Highlands, is regarded as one of Australia's greatest. It was planted in the 1920s and then redesigned in 1949 by landscape gardening pioneer Edna Walling. The garden includes long wisteria, a rose pergola, sculptures and a Chinese bridge over a lake. The homestead was built in 1951 by famous NSW architect and University of NSW professor Leslie Wilkinson. Markdale is the only property in Australia that showcases the combined work of Walling and Wilkinson.
Theatre Royal Hotel, Hobart. Photo: Supplied
It's one of Australia's oldest hotels and was built in 1834 by industrial entrepreneur Peter DeGraves, who founded the Cascade Brewery. The hotel is next door to the Theatre Royal, Australia's oldest continually operating theatre, which hosted cockfights and boxing bouts after opening in 1836. It was built using convict labour. In the 19th century, the district was considered Hobart's first slum. Today the area is being rejuvenated, with plans for a new cultural and performance precinct. The Theatre Royal Hotel includes a public bar, atrium bar, dining and function rooms, a commercial kitchen, seven accommodation rooms and a manager's residence.
The Kookaburra Cafe. Photo: Supplied
Famous for its gigantic 50-slice Party Pizzas, the Kookaburra Cafe is a Brisbane landmark popular with locals and tourists alike. The cafe has been running for 32 years and is not just an eatery – there is a big undercover alfresco area with city views and function rooms, with scope to develop further.
Pearls on the Beach. Photo: Supplied
Secluded Pearl Beach, 95 kilometres north of Sydney, is a popular holiday spot and retreat for the rich and famous, with  strong links to early Australian history. In March 1788, two months after the First Fleet arrived at what would become the city of Sydney, NSW governor Arthur Philip sailed to Pearl Beach on an expedition. The visit is commemorated on plaques at the site. Pearls on the Beach is an award-winning beachfront restaurant and is offered for sale with two self-contained apartments.
Parry Creek Farm. Photo: Supplied
The Parry Creek Farm tourist resort is the closest stopover with accommodation at the northern end of the Gibb River Road. The freehold property is in the remote East Kimberley region, in the middle of the 36,000-hectare Parry Lagoons Nature Reserve. There are three air-conditioned cabins on the boardwalk above the lagoon, which is populated with abundant birdlife as well as freshwater crocodiles and barramundi.
Woodlands Rainforest Retreat. Photo: Supplied
It's only about 80km from Melbourne but Narbethong is in the middle of pristine rainforest, close to the Yarra Ranges National Park and Toolagi State Forest. Woodlands Rainforest Retreat's four luxury architect-designed bungalows overlook fern gullies and a lake. Access to the award-winning property is via Black Spur Drive, one of Australia's most scenic roads.