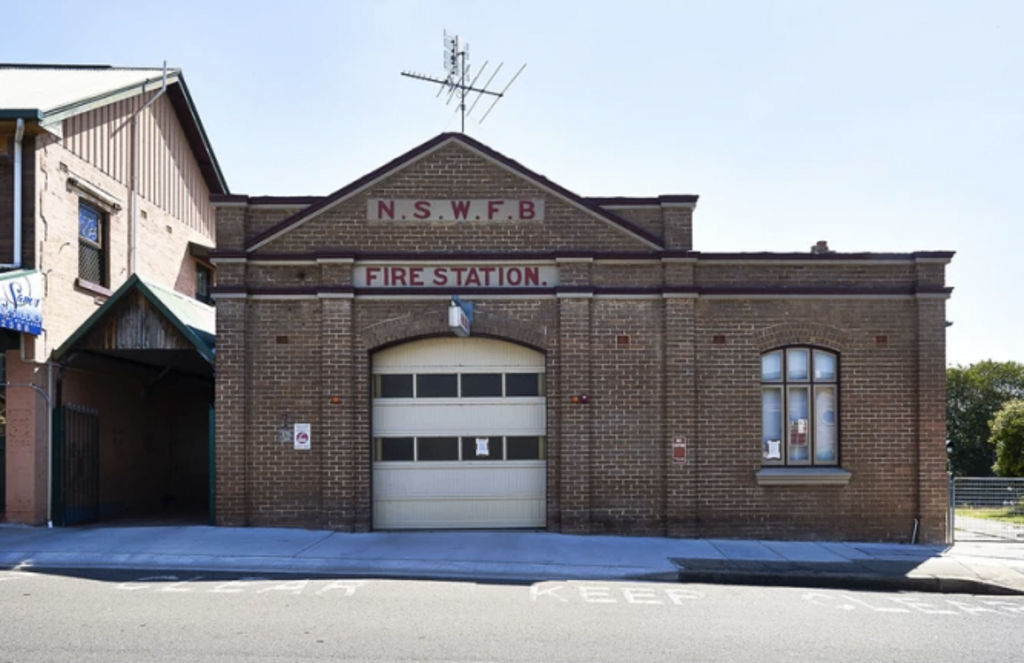 Historical fire station in Windsor NSW sells at auction for $910,000
If there's one type of building that qualifies as hot property, it's a fire station.
Especially when it's 100 years old, full of character and in one of Australia's most historically significant towns.
The auction of the former home of the Windsor fire brigade on Saturday sparked plenty of interest, with television, newspaper and social media coverage fanning the flames during the lead-up.
Your very own fire station.
Agent Thomas Mosca, of CBRE Western Sydney, said seven bidders placed 27 bids to arrive at the sale price of $910,000.
The new owners, who are based in western Sydney, liked the history of the Fitzgerald Street building and wanted to take time to explore possibilities for the 933-square-metre property.
"They're going to keep their options open and see what they can best use it for," Mr Mosca said.
The engine bay of the old Windsor fire station. Photo: Supplied
About 100 people attended the auction on site at the formerly state government-owned building, which was built in 1915 for a reported £847 and served as the district fire station until last year.
It has been replaced with a new $3.1 million facility at Anderson Place, South Windsor, which had its official opening last week.
The new fire station at South Windsor. Photo: Fire and Rescue NSW 
The fire station is listed as an item of significance by the NSW Office of Environment & Heritage, which states the building is held in high regard for its links with the local community – especially the families of volunteers and retained firemen.
Windsor, which is 56 kilometres north-west of Sydney on the Hawkesbury River, was settled in 1791 and officially proclaimed in 1810.
Built in brick and render, the old station has a Federation free classical style front facade and a single engine bay, with architectural details including triple timber-framed casement windows and pressed-metal ceilings.
It was refurbished in 1996, according to the Office of Environment & Heritage, and is now zoned B2 Local Centre, which allows commercial premises such as shops, offices, medical suites and shop-top housing.
Windsor brigade captain Kim Roche said he and his crew were settling in well at their new digs, which was in a more central location for call-outs and had more room.
"The old station, while it had a lot of character, was really confined and only really had two rooms … we simply outgrew it," Captain Roche told the Hawkesbury Gazette.
"Today the trucks are getting bigger and we have more gear and the new station provides us with the space we need. The crew love it and we enjoy being here.
"The old station lasted 100 years and the new station should see us through the next 100."
For anyone disappointed at missing out on buying the fire station, there is still hope. Although old fire stations for sale in Australia are rare, another one is currently on the market in Victoria.