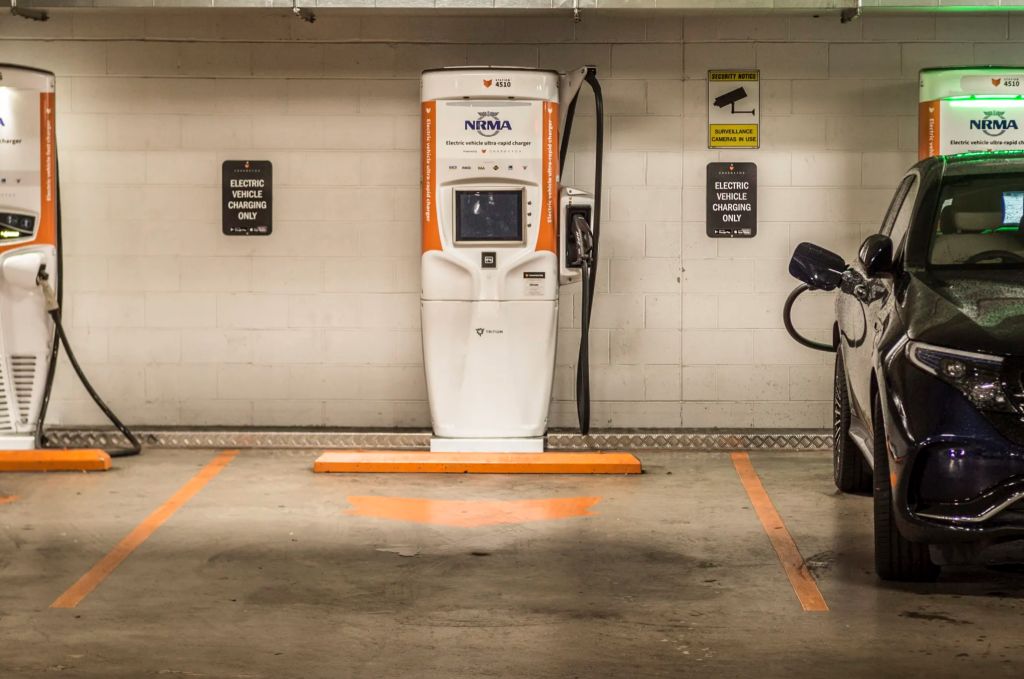 High costs for property owners to retrofit for electric cars
Australia is missing the mark on converting buildings to a zero-carbon, electric-driving future as the rollout of charging infrastructure and sale of electric vehicles ramps-up globally.
A triennial review of the National Construction Code is likely to introduce a 25 per cent capacity for electric vehicle charging in apartments and buildings when the Code is updated next year.
The current standard has no requirement for servicing EVs in buildings, but the proposed change may not be enough to cope with demand and will require expensive retrofitting by property owners later, climate and electric vehicle groups claim.
Margot Delafoulhouze, cities expert at research body ClimateWorks, said buildings constructed today will still be standing in 2050, but the country's passenger vehicle fleet is expected to transition to fully electric vehicles well before that time.
At the moment, Australia's EV uptake is well behind other advanced economies.
EVs made up three quarters of all passenger vehicle sales in Norway last year, 10.7 per cent of sales in the UK, 8.3 per cent in California and just 0.78 per cent in Australia, figures published by the Electric Vehicle Council show.
However, uptake will need to reach at least half of new car sales by 2030 to meet Australia's carbon reduction commitments. And if it accelerates, buildings constructed today will be inadequate, even if a 25 per cent capacity quota is adopted, Ms Delafoulhouze said.
"If you don't want to retrofit, you should provide for 100 per cent of vehicles. You want your buildings to be ready for that," she said.
Additional costs of retrofitting a building could be up to five times the cost of deploying car chargers during initial construction, consulting firm McKinsey estimates.
As well as being expensive, retrofitting can be technically challenging often requiring boring or trench work.
NSW's Electric Vehicle Strategy suggests, depending on the type of building, it could cost about $75,000 for an apartment with 20 car spaces to be retrofitted.
While acknowledging the importance the property industry plays in providing EV infrastructure, the Property Council of Australia's NSW executive director Luke Achterstraat said every additional housing cost undercut affordability.
"The opportunity in front of us is to find ways to make buildings 'EV ready,' [that] doesn't impose the cost of EV infrastructure on those who can least afford it, and currently don't have use for it," he said.
Housing affordability is in "dire straits" and layering of costs was a major contributor, he said.
Ross De Rango, the Electric Vehicle Council's head of energy and infrastructure, said the 25 per cent recommendation was "not sufficiently ambitious" and would create an "economic problem" for apartment owners down the track.
"Electrical retrofitting has to be agreed by the majority of the owners' corporation. Failing to build it in during construction will impact their [owners'] amenity in the long term," he said.
The new 25 per cent charging standard will not apply to 'class 1 buildings,' residential houses which make up the majority of existing residences, leaving a vast swathe of dwellings without EV charging.
Residential houses will make up 75 per cent of the floor area to be constructed over the next three decades, Ms Delafoulhouze said.
Other jurisdictions are sharpening rules around charging stations in buildings.
California's Green Building Code requires all residential parking in one or two family dwellings and townhouses to be EV-capable. Multi-family dwellings or apartments must provide charging capacity for 10 per cent of parking, while the remaining 90 per cent must be EV-capable.
France has similar strict requirements with 20 per cent of non-residential parking spots needing EV chargers and 100 per cent of residential parking spots in new buildings needing to be equipped with charging stations.