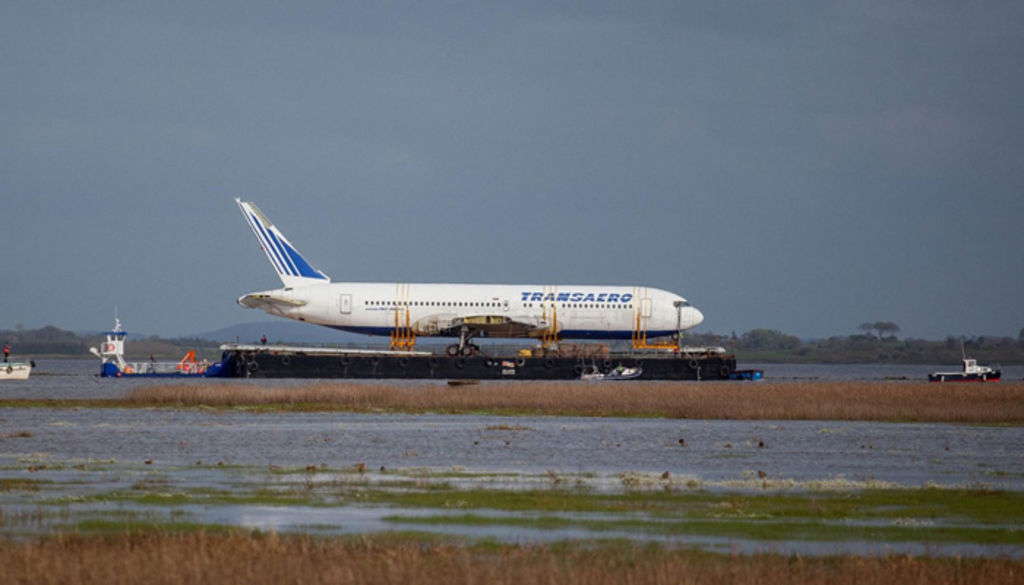 Glamping in an old Boeing 767 signals new phase in accommodation industry
Accommodation has come a long way from rectangular rooms, wake-up calls and a chocolate on the pillow.
And those involved have their fingers crossed that the high-flying venture is all plane sailing.
A decommissioned jet is on its way by barge from Ireland's Shannon Airport to the site of a resort in County Sligo that plans to offer transport-themed "glamping" – a luxury version of camping.
It was expected to take 36 hours to tug the 70-tonne Boeing 767-200 northwards over the North Atlantic Ocean to Enniscrone, where it will join double-decker buses, London cabs and train carriages as accommodation options at the Quirky Nights Glamping Village, a transport-themed accommodation park.
The 767 transportation project in Ireland has caught the attention of people around the world, who are watching developments on a live video feed and on social media channels using the hashtag #planesailing.
On Sunday, the barge was on land at Enniscrone surrounded by equipment and workers readying the cargo for the next phase of its journey, all overseen by Quirky Nights Glamping Village founder David McGowan.
The gutted plane was formerly operated by Russian airline Transaero, which lost its operating licence in October 2015 after filing for bankruptcy. The wings of the wide-bodied jet were removed and transported lying flat on the barge.
An artist's impression of the Quirky Glamping Village. Photo: Supplied
McGowan, a funeral director from Sligo, wants the Quirky Nights Glamping Village – which he describes as six hectares on a marshy field – to boost tourism to his home town.
McGowan bought the plane from Shannon Airport for €20,000 ($31,000). Earlier this year, he told Irish radio station Today FM the project had given him something to be excited about.
"I'm a funeral director and embalmer," he said. "I'm surrounded with death every week, you need something to give you a buzz. You need to out and do something unusual."
Shannon Airport property manager Deirdre Whitney said the airport had never moved such unique cargo in the past and pulled out all stops to help with the project, with safety and minimising disruption the priorities.
"David McGowan's enthusiasm was infectious and we were delighted to be on hand to support him every step of the way with this unique project," she said.
McGowan plans to install bedrooms in the plane and he wants to keep some of the cockpit intact as a play area for children.
The company is also aiming for 80 per cent accessibility for people in wheelchairs.