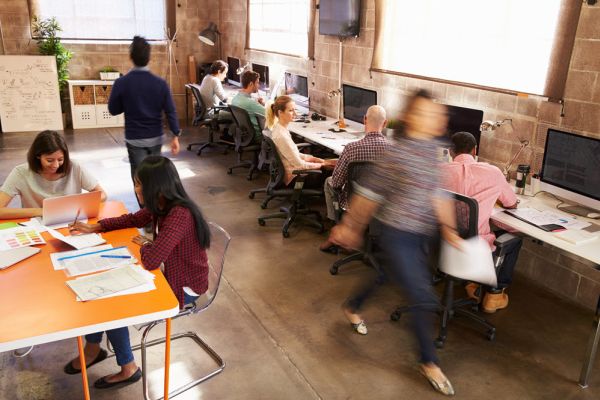 'Functional inconvenience' is the new trend in office design
Ever wondered why it's such a long way from your desk to the toilet? Or why the kitchen is at the back of the building when the office is at the front? Or why the water cooler is upstairs, when everyone who wants to use it is downstairs?
No, it may not be bad planning; it may all be part of the new trend sweeping the world of work – functional inconvenience.
Anthony Henry, head of workspace design at Macquarie Bank, knows it well as a possible feature of the future of work.
"We've been experimenting with this idea of 'functional inconvenience'," he says.
[dm-listing-recommendation experimentname='midcontent-listings' positiononpage='midcontent']
"We introduce tension into the workspace deliberately to encourage people to go up and down the staircase and around the office so it all becomes a circulation hub. It means that people bump into each other and talk informally which helps with overall interaction and creates community."
And if that doesn't encourage people to meet more, then there are also lots of informal organisations, like a breakfast club, a gardening collective and a music room to make sure staff get together regularly.
But while there are plenty more chances to chat to colleagues in the modern, mobile, flexible workplace, that's not to say employers want them to spend too much time doing so. It's still, at the end of the day, all about productivity.
Companies such as PwC in Melbourne are installing stairs in their offices so employees can meet. Photo: Supplied
Cameron Scott, chief operating officer at JLL Asia Pacific Corporate Solutions, told the annual conference of the Council on Tall Buildings and Urban Habitat (CTBUH) in Australia this week, that one company in Shanghai has even introduced a 15-minute room.
"It has no chairs, it's not particularly comfortable, and it means you have to get a meeting done in 15 minutes and then get out," he says. "There's now a convergence of interests between owners and investors of commercial real estate.
"They're both interested in the customer experience and to help them meet their corporate obligations, which could be productivity."
The technology now available is a real enabler of change, he believes, with people wanting agility and flexibility in their workspaces, healthy offices, a good degree of digitalisation, human-centric design and innovation and collaboration. It's vital for companies to also both attract and retain the best talent with inviting, attractive and efficient offices.
"No one really knows how the technology will develop in the future for the workplace," Mr Scott says. "A robot might greet you at reception, ask you who you want to see, then email them that their visitor is here.
"One building in Amsterdam has an app that connects to your calendar and can guide you to the most suitable space for your meetings. Then it might steer you to different destinations as you want them. It works with you to get used to your patterns of working, so it can book rooms for you in advance."
Technological advances can really help to create better workplaces, believes David Malott, founder and chief executive of global design collaborative AI., and chairman of CTBUH. Companies can now accurately track where their staff go, how they move about the office, which areas they like to work in, and at which computers.
"The number of sensors in tall buildings has increased tenfold every five years," he says. "It's much easier now to work out how people are using space which provides us with the digital building blocks so we know how buildings can be more responsive to their needs."
Technology may also be changing the workplace in sometimes less inviting ways. Robbie Robertson, partner – experience design – in Deloitte Consulting, says research suggests that up to 53 per cent of today's jobs will be gone in 10 years.
"Half our jobs will be taken away because of artificial intelligence," he says. "Imagine working next to robots or someone next to you who you don't know what they are. The workplace is changing in so many ways just now.
"There's so much more diversity and now we're seeing as many as four generations working together, from their early 20s to their 70s. How do you design an environment to help them all work collaboratively together, and successfully?"
One of the hottest features in offices is something terribly post-modern: the staircase. Grand sets of stairs as the centrepiece of big, open-plan offices are all in vogue, and becoming more numerous as a raft of new buildings come online and old ones are 'hacked' to make them more modern.
Along with these are grand central atriums. "When people are in the office, they need to feel visible and connected to the organisation," says Jennifer Saiz, head of group property at the Commonwealth Bank of Australia.
"We had a forum in the base of the atrium and, standing on one level looking down, I could see 3000 employees feel connected to what was happening there. There were technology teams working in scrums, a retail team together and a marketing team working in a hub."
The atrium in the 50 Martin Place building. Photo: Supplied
Even when things go wrong, it's hopefully not as serious as it might seem. Mr Henry says if there were a fire at Macquarie Bank's 50 Martin Place, smoke curtains drop down, so the atrium become a flue to allow smoke to escape.
"On the other hand, if you burn toast on level two, everyone knows it!" he says.
"Some of these designs can produce interesting challenges. Unfortunately, a lot of building owners don't have the stomach for looking for solutions.
"But we do need to build buildings with a lot more variety and provide infrastructure that's more interesting." Even if that does mean some degree of functional inconvenience just to add that extra frisson of turmoil.
[dm-listing-recommendation experimentname='below-content-listings' positiononpage='belowContent']
Keep up with Commercial Real Estate news.