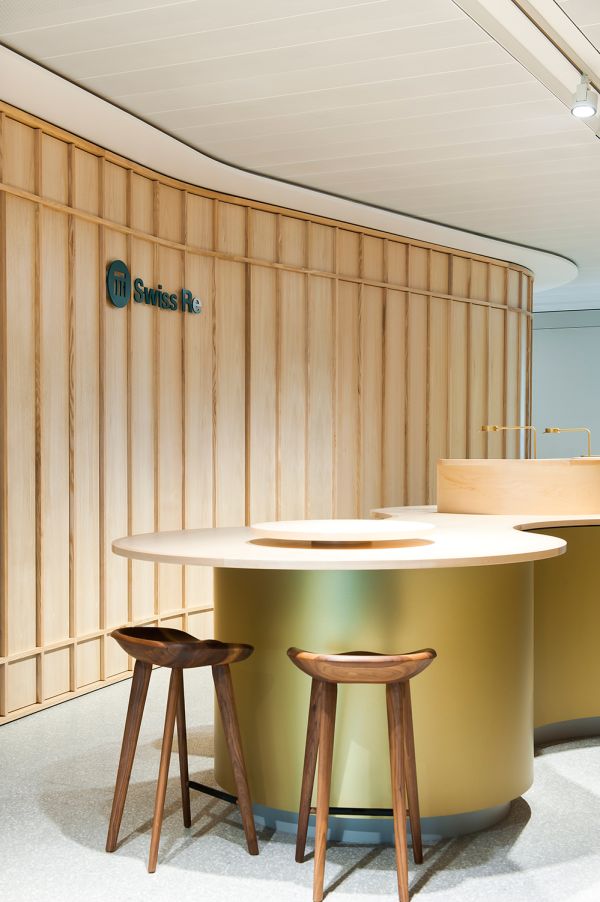 First look inside Sydney's coolest new offices at Barangaroo
Sydney's coolest new offices in burgeoning Barangaroo show off innovative design and sustainability principles that define the workplace of the future – as well as some of the best views in town.
Tenants Gilbert + Tobin Lawyers, bankers Westpac and reinsurance company Swiss Re have already moved their 7000 office workers into Tower Two, the first of the three in the International Towers complex to be finished.
Audit, tax and advisory firm KPMG has moved into Tower Three, completed just a few weeks ago, with Barangaroo developer Lendlease to follow.
The tenants of Tower One – bank HSBC, professional services companies PwC and Marsh & McLennan and Servcorp, which sells serviced office space, virtual office products and IT services – are due to move in towards the end of this year.
[dm-listing-recommendation experimentname='midcontent-listings' positiononpage='midcontent']
Already the $6 billion, 7.7-hectare site is buzzing, with 25 retailers trading across the precinct and 55 more to come. Each of the towers, designed by Rogers Stirk Harbour and Partners, has been awarded a 6 Star Green Star Office Design rating by the Green Building Council of Australia.
KPMG
KPMG's company culture was translated to its new workplace at Barangaroo. Photo: Paul Wright
The move to Barangaroo started in 2011 for KPMG when NSW chairman Martin Blake began defining the company's culture and looking at how that could be translated into designing their workplace of the future.
He came up with the key phrase – inspiring confidence and empowering change.
A pilot version of the new office was set up in the old. Over three years, more than 1000 employees tested the mini-workspace.
"It was like a giant sandpit where we could test ideas," says Neill Johanson, of design firm Davenport Campbell. "We learnt what to do – and what not to do."
KPMG's 3500 staff work on levels 26 to 38 at Tower Three. Photo: Paul Wright
Principles of connection, outcomes, trust, flexibility, conscience and health emerged as important in planning the new offices, Blake says.
"We put a lot of time and effort in developing and engineering our workplace of the future," Blake says of his 28,000-square-metre offices on levels 26 to 38 with around 3500 people.
"We really felt that meant we had to think differently about the way we work and, with quite a young workplace and to attract young people into the market, that working environment had to be more reflective of our lifestyle.
"We wanted one that feels energised, innovative and reflects a broader wellbeing."
The kitchen is a "connect" area for informal meetings. Photo: Paul Wright
The offices – finished with recycled materials, natural timber and stone – then became a series of "vertical villages" with stairs between floors. Defined "neighbourhoods" on each floor foster a sense of belonging.
The mobile workplace has focus zones for concentrated work, casual "connect" areas, such as kitchens, to engage informally, collaborative zones for teams and mixed areas for sharing information.
"Neighbourhoods" foster a sense of belonging for the young workplace which aims to attract more young staff. Photo: Paul Wright
It was a huge change for the normally conservative professional services industry, with its traditionally strict hierarchical structures.
"It's a really exciting environment to work in," says Blake. "And it means everyone has access to all levels of the organisation which has really improved employee engagement."
Swiss Re
Swiss Re worked on its new offices with design firm Hassell. Photo: Supplied
When Swiss Re first considered a shift to Barangaroo South, there was some hesitation. "I must confess to a little bit of nervousness," says managing director Mark Senkevics.
"It's on the city fringe, whereas previously we'd been in George Street, very close to all the shopping. Also, we were moving to an agile workplace."
But now everyone's become used to a 10 to 15-minute walk for lunchtime shopping, and, with a fresh focus on health and wellness, even talk about the extra steps they've taken each day. "So the feedback has been great," Senkevics says.
Staff at Swiss Re are enjoying the new flexibility. Photo: Supplied
The company worked with design practice Hassell to come up with their flexible floorplate which meant they could move two-and-a-half floors of people in their former offices to just one in Tower Two.
Workstations can be used either sitting or standing, there are quiet zones, "think tank" rooms and larger spaces for teams.
"Everyone is enjoying the flexibility of the different spaces available here, and are now utilising them even in ways we'd never envisaged," Senkevics says.
"A very long table that was once described as a likely ghetto is now often used by people who sit together and get involved in conversations about what's happening in the business and other areas.
"They're just organising their own thinking around the spaces which is our broader initiative of 'own the way you work'."
The environment is designed to help staff achieve the company aim – own the way you work. Photo: Supplied
The 6 Star Green Star Office Design rating was another major lure for the company which has itself been carbon-neutral for a decade and sees sustainability as a brand value.
Stunning views of the harbour and Harbour Bridge are there for everyone, with Senkevics the first to give up his own office.
"The whole environment helps to inspire a little bit more creative, innovative thinking," he says.
Gilbert + Tobin Lawyers
Gilbert + Tobin Lawyers' new offices are a dramatic break from the company's Park Street past. Photo: Toby Peet
After 15 years in standard offices in Park Street, co-founder and managing partner Danny Gilbert saw his company's shift to Barangaroo South as the perfect opportunity to showcase a vision.
Calling in architectural firm Woods Bagot to help, they made sure the new offices were a dramatic break from the past.
"We made a real effort to not make it like battery hens, with people in rows at desks," says Gilbert. "Now we have a plenitude of space between people, open access to each other, adjustable desks for people to either sit or stand, and plenty of areas for people to go into huddles to discuss things."
Local timbers and stone reflect the harbourside location. The innovative design is considered a big step for a legal firm. Photo: Toby Peet
The offices are now open plan with lots of collaborative desk space, meeting rooms and breakout zones, with an informal cafe, lounge space, and social and interactive zones.
Staff are also encouraged to work on tablets they can carry, with the volumes of paper used substantially cut.
Local timbers and stones are used to reflect the Sydney harbourside site. The ceiling is patterned with curves representing rivers as they appear in Aboriginal painter Freddie Timms' artworks to help break up the large floorplates of the tower.
"Every pod is slightly unique," says Amanda Stanaway, Woods Bagot principal and workplace specialist. "Desks are nearly rectangular or boomerang-shaped, screens undulate and desks can either be used sitting or standing.
"Such innovative design is a big step for a legal firm, but it's incredibly progressive and is designed to reinvigorate the way they work, with Danny an incredible strategic thinker."
Westpac
Staff can move around Westpac's Tower Two space according to their activity. Photo: Nic Walker
In regular offices, the bosses all have the biggest offices with the best views. At Westpac's new offices, the story's quite different.
"The design philosophy is about the equitable sharing of the best views and natural light," says Sandra Casinader, the bank's integration program director.
"So while it used to be large offices for the senior people peppered around the outside, and all the other workers shunted into the middle, now everyone has access to the marvellous views."
It's not just the bosses with the best views – everyone at Westpac has the same privilege. Photo: Nic Walker
Westpac is the anchor tenant of Tower Two, taking up 28 floors for its 6000 staff and their other branded businesses, including St George and BT Financial Services. Like Gilbert + Tobin's offices, they're also planned along "agile working" lines, where people move around the space according to the activity.
There are two cafes, a wellness centre for massages and other spa treatments, lockers, bike storage and showers, a kitchen where regular cooking lessons are held and a barbecue area and outdoor terrace. There's also a library, a medical centre, a prayer room, a 200-seat auditorium and a concierge service.
"Ordinarily, we'd look at offices from a property perspective and then look at the future of the workforce and what our employees of the future would want from office design," Casinader says.
"But here we've made our employees very, very central and looked at how we can enhance their experience of the building. We've used very intuitive and accessible design principles."
Employees are the focus of Westpac's office design. Photo: Nic Walker
Thousands of plants improve air quality and there are facilities for employees with disabilities.
New technology has already saved an estimated 45,000 archive boxes worth of paper.
"We got in some psychologists and looked at the neuroscience of the brain to anticipate where there would be resistance to new ways of working," Casinader says.
"But while initially we struggled to get people to come to Barangaroo South, now we're having to turn away senior people who want to relocate.
"The atmosphere here is really buzzy and electric. Now we're implementing a similar program in our Kent Street offices."
[dm-listing-recommendation experimentname='below-content-listings' positiononpage='belowContent']
Keep up with Commercial Real Estate news.
Keep up with Commercial Real Estate news.