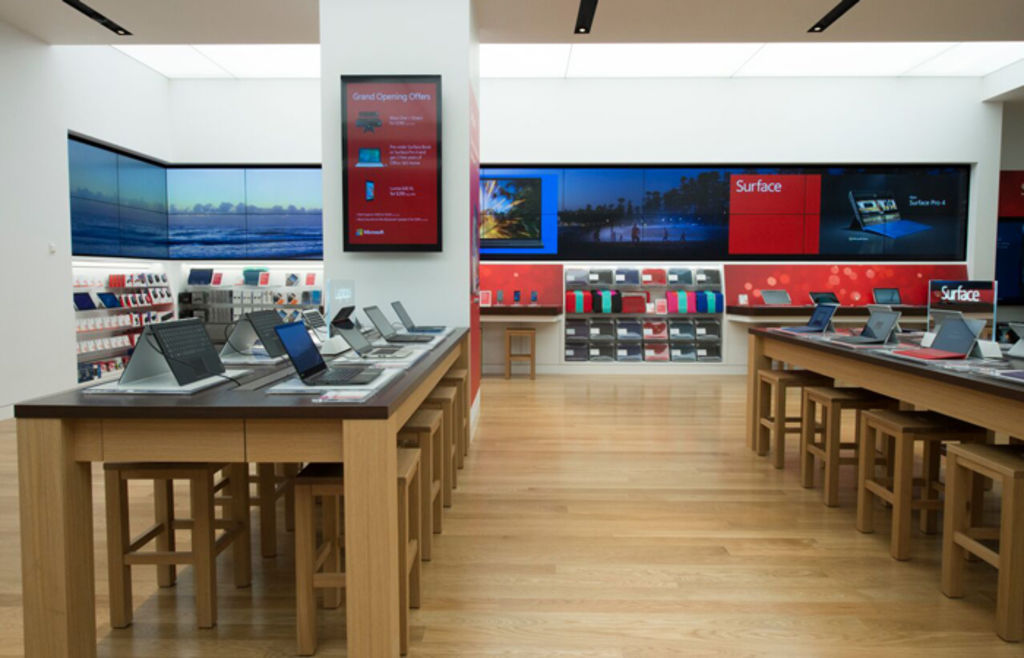 First look inside new Microsoft Sydney flagship store
The curtains have dropped at Microsoft's new premises in Sydney and the welcome mat is out for everyone – even if they're using rival devices.
The new flagship store at the entrance to Westfield in Pitt Street Mall, the first outside North America, is equipped with the latest customer service and retail technology plus an array of the newest Microsoft products, sleek and shiny enough to excite even an Apple fan.
Staff greet the first customers at the new Microsoft Sydney flagship store in Pitt Street. Photo: Microsoft Australia / Twitter
"We really do want to make sure that we put the best Microsoft experience in front of every single consumer," said Microsoft's Travis Walter, general manager international retail stores.
"We've waited a long time to open up in a retail location like Pitt Street and we think we've got the perfect location to do this."
The company, which waited several years for the ideal address, would not be drawn on future plans in Australia and did not exclude more locations – even on the west coast.
"We'd never rule out any location like Perth," Mr Walter said.
"We're always looking at new options and opportunities and right now we've got to focus on getting this store done and done well. We'll look at options after that."
One of the stores 178 digital panels, in the community theatre. Photo: Rebecca Holland
Alongside the company's worldwide retail and customer experience strategy is a strong community focus.
There are 178 digital panels in the store and via their collective two million pixels, Microsoft aims to build community engagement and deliver the best possible consumer experience.
"That for us is what really makes a flagship and we're excited to be able to do that in Sydney as our first international store," Mr Walter said.
At the back of the store, one central digital wall spans two floors vertically. Big screens facing Pitt Street will mirror digital displays from inside the 557-square-metre premises, allowing passers-by to see what's going on inside.
The two-storey-high digital wall. Photo: Supplied
The two-storey-high glass facade, covered to hide the store until today, is free of structural attachments, maximising the view into the shop.
The focus on people continues on the second floor in the 45-person community theatre, designed to be a hub for education, training and special events.
"This is the only location that will have a multi-purpose space that we can use to have community events," Mr Walters said.
"We might do something like 'Skype with Santa' during the holidays with customers here."
The community theatre space is adaptable to accommodate a range of events, from family events and DigiGirlz coding workshops for teenagers to enterprise meetings for commercial customers.
The store design was driven by international design firm Gensler, which also recently completed the design of two buildings at Microsoft's Redmond, Washington corporate campus.
Photo: Supplied
Some 18 tonnes of steel have been used in the construction of the store, which started in June.
LED lighting, certified timber flooring and paint free from VOCs, or volatile organic compounds, have earned the project a Green Star rating for sustainability.
The two levels are connected by glass stairs that are not unlike those at the arch-rival Apple store in nearby George Street.
The suite of Microsoft devices on display include the new Surface Book, Surface Pro 4 and Band 2, the latest fitness wearable.
None of the devices are locked down, enabling customers to pick them up, walk around and compare them with other products.
"Having devices tethered is really frustrating and we want people to know how the devices feel and how they should be used in a natural environment," Mr Walter said.
Photo: Supplied
The look and feel of the Sydney store is in keeping with the brand design that has been consistent since Microsoft started building stores in 2009.
Comfortable seating and the freedom to move around with products – plus free wi-fi – are part of the strategy to encourage people to spend time in the store.
"It's all about you feeling really confident about your technology purchase and usage, and encouraging customers to stay," said Kelly Soligon, general manager, worldwide marketing Microsoft retail and online stores.
The 60-strong staff "associates", from 10 countries and speaking 21 languages, will carry Microsoft phones for mobile point-of-sale transactions anywhere in the store, with receipts sent by email. There are also static cash registers. In addition to the focus on stores, Microsoft will continue its "omni-channel" approach to service customers both physically and virtually with the online store, which operates in 189 markets. Sydney store manager Nick Wells co-ordinates a team that includes product advisors, service advisors, a learning specialist and a community development specialist. For most visitors to the store, the first point of contact will be on the ground floor at the meet-and-greet Answer Desk for questions and troubleshooting relating to all Microsoft hardware, as well as software on any device.
Microsoft considers its Sydney tier-one launch market to be energetic, fast adopters of technology, with more than 50,000 potential customers walking past the new store every day.
"Our focus is how do we make this store the best possible experience for consumers and how do we make sure they are presented with great products that we connect with the community and the fabric of the community," Mr Walters said.
"That's really what this team is focused on."