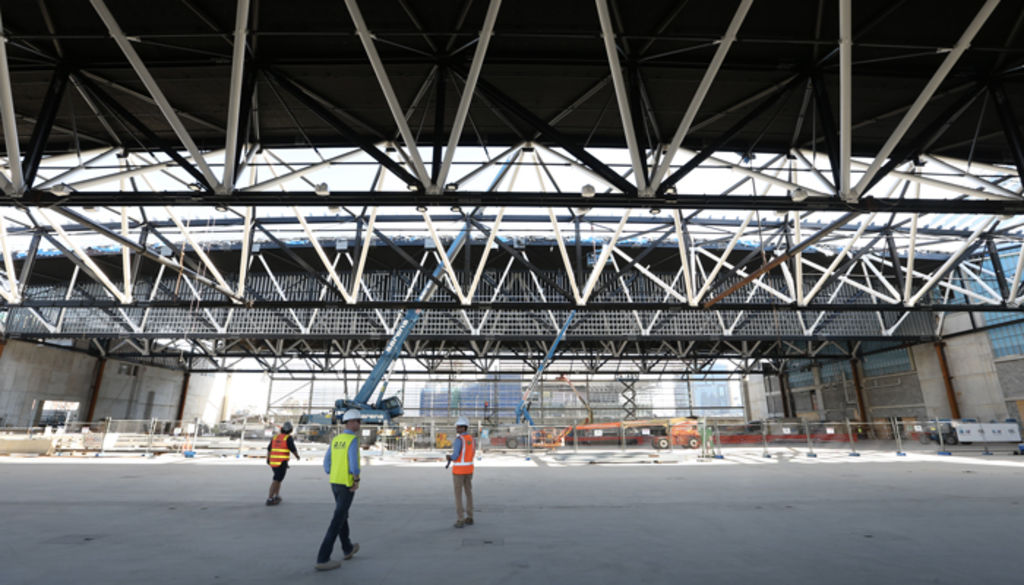 First look at the new Sydney International Convention Centre
More than 3000 tonnes of steel, 2000 work hours, two lifts and four days.
That is what has gone into the making of the roof now atop of Sydney's brand new harbourside exhibition and convention centre.
The installation of the roof structure was the final major step in the construction of the new International Convention Centre Sydney at Darling Harbour, which is expected to open its doors to the public in December.
Premier Mike Baird and Infrastructure Minister Andrew Constance inspect the new roof. Photo: Louise Kennerley
The Herald was allowed a glimpse inside the new centre for the first time on Tuesday when Premier Mike Baird and Infrastructure Minister Andrew Constance visited the site.
While it still largely looks like a working construction site, in the coming months it will metamorphose into a convention centre, an exhibition centre and a 8000 seat theatre.
The roof will probably get less attention then, but for now workers on the project are celebrating its installation via a strand-jacking technique normally reserved for aircraft hangers, bridges and stadiums.
"This has been a great engineering feat and it is something that we have not done before on this sort of scale," Lendlease chief executive Steve McCann said.
Watch the timelapse video below.
"The old centre served Sydney really well but the majority of it was 30 years old. It was the first centre that was built in Australia but technology, the needs of the market, and just the realisation of the importance of business events, not just to the economy, but to a city's reputation as well meant it was time [for a new centre]."
Mr Donaghy said about 50 exhibitions had already been locked in for the centre, with the Reeds Gift Fair to be the first held next February. Another 40 international conventions have also been secured for 2017.
Premier Mike Baird said he held no concerns that the project would not be delivered on time. He said the convention centre had potential to attract a "world cup of economic activity" annually.
"It's not only underway, it's on time and under budget," the Premier said.
"We're very confident that we are delivering it on time and there are a number of events lined up, what we will see now is our ability to compete with the best of the best."
As well as the convention centre, the project includes the construction of a new residential and commercial area, a new public square and a luxury hotel – all of which are due to have their roofs on and be open to the public by 2019.