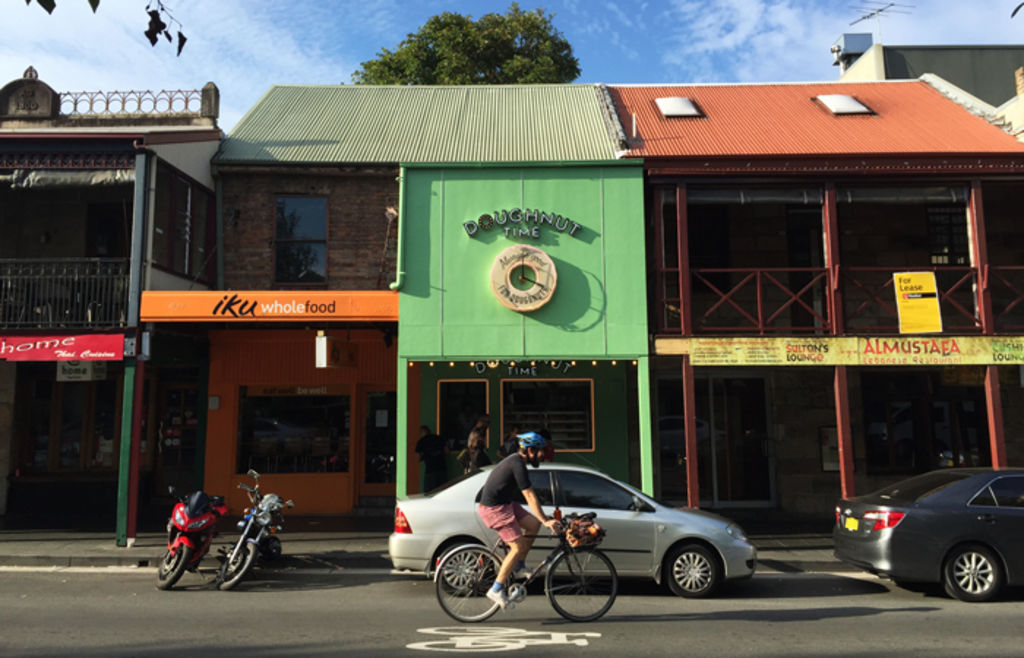 Doughnut Time scopes out Perth locations for planned September opening
Australia's latest darling of the doughnut industry is on its way to Perth.
Brisbane-based food entrepreneur Damian Griffiths has confirmed his Doughnut Time chain is headed for the west coast and is already considering locations, with the first WA store expected to be open by September.
With celebrity-pun-inspired varieties including The Mariah Cherry, The Cereal Killer, Ya Bacon Me Crazy and Vegan Fox, Doughnut Time has quickly become a hit since the launch of its first kiosk in Brisbane's Fortitude Valley 14 months ago.
The opening was a runaway success with customers blocking the footpath waiting to taste one of the artisan creations.
"Doughnut Time started from a hole in the wall and took off like a rocket," Mr Griffiths said.
Fifteen stores in Brisbane, Sydney, the Gold Coast and Melbourne, including three mini stores in fashion retailer Topshop, now employ 120 people. The company also plans to open in Japan as well as in WA.
Damian Griffiths, the founder of Doughnut Time, with one of his $6 doughnuts. Photo: Robert Shakespeare
"It has expanded and suddenly we are everywhere. Perth seemed like a natural progression," Mr Griffiths said.
"We are looking at locations in Northbridge or Fremantle – Topshop has asked us to do a collaboration in Perth city."
Mr Griffiths said Doughnut Time had a massive social media reach and had attracted more than 100,000 followers on Instagram and 64,000 on Facebook. Many of the requests for Doughnut Time to open in Perth had come via social channels.
Doughnut Time is not a standard run-of-the-mill food operation based in a shopping centre. Instead, the retro-cool outlets are more likely to be found in quirkier locations.
Doughnut Time in the Sydney suburb of Glebe. Photo: Rebecca Holland
Edgy styling complete with vibrant green tones, a ubiquitous doughnut-shaped clock and neon lighting accentuate the foodie experience.
Mr Griffiths said a commitment to branding, great customer service and a great product not "pumped full of preservatives" had all contributed to the company's success.
The inspiration for Doughnut Time came while Mr Griffiths was travelling in Chicago and joined a long queue of people, despite being unsure as to what he was lining up for.
The surprise turned out to be a kiosk selling gourmet doughnuts.
Doughnut Time's handmade offerings are created with fresh ingredients in a local, central bakery before being delivered to each outlet every few hours.
Flavours change weekly and a peek at this week's menu reveals varieties such as Love at First Bite – a gooey combination of Nutella filling and cinnamon sugar dusting; The Cookie Monster, with cream and chocolate glaze, marshmallow and chocolate biscuit filling topped with an Oreo; and Melon Degeneres – sour watermelon and cream glaze with sherbet topped with mini choc chips.
Vegan and gluten-free options are available as well.
Mr Griffiths said he was excited about the opportunity to open in Perth, which he saw as having a similar culture to Brisbane.
In November 2014, hundreds of people queued – some camping for several days – for the opening of Perth's first Krispy Kreme store at Whitford City.
Mr Griffiths said he wasn't deterred by the frenzy.
"There will be some great giveaways, we always try to make a lot of positive energy and do something special for the locals," he said.