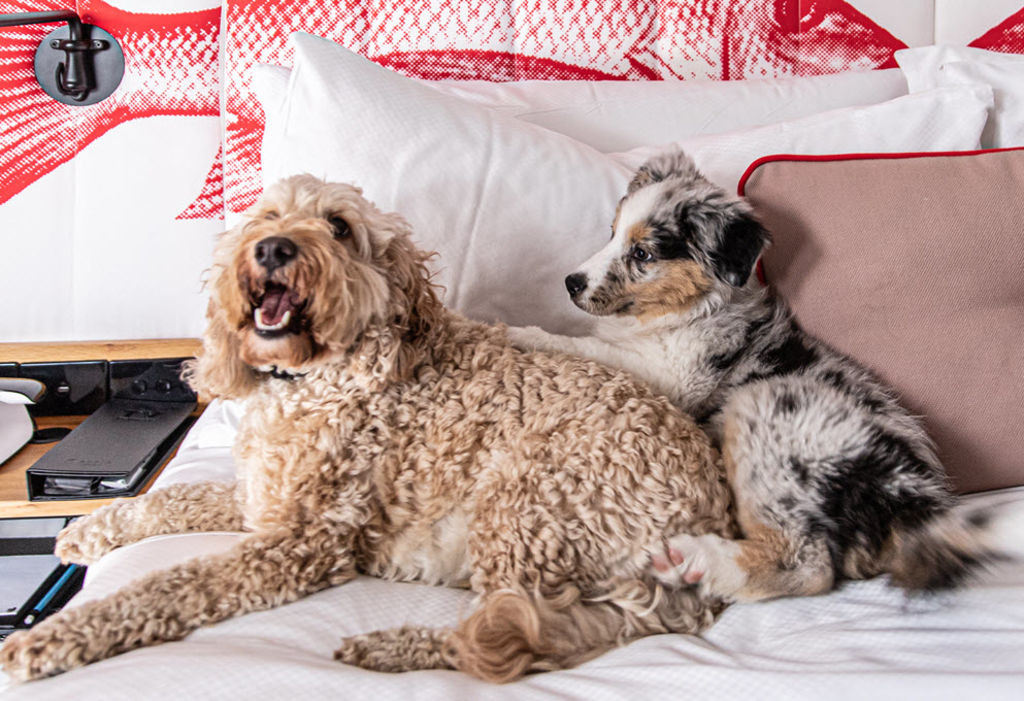 Why pet-friendly hotels are becoming more common in Australia
Australian travellers no longer want to leave their dogs with family, friends, or professional carers, if the latest trends are any indication.
Increasingly, the travel and hospitality industries are recognising that they need to provide pet-friendly venues and services to accommodate the changing needs of travellers.
At present Australia is lagging behind Europe and Canada in offering dog-friendly holiday options, and also in providing dog-friendly travel on trains, planes and buses, but demand for pet-friendly travel may soon see this change.
More than 60 per cent of Australian households own a pet, with our 8.5 million furry friends being considered and treated as family members, according to recent IBISWorld research.
"Pets are seen as part of the family, so it's no surprise pet programs have more than doubled in popularity at hotels like The Langham Sydney over the last couple of years," says the NSW and national chief executive of Tourism Accommodation Australia, Michael Johnson.
"And it's not just dogs and cats – rabbits and birds are also being welcomed at some of Sydney's finest hotels.  Some hotels even offer specific services for pets, including menus tailor-made for your four-legged friends. Common-sense rules apply surrounding health and safety – for example, pets are not allowed in restaurant areas."
Depending on the amenities, a standard room can be charged at a premium price, as seen with the Langham Sydney which offers rooms from $635 a night plus an additional $120 per dog or cat.
This provides a pet-specific room service menu and at additional fees, dog walking and minding services.
The Diamant Hotel in Potts Point offers rooms at $204 per night, with a $25 surcharge per dog.
Ovolo Hotels launched V.I.Pooch in May, which offers a number of pet-friendly rooms in all its properties across Hong Kong and Australia. Each of these rooms comes decked out with a plush dog bed, a no-mess eating and drinking mat, separate food and water bowls, along with a designer 'doggy bag' containing toys, healthy snacks and handy poop bags.
"Along with these pawsome perks, each guest who books a V.I.Pooch experience will receive a welcome letter outlining the best dog-friendly cafes, bars, restaurants, wineries and more, including nearby dog-friendly areas and general contacts, which may be required during their stay, such as groomers, dog-walkers and vets," said Stephen Howard, Ovolo's group director of marketing.
Another accommodation provider, Ascott Australia, has two venues that also offer dog-friendly accommodation. On arrival, a welcome pack of treat, toy and a gift is part of the booking. They also provide water, food bowls, poop bags and access to a pet-friendly outdoor courtyard.
"We are proud to offer pet-friendly accommodation at two of our Australian properties, Somerset on Elizabeth Melbourne and our newest hotel Citadines Connect Sydney Airport," said Kenneth Rogers, regional general manager for Ascott International Management Australia.
"More and more travellers want their beloved fur-friends to accompany them on holiday, so it only made sense to us as an accommodation provider that we too welcome guests of the four-legged kind.  As demand for pet travel grows, we wanted to make it easier for prospective guests to bring their fur-friends along on their next adventure to Melbourne or Sydney."
Get a weekly roundup of the latest news from Commercial Real Estate, delivered straight to your inbox!