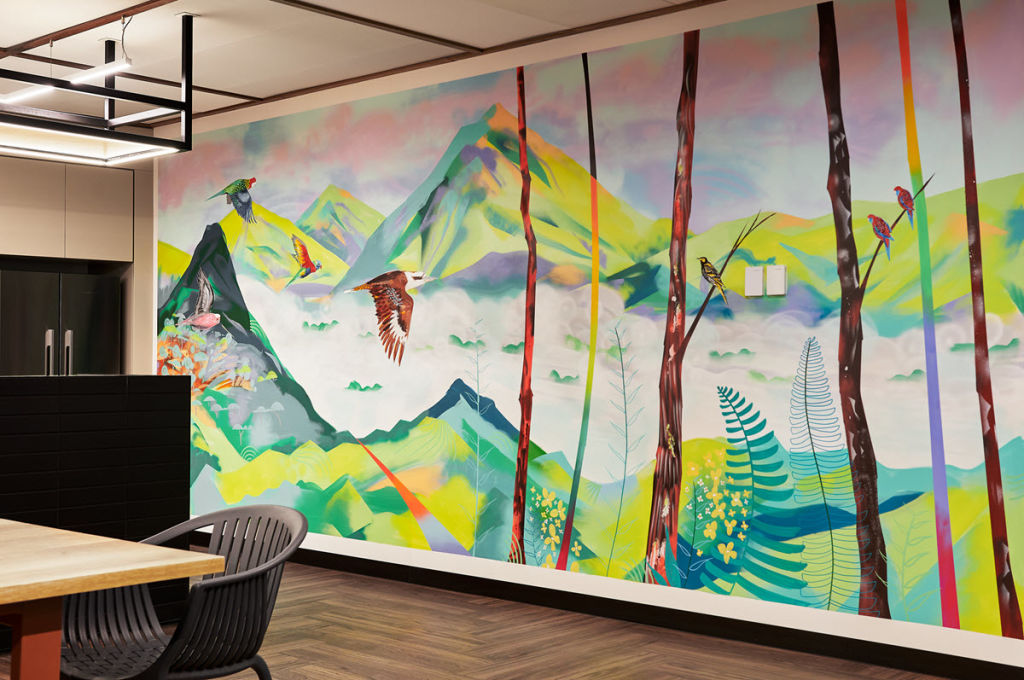 Deloitte assembles Australia's largest corporate art collection of 2020 in its new Melbourne offices
When professional services firm Deloitte signed up to be the anchor tenant of one of Melbourne's most prestigious new buildings on Collins Street, they decided they'd like to curate a new collection of artworks to make the space feel even more special.
Even more fortuitously, considering the project was started at the tail end of 2019, they agreed all the artists would be from Melbourne, which effectively proved a lifeline to many during the city's second COVID-19 lockdown.
"We saw this as a great opportunity to support some of our local artists, particularly in the current environment," said Paul Rehder, Deloitte Melbourne office managing partner. "We wanted to make sure to include up-and-coming artists and indigenous artists too, to give them the chance to showcase some of their fantastic work."
"We wanted to come up with a narrative for the works, so we decided on Surprise and Delight – art that would reflect a bit of an urban Melbourne experience but that would surprise and delight at every turn. And I think it certainly has that effect."
The size of the new collection – featuring the work of more than 35 artists – on the walls of a select number of the 13 floors Deloitte has taken in Mirvac's newly built $864 million Olderfleet development at 477 Collins Street – has certainly startled many onlookers.
As the largest corporate art collection assembled anywhere in Australia this year, it now puts Deloitte, one of the big four accounting organisations in the world, firmly in the artistic limelight.
"It was simply amazing," said Emilya Colliver, director of art curators Art Pharmacy, who worked with Deloitte on assembling the collection.
"We haven't seen anything of this scale in Australia in 2020.
"As a big four-tier company moving into a beautiful building, they wanted a fresh new impactful collection from Australian artists, and this certainly puts Deloitte on the map as great supporters of art."
The collaboration showcases a diverse range of media and artists, from five-metre-long murals depicting Australian landscapes and native animals from David Cragg and Minna Leunig, to contemporary ceramic sculptures by Nicolette Johnson.
One of the most eye-catching pieces comprises two artworks made from the crinkled metal of recycled car bonnets, and backlit to glow gold and black. Creator Jonathan Ben-Tovim, who also produces lighting and furniture, says his aim is often to take people unawares.
"I do a lot of pieces where I use materials that come from a different context and when people see it, they realise there's a natural beauty to it that they might not have otherwise noticed," he said. "There's something nice about something that can surprise a little bit.
"This is the first time I've been commissioned by a corporate client like this, and it was great. It's really nice to see companies investing in artworks and trying to get interesting work rather than the generic sort of corporate paintings that they might normally have."
The most nerve-wracking part of the process was, however, the moment he took a drill to the newly finished office wall to put up his work. "If I'd have messed up, I could have been banned from the building," he said.
Another of the artists was Lisa Waup, a curator of Gunditjmara and Torres Strait heritage. Her distinctive weaving work is composed of many layers that symbolise the different eras of history, and reconnection.
Her piece for Deloitte is a hand-stitched custom wall hanging sharing her stories of country and identity, with red and yellow fabric on top of black and blue. Titled Continuity, it was also her first corporate commission.
"This is a whole new realm for me, to be included in something like this," said Ms Waup, who hasn't yet seen her work on the wall because of the lockdown. "I find it really exciting. For a big company to see the value of works like these is just wonderful.
"As an artist and art-maker, there's so much that you bring of yourself to this, and stories behind the pieces, so for that to be embraced, is fantastic."
As soon as the Melbourne lockdown is over, there are plans for a major opening ceremony, with QR codes explaining each of the individual pieces and providing links to the artists and their other work.
Then, with the eventual return to the office, there should be a constant flow of staff, visiting businesses and clients to admire the art collection.
"It's really for everyone coming through the office," said Mr Rehder. "It's a great showcase and I think when staff are able to come back, they'll be really excited to see the works on the walls.
"And, of course, the intent is that they'll also be surprised and delighted."
Get a weekly roundup of the latest news from Commercial Real Estate, delivered straight to your inbox!