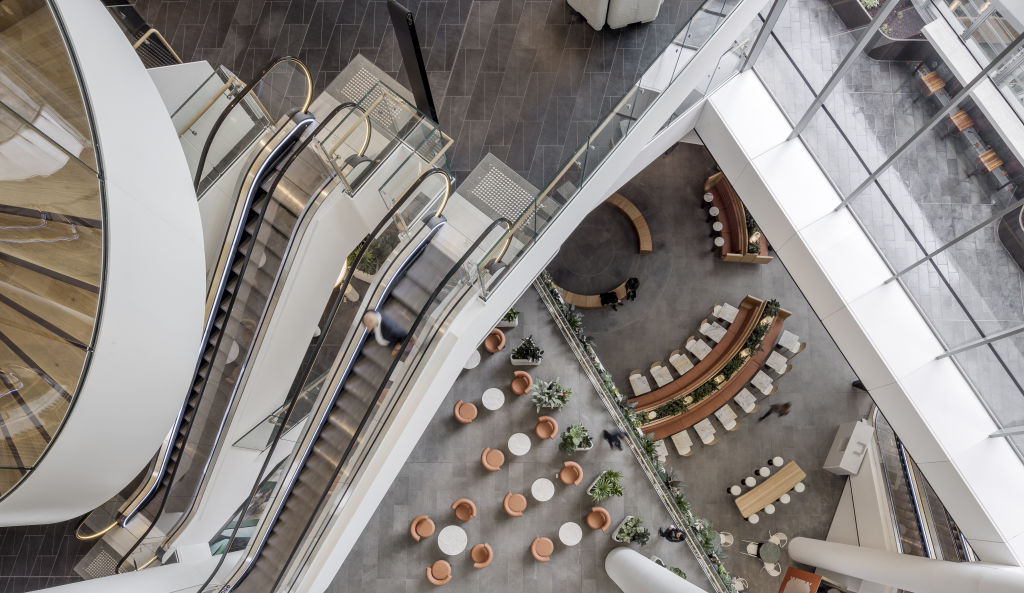 '10 years in the making': Take a tour of AMP Capital's Quay Quarter Tower
Construction crews are on their way out and tenants are on their way in at AMP Capital's 50-storey Quay Quarter Tower in Sydney.
It forms part of a $3 billion precinct that occupies prime city real estate, opposite Circular Quay at 50 Bridge Street.
Impressively, 95 per cent of the office space at Quay Quarter Tower has been leased to tenants such as Deloitte, IMC, Corrs Chambers Westgarth, JWS and EQT.
There is some remaining office space and it will not disappoint tenants looking for premium space, says Christina Malcolm, AMP Capital's office leasing director.
"We've got limited vacancy remaining, but what we've got is extremely appealing and unique to the Sydney market," she says.
The top two floors – levels 48 and 49, "which we have referred to as the crown level" – are still available. They offer about 1700 square metres of penthouse space.
"They have spectacular views that are just panoramic and both those levels have very large terrace areas," Malcolm says.
"The top floor has an enhanced ceiling height in that north-western corner of the floor plate. It's a unique offering and I don't think anywhere else in the building has anything that's comparable."
Views begin with the streetscape at the lower levels, which includes Quay Quarter Lanes, a newly opened 3600-square-metre residential and retail precinct.
The mid-levels have views of nearby heritage buildings and, from the top tiers, there are vistas of Sydney Harbour, the Opera House and as far out as Parramatta and the airport.
The four-year construction of Quay Quarter Tower was completed by Multiplex in April. It transformed an existing 45-year-old building measuring 45,000 square metres into 88,000 square metres of office space.
"This project has been 10 years in the making," Malcolm says.
"It's been quite a long-term project and, of course, it's a multi-use development, so it's not just the commercial tower, it's the retail, the residential and the laneways."
AMP Group was the first tenant in the building, and fit-outs for other offices are currently taking place.
Malcolm estimates most tenants will move into the building in early 2023, which is when retail occupancies will begin to fill.
Quay Quarter Tower was designed by Danish architects 3XN in collaboration with Australian architectural firm BVN.
It has a Jenga-like facade, comprising five shifting glass volumes stacked upon each other and punctuated by atrium spaces.