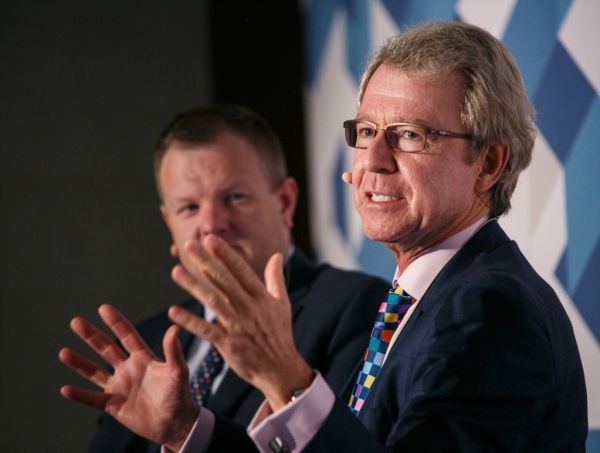 Commercial to remain strong while residential growth confined to single digits, economist says
Commercial property is likely to be a much better investment over the next 18 months than residential property, according to Shane Oliver, head of investment strategy and chief economist at AMP Capital, with most asset classes set to offer stronger returns.
Dr Oliver told an audience at the recent Australian Financial Review Property Summit that residential and commercial yields had done a complete turnaround over the past three and a half decades.
"In the early 1980s, you had a good yield for residential and for commercial it was a lot lower," he said, adding, "residential went to 8 to 9 per cent gross yield, while commercial was showing just 3 per cent."
"Now we're in a situation where residential is less attractive. Its yield is much lower at around 2 to 3 per cent after costs, net rental yields, while commercial is more around 5 per cent, which makes it somewhat more attractive."
[dm-listing-recommendation experimentname='midcontent-listings' positiononpage='midcontent']
He said he didn't see that situation changing much in the foreseeable future either, with jitters in the international markets from global economic uncertainty centring on US President Donald Trump, trade wars between China and the US, and tensions arising from the Middle East, Hong Kong and Brexit.
These factors were likely to keep Australian interest rates falling further, particularly in light of ongoing issues such as low wage growth and rising unemployment and underemployment on the horizon, although infrastructure spending, tax cuts and a weak Australian dollar could be considered positives.
But that low interest environment stretching off into the foreseeable future makes returns on bank term deposits much less alluring when compared to commercial real estate. A 10-year government bond yield of 0.9 per cent doesn't cut it at all.
"We're in an environment where interest rates will be low for some time," Dr Oliver said. "They may go down to 0.25 per cent, but I don't see them going negative as I don't think that will work, and that's not what Australian banks want. We've been in unusual periods before – such as in the 1970s and 1980s with high interest rates and high employment – but it eventually passes."
Residential property looks less certain, too, as an investment, with speculation of a return to boom-time conditions short of the mark, according to Dr Oliver.
"With residential property, there are two extreme views," he said. "One is that a bounceback has started a new property upswing and we're heading towards 10 to 15 per cent returns over the next 12 months, and the other is that things are so weak that things will decline and we'll see some property crash.
"But both are wrong, in my opinion. The truth will be somewhere in the middle, and we'll see single-digit growth."
In that context, commercial property is looking a much better bet for investors, although there's a wide variance in the performance levels of different classes.
"Retail has run hard and fast, and into some trouble with the switch to online sales," Dr Oliver said. "Rising house prices and slow spending is also leading to lower consumer spending so retail has had a bit of a rough ride in the last year or so. But now we are starting to see some uplift in yields."
Office property, however, is faring better. There had been concerns that the trend for working from home would take over, and perhaps robots snatch our jobs obviating the need for offices for the rest of us to work in, but those fears haven't materialised. Instead, it's a strong market, offering good returns.
"With office property, we're seeing an ongoing demand for space and strong investor demand driving a very tight leasing market," said Dr Oliver. "Vacancy rates are incredibly low so that's pushing up rents and leasing activity.
"If there were a lot more stock, I would be more concerned, or if we were going into recession. But we're not facing either of those situations, and yields are looking reasonable to me. As years go by, we'll see a bit of a pick-up in supply but that won't be onerous."
It's a similar story too for industrial property where the growth in online sales is leading to an increase in demand for warehouse space, with Amazon, for example, wanting more warehouses to distribute their products.
"Property investors sometimes say industrial property is rats and mice, and who wants to invest in it?" said Dr Oliver. "But it offers fantastic yields and investors have realised that over time.
"I worry a little bit about it because you can put up industrial property pretty quickly, in a few days in some cases. Office buildings take years; industrial stuff seems to take a few moments in comparison. But I suspect online logistics are going to be there for a long time."
[dm-listing-recommendation experimentname='below-content-listings' positiononpage='belowContent']
Keep up with Commercial Real Estate news.
Keep up with Commercial Real Estate news.