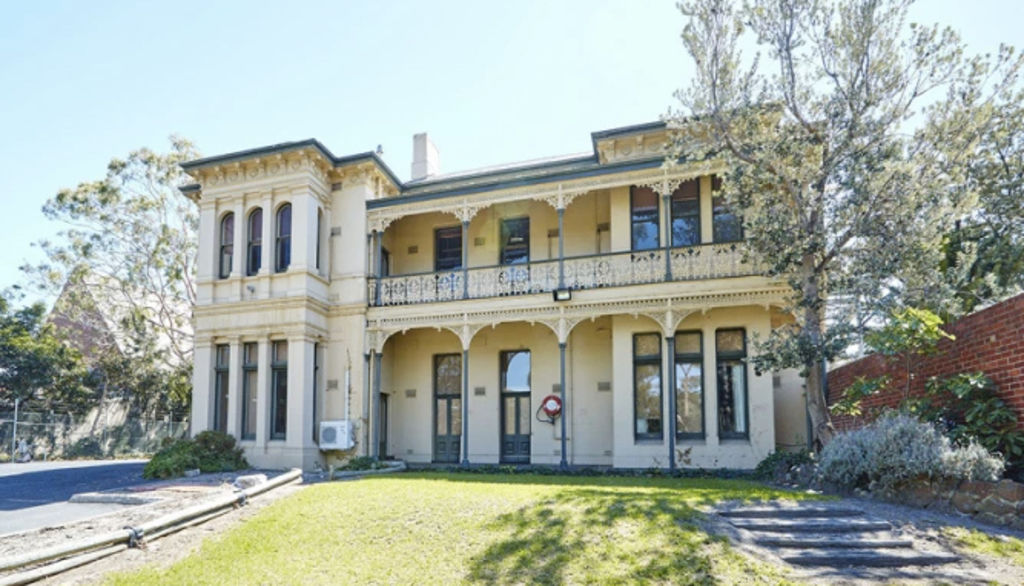 Colourful history revealed as landmark St Kilda mansion hits the market
A regal 130-year-old mansion on sprawling grounds in the heart of St Kilda has been a curiosity for decades.
Seemingly forgotten by time as Melbourne grew around it, the two-storey property at 12 Chapel Street appears to have been a beloved home of owners who have long since departed, stoking the public's imagination.
Does it have a colourful past?
Did anyone actually live there?
The answers are: no, maybe and sometimes.
Cloyne was built in 1887 at the height of the city's late-19th century property boom. Photo: Supplied
The veil of mystery lifted this month when a for-sale sign went up in front of the property, prompting a flurry of real estate buzz.
The 30-room house on 5028 square metres is on the market for the first time in three decades and has attracted potential buyers with big ideas for its future.
Selling agent Ed Wright, of CBRE Melbourne, says the building known as Cloyne is a fine example of a suburban mansion built during Melbourne's 1880s property boom.
"The building has strong bones and is in very good condition," Mr Wright says.
"It is in a prime area on a huge block backing on to parkland (Alma Park) and there are a lot of car spaces on the property, lending itself to commercial operations."
If only these walls could talk: The building has been used as a brothel, funeral home and hostel in its 130-year history. Photo: Supplied
Potential buyers have indicated interest in converting Cloyne into a family home, aged-care operations or offices, Mr Wright says.
So what of Cloyne's history?
The imposing scale and opulent design of the mansion, with its ballroom, orchestra gallery and library, reflect the wealth and social prominence of its first owner Sir John Madden, a Melbourne barrister, who became Chief Justice in 1893 and Lieutenant-Governor in 1899.
It was built for Madden in 1887 and named after his birthplace in County Cork, Ireland. He and Lady Madden lived at Cloyne until 1912.
Since then, the property has been used as a boarding house, funeral home, brothel, yoga school and a Salvation Army hostel.
Mr Wright assures would-be mansion owners that Cloyne isn't haunted.
"I have asked the question if the home has any ghosts and I'm told that there aren't any,"Mr Wright says. "It has a lovely light, airy feel about it so I'm convinced there are no ghosts there."
The drawing room, dining room and library open from a central hall with a staircase. Photo: Supplied
The Salvation Army is the current owner.
The principal rooms – the drawing room, dining room and library – open off a large central stair hall and all face the park. These rooms have intact fireplaces, cornices and ceiling roses.
"Potential buyers would probably want to utilise the solid structure and could move in straight away," Mr Wright says. "The home would just require some internal modifications and an update more than anything else."
Its heritage listing requires that the building's key structure remains.
"We have had so many people querying about what could be done with Cloyne so we are really looking forward to them coming through to inspect it and see for themselves," he says.
Mr Wright estimates Cloyne will fetch more than $6 million.
The block is close to St Kilda's cafe precinct, supermarkets, schools and has direct access to all forms of transport.