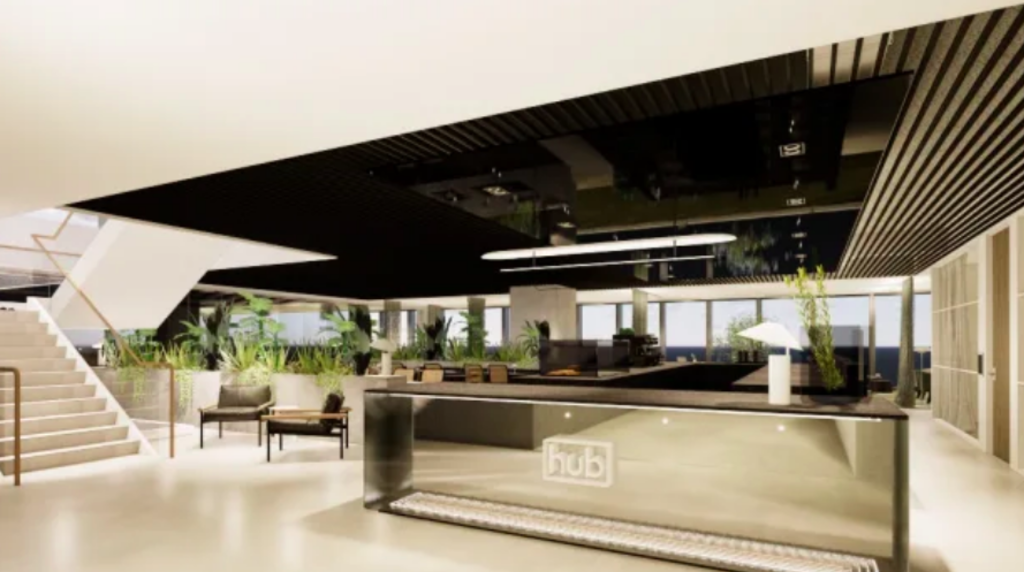 Co-working provider Hub Australia to move into new Wynyard tower
Co-working provider Hub Australia is the latest company to sign up to a $2 billion development being built above Wynyard Station in the Sydney CBD, joining major tenants NAB, Allianz and Brookfield in the 27-storey office tower.
Hub will take up about 4000 square metres of space across two levels in the skyscraper, which is due for completion in the second quarter of 2021, with 400square metres of its tenancy will be devoted to a free premium lounge for Hub customers and other building tenants.
About 80 per cent of the tower has been pre-let, with NAB taking 45 per cent – which equates to nine floors, or 33,000 square metres – for 12 years. Allianz and Brookfield will take 12,000 square metres and 6000 square metres respectively. There are six empty floors remaining.
The Wynyard Place development, recently renamed Brookfield Place after owner and developer US real estate giant Brookfield, includes the restoration of Shell House and 285 George Street with 7000 square metres of retail, as well as a major upgrade of Wynyard Station.
No retail tenants have been revealed by Brookfield, but there will be three flagship retailers on George Street and two levels of retail on the concourse, as well as a two-storey "rooftop dining experience" at Shell House and several tucked-away bars and eateries.
Carl Schibrowski, co-head at Brookfield Properties, said the Hub tenancy would meet the growing demand for flexibility in the way businesses delivered for their employees and customers alongside their permanent office space.
"By working collaboratively with our key office tenants – NAB, Allianz and Brookfield – we have developed a model that will provide free breakout spaces for their workers as well as access to premium, pay-for-service flex space through Hub Australia's services and facilities," Mr Schibrowski said.
"The business lounge will provide areas for tenants to conduct business transactions away from regular office spaces, as well as provide real flexibility by way of additional workspaces, meeting rooms and conferencing facilities."