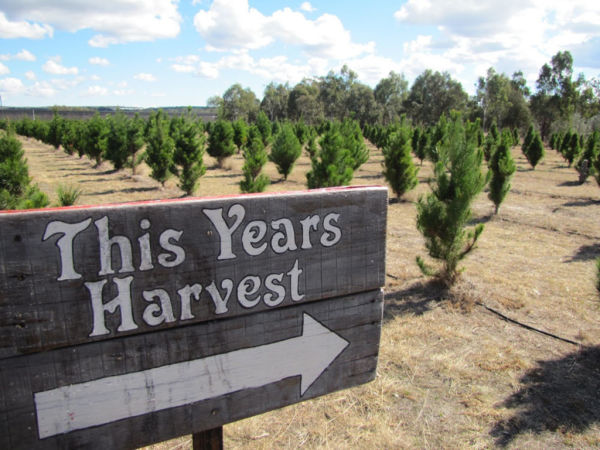 How one couple built a popular Christmas tree farm outside Stanthorpe, in Queensland's wine country
When Brad and Katrina Fraser surveyed their newly purchased eight-hectare property near Queensland's coldest town, Stanthorpe, they wondered what they could do with the land.
Previously living and working in outback Queensland, the couple relocated to the tourist town because of its proximity to family and its promise of more plentiful job opportunities.
But soon after purchasing the defunct apple orchard in 2014, the Frasers started a family of their own, and it was then that Mrs Fraser decided that she didn't want to send her children to daycare.
"I said to my husband, 'I can't go back to work after having our baby girl'," she said.
[dm-listing-recommendation experimentname='midcontent-listings' positiononpage='midcontent']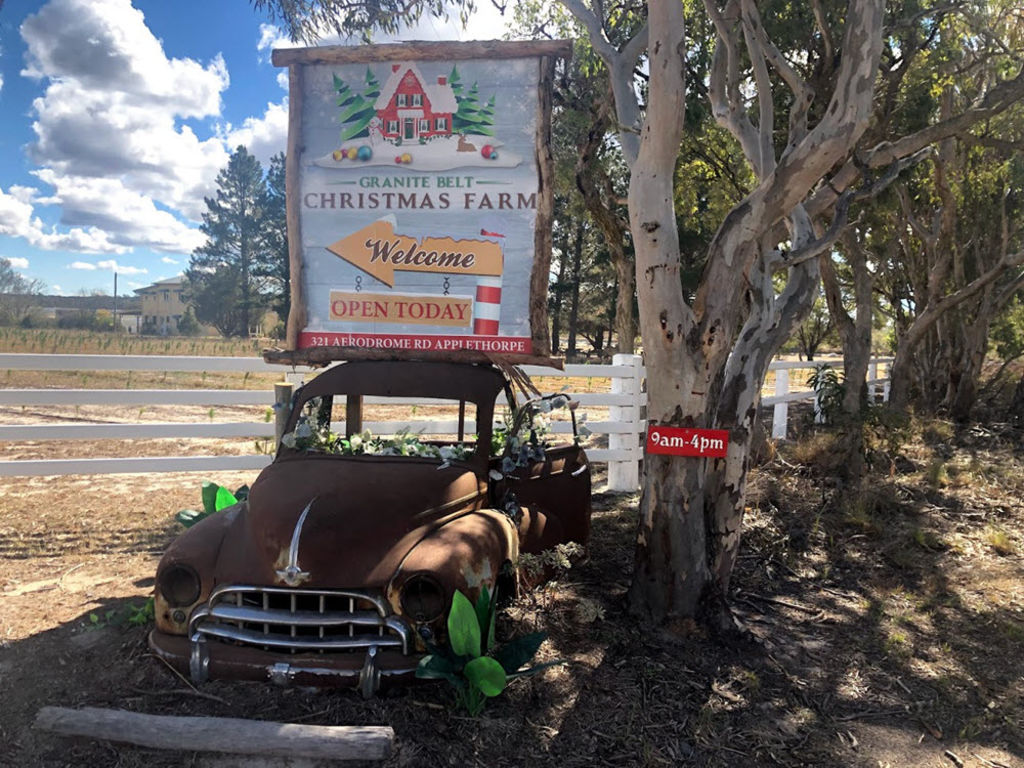 "He said, 'well you better think of something that can bring us an income on 20 acres', and so I did. I looked at what other wine regions in Australia were doing and I came up with the Christmas farm idea."
Four years and 10,000 radiata pine trees later, the Frasers have established a thriving Christmas tree farm, open to the public from April to January, with an annual harvest in early December. But it hasn't always been smooth sailing.
Originally a cattle farmer, Mr Fraser knew how difficult life on the land could be, but nothing could have prepared him for the prolonged drought that hit the area shortly after he began planting in 2015, which resulted in the loss of 1000 trees.
"I try to do my best for them [the trees] and we irrigate them with bore water, but nothing is better than Mother Nature's rain, because of the nitrogen in it," he said.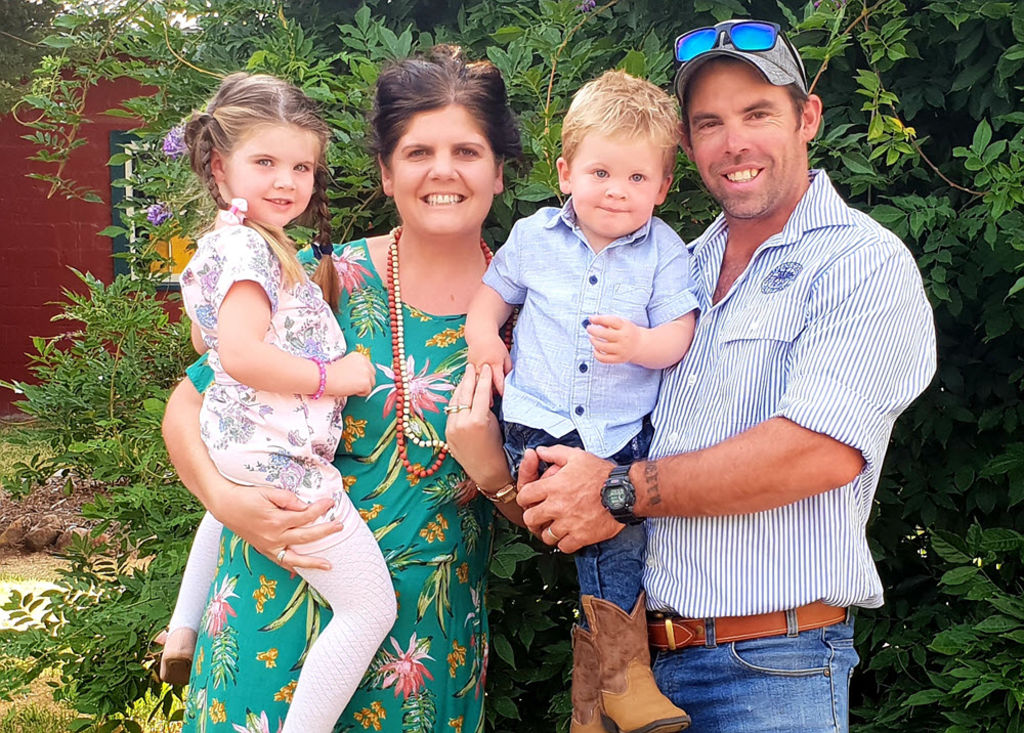 "I thought it'd be a matter of plonking a pine tree in the ground and giving it water, but there's a bit more to it than that, which we're learning as we go along.
"I'm used to chasing cows around a paddock, but now I'm watching trees grow – I guess I've had a tree change," he laughed.
Mother Nature tested them again earlier this year when raging bushfires tore through the township of Stanthorpe and the surrounding Granite Belt region, coming within a lick of the farm's boundary.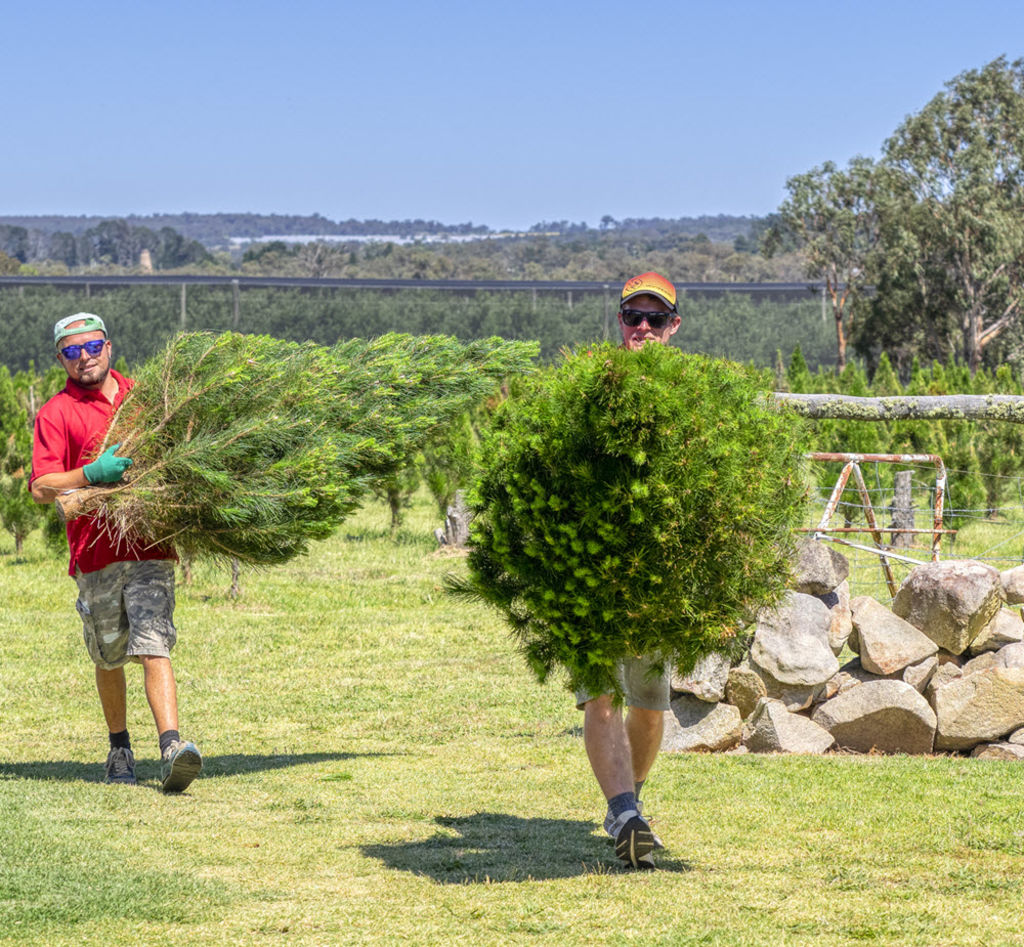 "Until you're in it and you're seeing this massive fire up to the trees … it puts life in perspective," Mrs Fraser said.
"The house started filling up with smoke and I felt like, 'I've got to get out of here' because all I could think of was our two young children."
While she drove Evelyn, 4, and West, 2, to a motel in Warwick for the night, Mr Fraser stayed to protect the farm.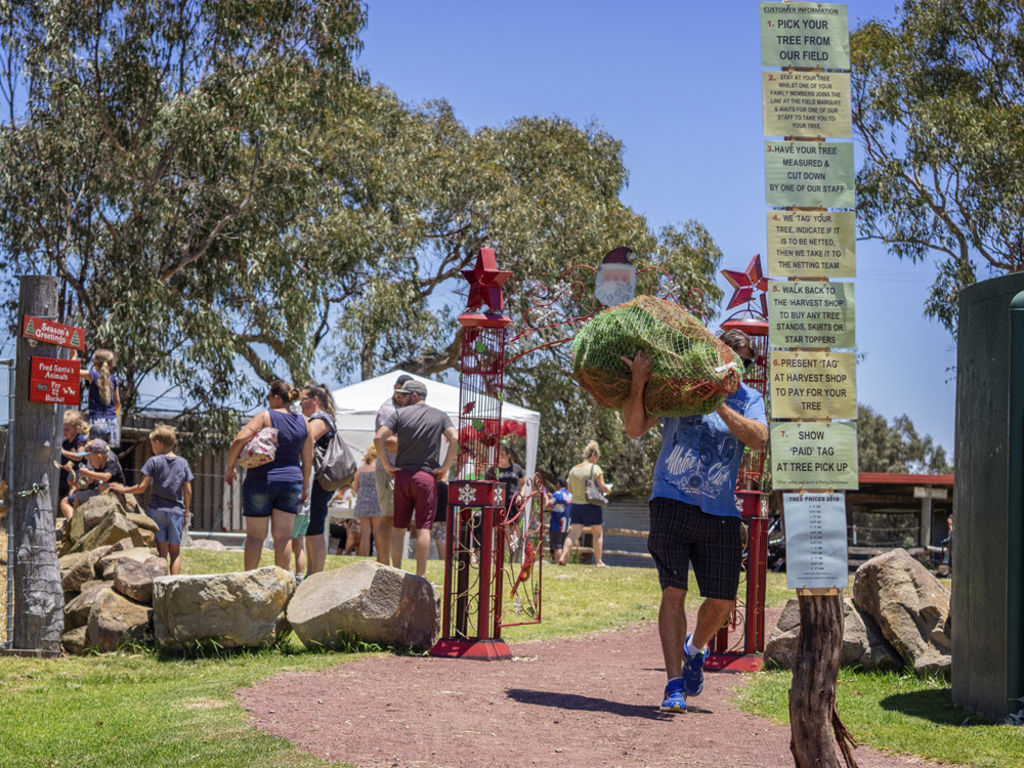 With power cut off by the fires, he couldn't pump water from the bore to fill the water tanks. He then discovered his generator had a broken pull-cord, which he hurriedly repaired as the fires continued to advance.
"I eventually got it going and got water to the tank at around 11.30pm when the fire was on its way to the highway, which is only one kilometre away from us. In 40-kilometre winds it would only have taken seconds to reach us," he said.
"I sat in my ute watching the fire until about 2.30 in the morning. I was so dog-tired that I started slipping into nana naps, but I was so on edge that I kept dreaming that the fire was here.
"I was waking up every 15 minutes or so in a panic, but I got through the night and then the water bombers started the next morning."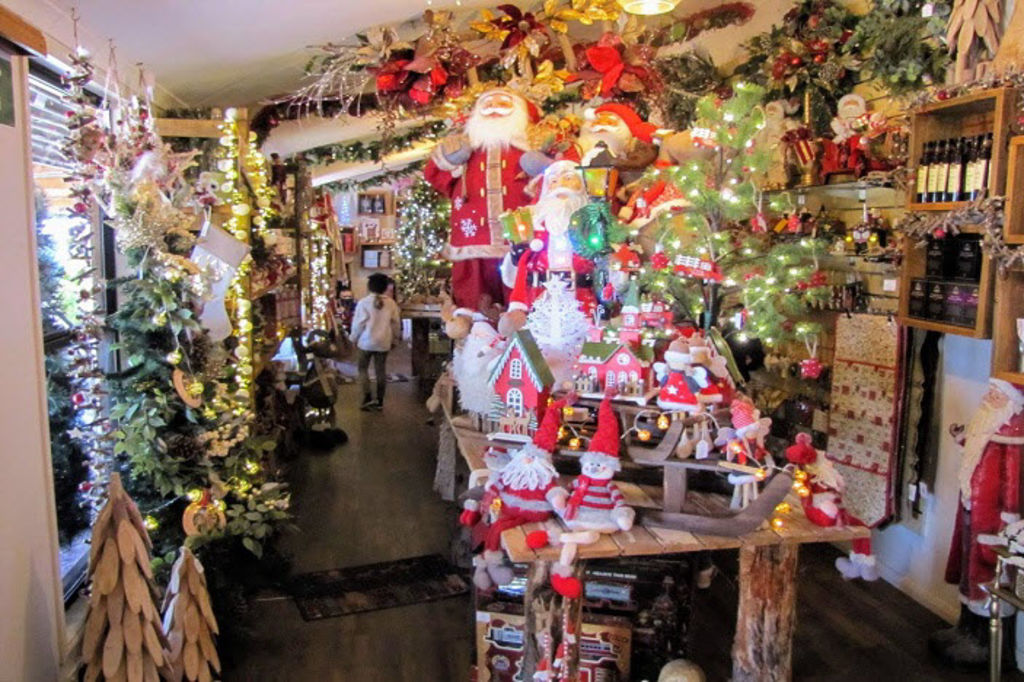 Unperturbed by the extremes of nature, the Frasers have expanded their offerings to include a Christmas gift shop selling a range of boutique ornaments and decorations, an area for children to pet and feed Santa's animals (think reindeers, donkeys and lambs), and a range of sweets for purchase, homemade by Mrs Fraser.
The handmade treats include chilli chocolate, made with locally grown chillies; strawberry creams, featuring the neighbouring farm's fresh strawberries; and trays of apple pie chocolates made from local apples.
In a tourist region already well frequented for its wineries and foodie delights, the Granite Belt Christmas Farm is quickly becoming a popular stop.
"It's been a real success story for us, and we sell out of trees every year, which is about 600 trees sold annually, depending on the rain we've had that season," Mrs Fraser said.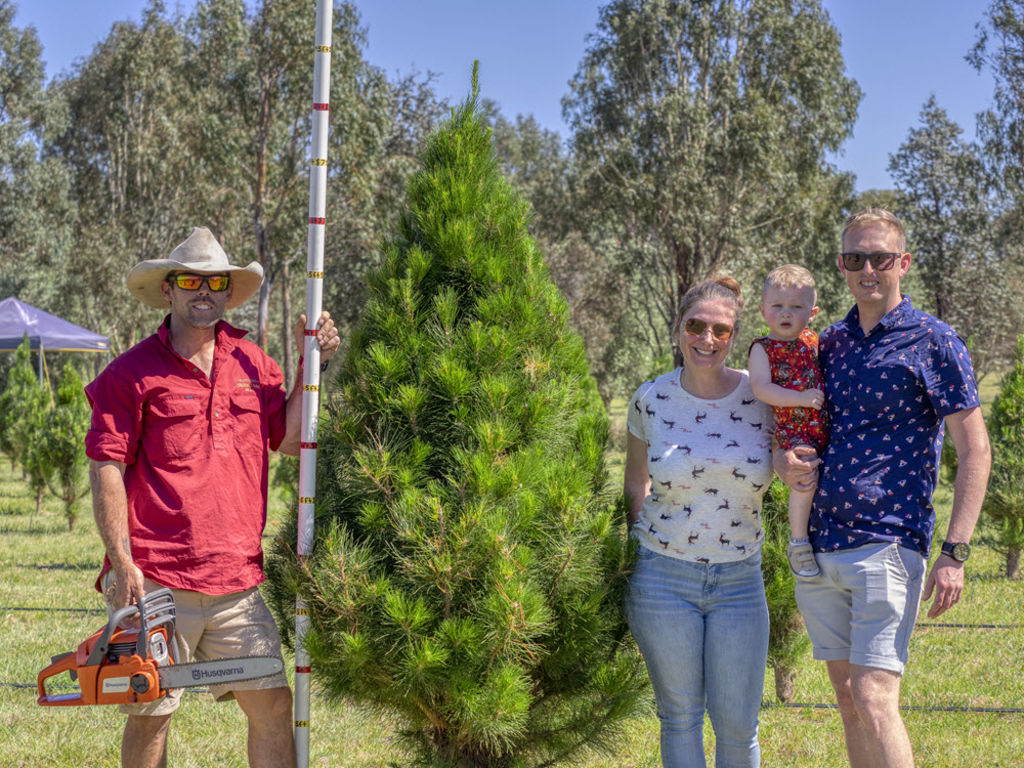 Most of the farm's trade comes from families in Toowoomba and Brisbane, eager to wander the fields in search of the perfect pine tree, ranging in size and price from four-foot (1.2 metres) for $55 to eight-foot (2.4 metres) for $95.
During peak season the Frasers are run off their feet, and rely on backpackers and Christmas casuals to help meet the demand.
"The biggest hurdle is juggling family because we have two young children at home," Mrs Fraser said.
"There's lots of late nights, up until midnight, but we know it's not forever, and we get to be our own bosses. Plus, we get to make someone else's Christmas special."
Mr Fraser agreed that the Christmas business was a merry trade to be in.
"We're not just here to sell a product and make a coin … it's Chrissie, it's the best time of the year," he said.
"That's why we really want people to come to the farm gate and pick their own tree and start a tradition. People remember when they've had a real-life tree."
[dm-listing-recommendation experimentname='below-content-listings' positiononpage='belowContent']