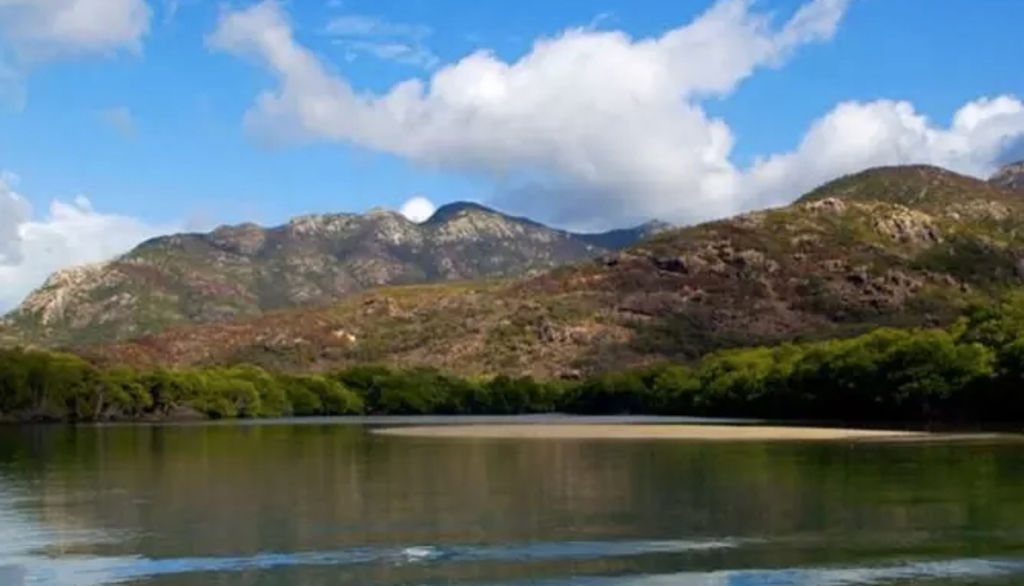 Camp Island in the Whitsundays is for sale: Your own slice of paradise
Luxury holiday home? Yes. A private beach with that? Yes. All on a tropical island? Now you're talking.
A Camp Island property on the Great Barrier Reef in Queensland's Whitsundays comes with this and more and could sell for a fraction of the price it would cost to buy a waterfront home in some Australian cities.
There are waterfront cottages and a main house on Camp Island, Queensland. Photo: Supplied
It was the trophy holiday home of 1980s entrepreneur Bruce Judge, who at his peak as head of Ariadne Australia was worth $250 million and developed Camp Island with all the bells and whistles.
So there would be ample space to accommodate friends and family, Mr Judge included four waterfront cottages, a three-bedroom main house, tennis court and pool on the 2.48-hectare resort-style property.
Camp Island consists of coral shores, a sandy beach and 15 hectares of national park with diverse fauna and flora.
National park on Camp Island. Photo: Supplied
A price guide for the the Island Road parcel, which will be sold as leasehold, is not available but selling agent Keir Kreis, of LJ Hooker Commercial Brisbane, said comparable islands in the region had sold between $2 million and $3 million.
The 9.4-kilometre Turtle Island off Gladstone in Queensland sold in 2014 as freehold for $2.145 million to Sydney investors. Mr Kreis says Camp Island could fetch more than Turtle Island as it was in a more sought-after location and has superior amenities and access.
Mr Kreis says the well-maintained homes and buildings included in the sale would cost about $5 million to build.
"It's the second most northerly island in the Whitsundays, it has excellent structures including an award-winning home, and is only three kilometres from the mainland so we are expecting strong interest," he says.
"A local or overseas buyer may want it for their own holiday use or someone may take it to that next level and run the property as a commercial business such as a fishing or wellbeing resort."
The current owners have "outgrown" the property. Photo: Supplied
The property has permits to be operated commercially, key central facilities required for a resort, and reliable mobile and internet coverage, Mr Kreis says.
"The owners are three Queenslanders, who have outgrown the property," he says.
"They are two cotton growers from St George and another fellow from Brisbane. It was bought as a holiday getaway for their families in the mid 1990s and now they aren't using much so have decided to sell it."
Most islands in Queensland are sold as leasehold and Camp Island's leasehold runs until 2038 at which time the owner can seek to renew it, Mr Kreis says.
The award-winning main residence was named Architectural Society House of the Year in 1988. The four cabins have ensuites, kitchen facilities, polished timber floors and French doors opening out to verandahs.
The property is situated off the Elliot River township in Abbot Bay and is 50 kilometres north of Bowen. Boat access to the island is via the Elliot River off the Bruce Highway. Townsville airport is a 90-minute drive away.
The rental under the terms of the lease is about $6000 per quarter. Council rates are around $2000 per half year.
No. 1 Island Road, Camp Island, via Bowen, Queensland is for sale by expression of interest.