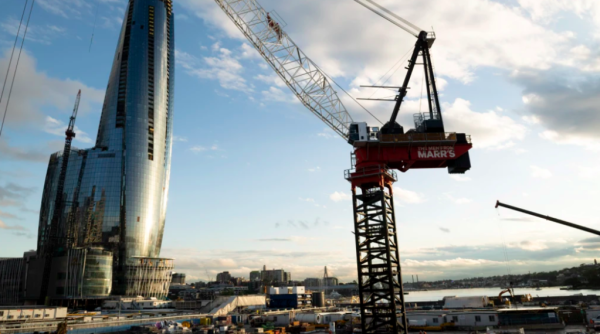 Builders want 'productive conversation' with unions after reform
Michael Bleby
The CFMMEU construction union is too large and unable to meet the demands of an industry that needs "a productive conversation" to resolve new workplace issues such as culture and mental health concerns as well as pursuing shorter and more efficient working weeks, builders say.
Legislation passed last week that allows for the mining and manufacturing arms of the giant Construction, Forestry, Maritime, Mining and Energy Union to separate – isolating the combative construction division – was not the end, but the start of a change, building industry veteran Martin Monro said.
"What that does is assist with the notion that unions are too unwieldy – the CFMMEU is too unwieldy – to have a sensible productive conversation," former Watpac head Mr Monro told The Australian Financial Review.
"It's not the knockout punch that says once this happens the industry is going to be able to deal with parts [of the labour movement] in a more productive way, but it's more helpful than not."
[dm-listing-recommendation experimentname='midcontent-listings' positiononpage='midcontent']
The legislation that passed through Parliament last week supported by the Opposition Labor Party will not alter industrial agreements binding employers to rates of pay or conditions. Nor will they have any short-term effect on the behaviour of the division led by John Setka, the largest part of the 144,000-strong CFMMEU.
But the legislation will make an isolated building union more subject to action preventing unlawful behaviour, such as a case in April when a male union official allegedly abused a female safety adviser and illegally blocked a concrete pour on a Gold Coast apartment project.
It could also make it easier for the industry to respond to structural changes accelerated by the pandemic.
"As an industry, we've gone from … unsafe work conditions and we addressed that through saying 'We've got to end this; we've got to have rules, we've got to have procedures', and we looked after each other's safety from a physical point of view," John Holland chief executive Joe Barr said.
"If you look at the industry now, thankfully, it's an industry where we have far less physical injury to people than we had three decades ago, and that's a great thing."
The seeds of a different relationship have already been sown, with the CFMMEU and building industry achieving unprecedented co-operation this year to bring in COVID-safe practices and make changes on sites to keep the industry working as the pandemic threatened to shut them down.
"I'd like to believe that it gives us a better-than-even chance of being able to build on it going forward," Mr Monro said.
"You'll have rogue unions or dodgy employer ideologues at a policy level, but they are the minority. The wider community that is the building and construction industry – the wider community wants these changes."
COVID-19 forced even construction companies to embrace practices such as working from home and to respond to the mental health needs of their workers and this required a more sophisticated level of conversation between builders and unions, Mr Barr told the Financial Review.
"What this last year has done has put this spotlight on 'Let's be progressive about this and let's think about the wellbeing of people beyond their physical safety'," he said.
"That is a great platform for the environment of the industry to change and culture of the industry to change. We're able to reframe that conversation … now it needs to progress to the wellbeing of our workers."
One change many builders would like to see, but feel a lack of confidence around, is a move to a more efficient working week based on fewer days worked but more work done – often referred to colloquially in the Industry as "the five-day week".
In September, NSW builder Roberts Pizzarotti agreed on a mechanism to allow a five-day week on its projects when it signed a CFMMEU EBA, but no other builders have done so yet.
Many builders would be willing to pay the same money in exchange for an efficient five-day working week and give up expensive – and less productive – weekend shifts if they were confident the resulting productivity benefits would mean no loss in overall output or program extension, Mr Monro said.
"Many … are happy to have the conversation – particularly in the context of making the industry a better and healthier place to work – but are nervous we'll pay the money, the industry won't change its approach to working hours and project programming, the minority rogue element won't bring about the productivity improvements those payments are predicated on, and what will actually result is a higher racheted-up cost base but with the same old productivity impediments," he said.
"That is what the industry is scared of."
A five-day week is not an option for all. Civil infrastructure contractors, for example, might get greater efficiencies from 24/7 operations on large projects given their use of expensive plant and equipment, but they could also become more efficient through better conversations, Mr Monro said.
But in some quarters, even that conversation remains still a long way off. The federal court this month fined the CFMMEU and two officials a combined $221,000 after finding they had contravened right of entry laws and intimidated staff at a Hobart construction site in 2019.
The court found CFMMEU official Richard Hassett entered the 80 Elizabeth Street site without a permit to do so and found his colleague Kevin Harkins acted in a loud and intimidating manner toward the site foreman when asked to identify safety breaches Mr Harkins said had taken place.
"You don't f—ing pay me, so I'm not going to tell you," Mr Harkins told the site manager. When he was asked to leave to site he told the site manager to "get f—ed". The court called the contraventions "deliberate and serious" and described Mr Hassett as a "recidivist".
Builder Vos Constructions & Joinery did not respond to a request for comment, but Master Builders Tasmania executive director Matthew Pollock said the industry wanted the unlawful behaviour of officials of the combined CFMMEU Victoria-Tasmania branch – led by Mr Setka – to stop.
"That militant approach to unionism is old. It should not be part of the work culture of construction," Mr Pollock said.
"It does not meet community standards, it does not meet industry standards. Now it looks increasingly likely that some of the bad behaviour of the construction union does not meet the standards even of other unions."
[dm-listing-recommendation experimentname='below-content-listings' positiononpage='belowContent']
Keep up with Commercial Real Estate news.
Keep up with Commercial Real Estate news.