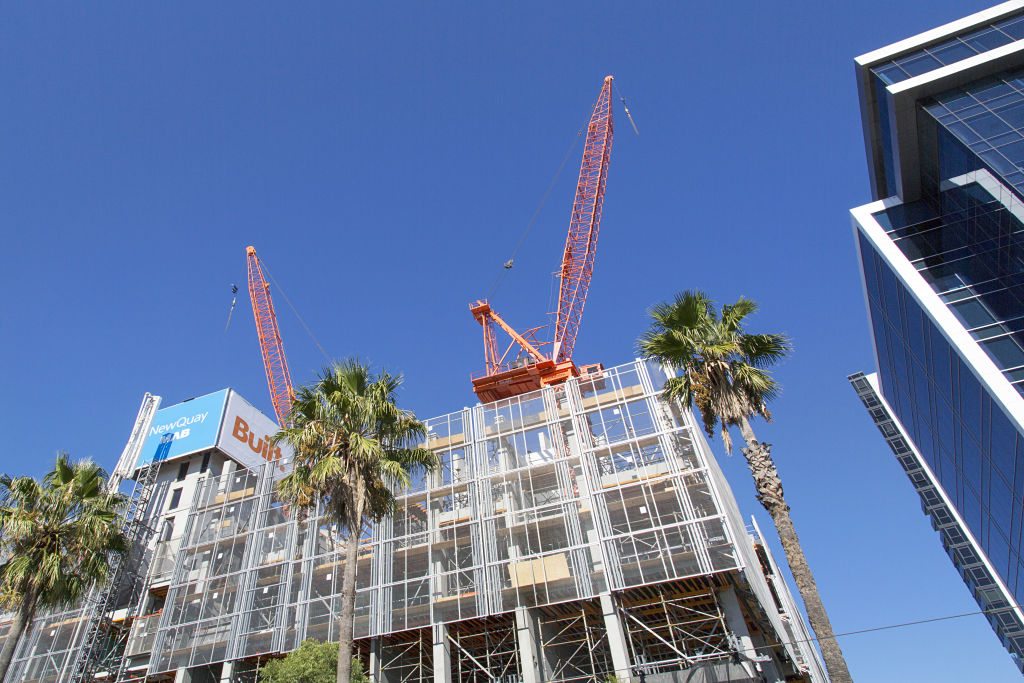 Builders back new construction forum
Major building firms have expressed cautious support for the tripartite National Construction Industry Forum whose establishment was flagged during last week's Jobs and Skills Summit.
The initiative was outlined by Employment Relations Minister Tony Burke after independent senator David Pocock, whose Senate vote was crucial to the abolition of the Australian Building and Construction Commission, raised concerns about how the government would handle construction site issues including productivity if the building watchdog was scrapped.
While the powers and functioning of the new body are still to be detailed, its mission is to tackle issues ranging from mental health, and safety, to training, apprentices, productivity, culture, diversity and gender equity in the construction sector.
"A forum to discuss mental health, health, workplace safety, culture, productivity and gender? I would welcome that wholeheartedly because there are so many issues in the industry that people don't talk about," Roberts Co chief executive Alison Mirams told The Australian Financial Review.
Ms Mirams said the issues of workplace culture, mental health and women's participation in the sector were tightly linked to productivity. Women comprise around one quarter of the construction sector compared with 51 per cent across the all-industry average, according to Workplace Gender Equality Agency figures for 2021. Ms Mirams has urged the sector to adopt a more inclusive culture.
"The construction industry suffers from a very male, blokey, litigious, confrontational culture. That is not conducive to good mental health, to attracting women and to increased productivity," she said.
"'Culture' encapsulates all of that. If we looked at improving mental health, bringing a lot more women into the industry and improving the culture, if we tackled those three issues, then productivity would be the beneficiary."
Ms Mirams has pushed ahead on e introducing five-day weeks on some projects the company tenders for, an initiative that could make the sector more accessible to women. But the Roberts Co chief warned the proposed construction forum should not descend into a "talkfest".
"The female participation rate in the construction industry 35 years ago is the same as it is today. There has to be structural, systemic change. The time for talk is over," she said.
Brett Mason, who leads major construction firm Built, said the proposal for a forum where construction firms, unions and government all "have a seat at the table" was a positive step.
"The devil's in the detail," he said. "Our industry in particular has headwinds of inflation, price escalation, supply chain risks. The industry needs to work together to find new ways forward. To have a tripartite forum is a step in the right direction."
But the biggest challenge facing local builders is the fact that Australia's construction is one of the most expensive in the world, he said.
"We need to find new ways to maintain and improve productivity, while modernising our approach to mental health, culture and gender. They are all super-important."
Mr Mason said Built was eager to bring more flexibility to worksites, without necessarily imposing a "blanket five-day week as a solution".
"We are already one of the most expensive places to build in the world. Maintaining productivity and flexibility on our sites is absolutely key, while we modernise the workforce and renew our approach to gender and renew our approach to mental health.
"We'll have to work together and not saddle the industry with less productivity. We literally cannot afford it."
Get a weekly roundup of the latest news from Commercial Real Estate, delivered straight to your inbox!