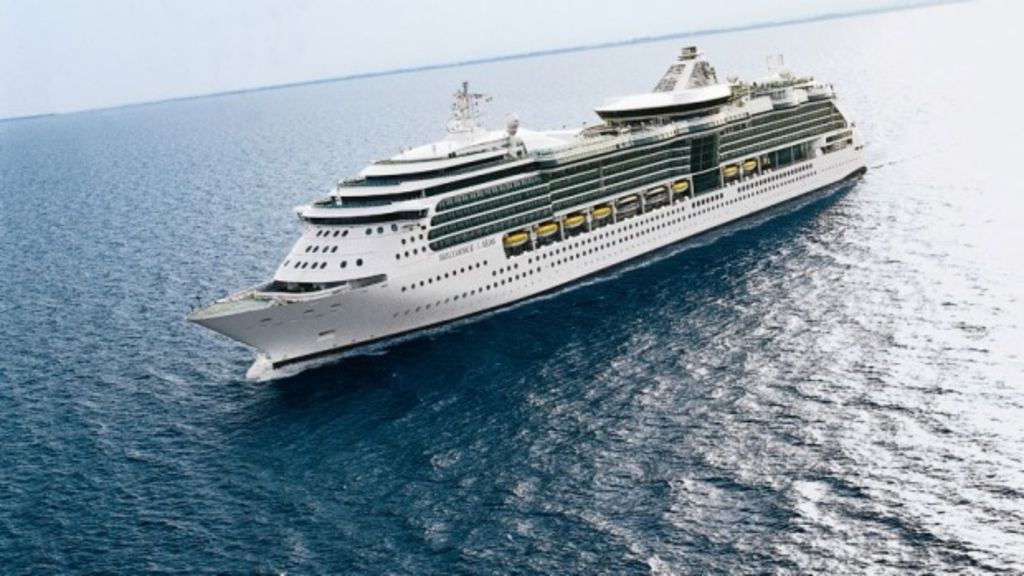 Brisbane's new $100m cruise ship terminal to go to Cabinet
Some of the world's largest cruise ships could be arriving in Brisbane from mid-2019 with plans for the city's second cruise ship terminal to be built in a $100 million project near Brisbane Airport.
Queensland Cabinet is about to debate a proposal from the private sector to build Brisbane's second cruise ship terminal which would be able to accommodate superliners by early 2019.
Taxpayers will have to contribute nothing to get the deep-water cruise ship terminal project up and running, according to key sources.
A Royal Carribean mega liner capable of bringing 2400 visitors to a destination. Photo: Orlando Chiodo OCZ
"This does not require any government funding whatsoever.
"It is 100 per cent privately-funded," a well-placed source said.
"But this will allow the terminal to accept any cruise ship currently plying the waters, or under construction."
Queensland Cabinet – either at the first meeting on January 25 or early in February – will discuss a proposal to build a $100 million purpose-built cruise ship terminal on land on the north side of the mouth of the Brisbane River at Luggage Point. The site is near Myrtletown.
The land was designated for a future cruise ship terminal by Brisbane City Council in 2013 and included in the city's City Plan in 2014.
Cabinet is set to discuss a "market-led proposal" from two of the world's largest cruise ship operators – Royal Carribean International and Carnival Cruises – to build the terminal in deep water at the mouth of the Brisbane River.
Carnival Corporation is a British/American cruise line company and regarded as the world largest cruise company. It runs 100 ships over 10 cruise lines including P and O Cruises, Cunard Cruises, Princess Cruises and Carnival Cruises.
Royal Carribean offers trips to 223 destinations in 72 countries over six continents including the Carribean, Europe, Alaska and Asia in six classes of ships.
The market-led proposal policy – set up by the Palaszczuk Government in July 2015 – is used by Queensland Treasury to kickstart major infrastructure projects by the private sector in Queensland.
"We would hope to hear some really good news, some positive announcement, within three to four weeks," the source said.
This market-led proposal to Queensland Cabinet is being led by the Port of Brisbane – which owns the land – and the two cruise ship operators.
Port of Brisbane Authority said it was prevented from commenting on market-led proposals to the Queensland Government.
Fairfax Media understands the advantage to the private sector proponent under a market-led proposal is the Queensland Government grants exclusive rights to the private company – to run a cruise ship terminal in this case – if the market-led proposal is accepted by Cabinet.
Cabinet decides whether to "accept or reject" the Market-Led-Proposal to have the new super-liner terminal built by the previous sector, in return to granting exclusivity to Royal Carribean and Carnival Cruises.
The cruise ship situation in Brisbane now
Brisbane has a cruise ship terminal at Portside Hamilton, but because of the narrow, relatively shallow depth of the river, the Hamilton port can only accept cruise ships up to 270 metres long.
The world's bigger cruise ships are larger. Cunard Cruise liners Queen Mary 2 is 345 metres long, while Royal Carribean's Allure of the Seas and Oasis of the Seas are both 362 metres long.
"So the Luggage Point stretch of the river allows a vessel of any size – any currently known cruise vessel," the source said.
"It will be purpose-built for the biggest cruise ships."
The proposal is to have the mega cruise terminal up and running by "first quarter 2019."
Fairfax Media understands the construction phase is already planned and construction could start "very quickly" if the market-led proposal is accepted by Cabinet.
What is the cruise industry worth to Queensland
Queensland is Australia's second-largest cruise shipping market, supporting 2117 jobs and generating $588.8 million in direct and indirect expenditure for Queensland from a total of 239 visiting ships and 442,253 passenger days at port.
State Development Minister Dr Anthony Lynham – who in 2015 ruled out a cruise ship terminal proposal for Gold Coast's Wavebreak Island – declined to answer questions on Thursday.
The world's five biggest cruise liners
Allure of the Seas – Royal Carribean International – 362 metres (6296 passengers)
Oasis of the Seas – Royal Carribean International – 362 metres (6296 passengers)
Anthem of the Seas – Royal Carribean International –  348 metres (4095 passengers)
Quantum of the Seas – Royal Carribean International  – 347 metres (4095 passengers)
Queen Mary 2 – Cunard Lines – 345 metres (3090 passengers)