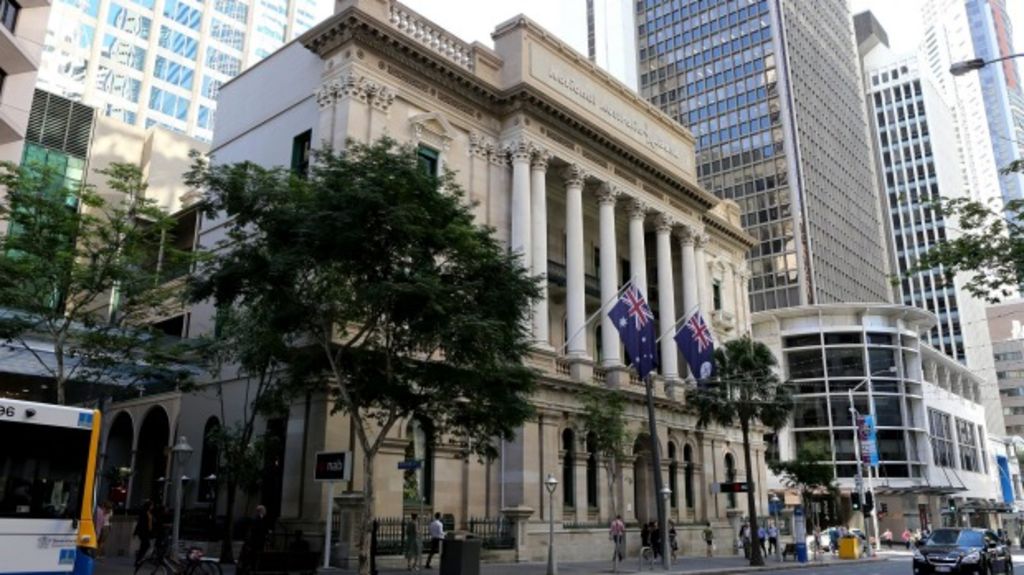 Brisbane's heritage trading scheme allows developers to build bigger
It is the building at the centre of Brisbane's heritage trading scheme, which has allowed developers to get around strict planning rules in the CBD.
The heritage-listed National Bank building on the corner of Queen and Creek streets in Brisbane's CBD has stood since the 1880s, but its value spreads beyond 308 Queen Street.
Developers have been able to carve up the site's non-heritage development potential – that is, the development rights the owners would have had it not been heritage-listed – to other sites in the CBD.
That has allowed the controversial high-rise development at 443 Queen Street, adjacent to Customs House, to be approved despite it not conforming to the City Centre Neighbourhood Plan.
An artist's impression of Cbus Property's 443 Queen Street development. Photo: Supplied
While both the National Bank building and 443 Queen Street were owned by the same company, Cbus, Aria Property Group's 87-storey Edward Street tower, set for final council approval on Tuesday, also used transferable development rights from the bank building.
As Brisbane City Council's city planning chairman Julian Simmonds said at a committee meeting on Tuesday: "These things are a tradeable commodity."
A spokesman for Lord Mayor Graham Quirk said the National Bank building at 308 Queen St was allocated 2286 square metres of transferable site area when the provision was introduced in the 1987 town plan.
In addition to the Edward Street and Customs House developments, the spokesman said it had previously transferred site areas for other projects at 42-60 Albert Street (853 square metres), 31 Tank Street (29 square metres) and 140 Alice Street (270 square metres).
The National Bank building has allowed Aria's gold-coloured, 274-metre Edward Street tower to have a footprint larger than the 45 per cent that would otherwise have been allowed.
In essence, it allowed the Edward Street site to be treated as a 1986-square-metre site, rather than the 1526 square metres that it actually occupied.
Therefore, in the council's eyes, the development only occupied 44.9 per cent of the land, rather than the 58.4 per cent it actually occupied.
Without the transferable development rights, such a large tower could never be built at 155 Edward Street.
In the case of that Edward Street development, 460 square metres of the National Bank building's 2286 square metres of development rights were transferred to Aria.
The National Bank building still has 364 square metres of transferable development rights its owners could use or trade on the market.
Cr Quirk's spokesman said there were 22 heritage-listed buildings in the CBD with transferable development rights.
"A town planning provision allowing building height development potential to be transferred from certain heritage sites within the same area of the city centre was used for the 155 Edward Street project," he said.
"This provision has been in place since 1987 and was designed to protect heritage places as there was no state law in place at the time."
The spokesman said the owners of those 22 buildings could nominate transfers of all or part of their allocations.
He said more than 20 buildings have used this provision during the past 25 years.
600 square metres TSA transfer approved in May 2009 from the Brisbane Arcade for the development at 167-185 Queen St and 146-162 Elizabeth Street (Centre Activities – hotel, cinema, office, shop indoor sport and recreation and restaurant);
241 square metres TSA transfer approved on 13 June 2013 from the Brisbane Arcade for the development at 155-161 Queen Street, Brisbane (Mather's)(Centre Activities – Convention Centre, Office, Shop);
In 1999 – the Royal Albert Apartments at 167 Albert Street reallocated 577 square metres to 299 Adelaide Street;
In 2000 the Youngs Building at 97 and 101 Edward Street reallocated 104 square metres to the ANZ Building at 324-328 Queen St. In 2000 – a further reallocation by the Youngs Building of 495 square metres occurred to the ANZ building at 324-328 Queen Street;
In 2001, the Shell House at 302 Ann Street reallocated 869 square metres to Central Plaza II at 70 Eagle Street;
In 2001, The Catholic Centre at 149 Edward Street reallocated 437 square metres to the Macarthur Chambers project at 229 Queen Street; and
In 2006, the McDonnell and East Building at 402 George Street reallocated 1722 square metres for the 400 George Street project.