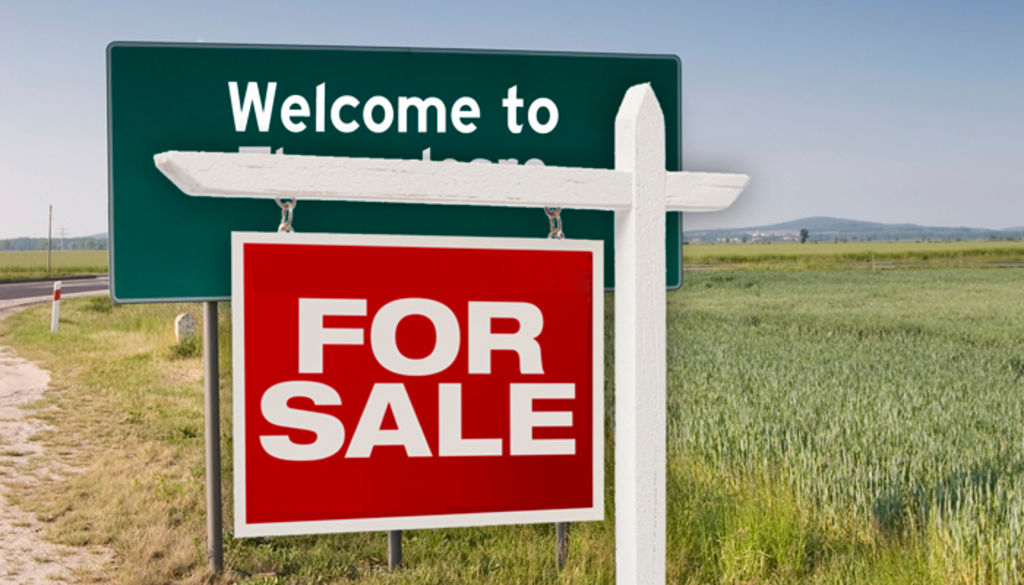 Be your own mayor: Six towns for sale right now
You've probably heard of investors buying up unit blocks, dual shopfronts or even shopping malls. But an entire town?
But if you're willing to look further, setting up your own community might be even cheaper. We've found six possibilities that include a ghost town, a casino and – believe it or not – a gateway to Hell.
1. Cal-Nev-Ari, Nevada, US
Cal-Nev-Ari Casino. Photo: Eleu Tabares / Google Maps
Nancy Kidwell is offering her entire US town Cal-Nev-Ari for US$8 million ($10.65 million). The sale includes the casino, diner, convenience store, 10-room motel, RV park and mile-long dirt airstrip. Ms Kidwell, aged 78, can no longer look after the town of 350 she founded with first husband, Slim, in 1965. "It's time for someone else to do something with it," she told reporters in the US earlier this year. "Fifty-one years is long enough."
2. Allies Creek, Queensland
The whole town of Allies Creek, in Monogorilby, 373 kilometres from Brisbane, is for sale. Photo: Supplied
The possibilities are endless for this slice of central Queensland, says agent Julie Sutton, of Sutton Nationwide Realty. As well as 16 Queenslander style houses with two, three or four bedrooms, Allies Creek comes with three decommissioned saw mills, street lights, streets, a Telstra depot, equipment and a big dam filled with fish. Around half of the houses have tenants. The whole package has a price tag of  $750,000.
3. Tarraleah, Tasmania
The entire township of Tarraleah is up for grabs at around $11 million. Photo: Supplied
Tarraleah Village was originally built in the 1920s and 1930s for the 2000 workers of Hydro Tasmania, the state's biggest renewable energy company and formerly one of its biggest employers. Nowadays, the township is now largely devoted to tourism; hosting weddings, conferences and functions. It could all be yours for about $11 million, through agent Knight Frank. 
4. West Heslerton, North Yorkshire, UK
West Heslerton. Photo: Cundalls
After the death in 2010 of former owner Eve Dawnay, who had inherited the village from her father, West Heslerton passed into the ownership of a group of beneficiaries, meaning the only realistic option was to sell. Currently listed for £20 million (about $37 million), the sale includes a manor house, pub and 43 cottages on 856 hectares. Under Dawnay's tenure, rents in the village had been kept low. However, despite the family indicating their desire for this to remain the case, several developers have already shown interest in the village, according to listing agent Cundalls.
5. Swett, South Dakota, US
Swett Tavern. Photo: Facebook
The town was founded in 1931 by a farmer named Swett and recorded a peak population of around 40 people in the 1940s. More recently, it was owned by Lance Benson, who tried to sell the property in 2013 before the bank took possession and listed it for its current price of $USD250,000 ($323,000) in 2014, according to Stuff.co.nz. Billed as a ghost town, the property includes a garage and tyre shop, a home and a bar, Swett Tavern, which was updated before closing, according to agent Stacie Montgomery.
6. Hell, Michigan, US
The gateway to Hell, Michigan. Photo: Hell Hole Bar, Facebook
Despite having one hell of a name, the small hamlet of Hell, in Putnam Township, Michigan, is still on the market a year after a failed bid from a Detroit arts collective, Damned. Hell, which includes shops such as Screams Ice Cream and the Hell Hole Diner, as well as its own website, is now for sale for $USD900,000 ($1.16 million).
Leigh Creek, South Australia
Leigh Creek, South Australia. Photo: Thinkstock
We promised six towns for sale but here's one more to keep an eye on. The South Australian government is considering selling mining town Leigh Creek, about 550 kilometres from Adelaide, after Alinta Energy closed the coal mine it was purpose built to serve in November last year. In January, the government called for ideas to sustain the town when Alinta hands back the lease in 2018. Leigh Creek, which is home to about 350 houses, a police station, a school, various stores and about 550 people, was built by the state government in 1982.