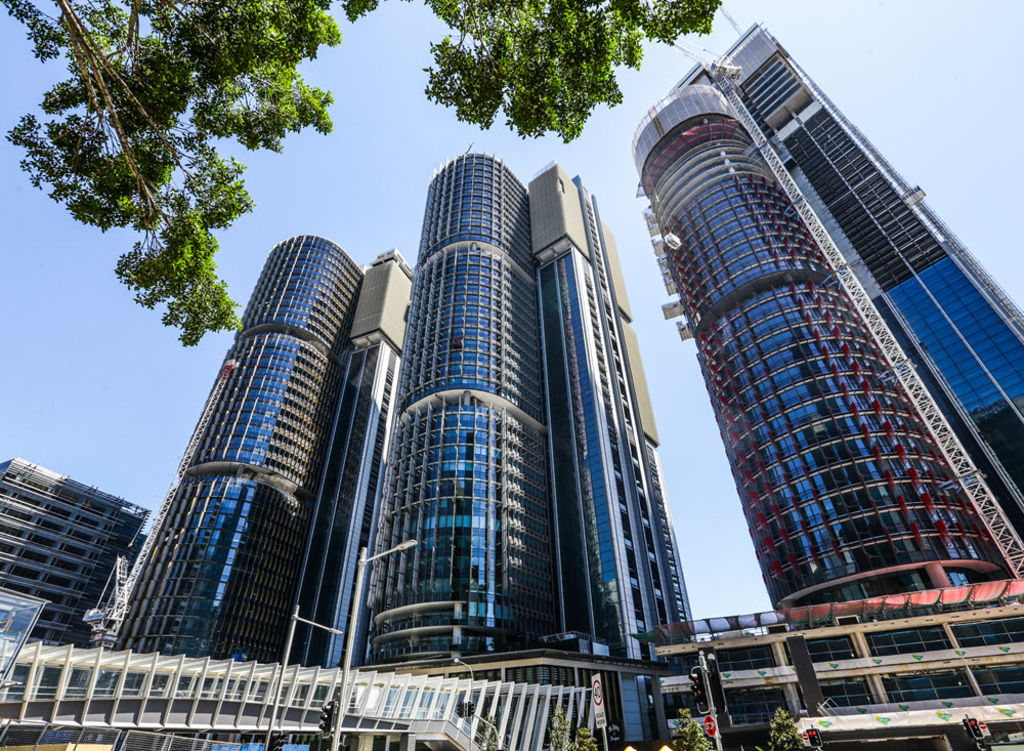 Barangaroo towers in running to be named world's best tall building
Three Australian tower blocks, all in Sydney, have been announced as finalists in the competition for the world's best tall buildings.
The three International Towers in Barangaroo, by developer Lendlease, have made it to the last nine in the category of the best tall building in Asia and Australasia, competing against other office and hotel buildings from Singapore, China and South Korea.
In the best construction category, Mirvac's The EY Centre on George Street in the city is one of the five global finalists alongside buildings in New York, Salt Lake City and Shenzhen.
Finally, in the special ten-year award, the apartment building Lumiere, also on George Street, and by Frasers Property Australia, is in the final eight competitors, alongside projects in Dubai, China, the US, the UK, and Bahrain.
The winners of the prestigious annual competition, run by the Chicago-based Council on Tall Buildings and Urban Habitat (CTBUH), will be announced in May at the group's first Tall + Urban Innovation Conference, celebrating the best in innovative tall buildings, urban spaces, building technologies, and construction practices from around the world. One building will also be anointed the overall worldwide winner.
"The finalists truly represent the pinnacle of excellence in the field of tall buildings," said awards jury chair Karl Fender, director of Australian firm Fender Katsalidis Architects. "Being recognised by the world's premier authority on tall buildings is a great honour, and the opportunity to showcase these quality projects to a global audience helps drive innovation across all disciplines in our industry."
A spokesperson for Lendlease said of the much-awarded commercial skyscrapers International Towers: "It's terrific to achieve global recognition for transforming a derelict container terminal into a place that's become not only a commercial hub but one that's a growing part of Sydney's fabric.
"Working with world-leading architect Rogers Stirk Harbour, Lendlease has created a sustainable, innovative and thriving city place for business, residents and visitors."
Developer Mirvac said it was thrilled at how well its EY Centre at 200 George Street, its new HQ for the company, had performed. Bay Warburton, Mirvac's head of stakeholder relations, said: "The EY Centre is a new landmark building redefining the Sydney skyline, which has set industry benchmarks for sustainability, innovation, heritage integration and construction techniques in Australia and around the world.
"It's a privilege to develop exceptional buildings for our tenants and the communities we operate in. We're proud that Mirvac's latest office building in Sydney has been nominated as a finalist in the construction category, validating the contribution that Mirvac continues to make to the built environment as we pursue our purpose to redefine urban life."
Anthony Boyd, executive general manager residential of Frasers Property Australia, said Lumiere was "a beautifully resolved building which is as elegant and successful today as it was on completion 10 years ago.
"We're delighted that Foster + Partners' superb design is being celebrated internationally by CTBUH, and we also acknowledge collaborating architect PTW Architects and builder Multiplex."
The annual awards are known as not only a celebration of the world's best tall buildings but as also being influential in awarding future contracts for projects globally.
The Lumiere residential tower in Sydney is a finalist in the Council for Tall Buildings' Ten-year Award. Photo: Supplied
The council's executive director Antony Wood said: "Part of our mission at CTBUH is to investigate and highlight the cutting-edge in sustainable urbanism in order to promote a better urban future, and this year's finalists exemplify the world's foremost examples in this regard."
Best Tall Building: Asia & Australasia:
– International Towers Sydney, Sydney
– Chaoyang Park Plaza, Beijing
– Huangshan Mountain Village, Huangshan
– Lotte World Tower, Seoul
– Marina One, Singapore
– Oasia Hotel Downtown, Singapore
– Poly International Plaza, Singapore
– Tencent Seafront Towers, Shenzhen
– Ping An Finance Center, Shenzhen
Best Construction Award
– The EY Centre, Sydney
– 461 Dean Street, New York City
– Ping An Finance Center, Shenzhen
– 56 Leonard Street, New York City
– 111 Main, Salt Lake City
Ten-Year Award
– Lumiere, Sydney
– Shanghai World Financial Center, Shanghai
– Bahrain World Trade Center 1, Bahrain
– Manitoba Hydro Place, Winnipeg
– Hegau Tower, Singen
– San Francisco Federal Building, San Francisco
– Manchester Civil Justice Center, Manchester
– Rose Rayhaan by Rotana, Dubai