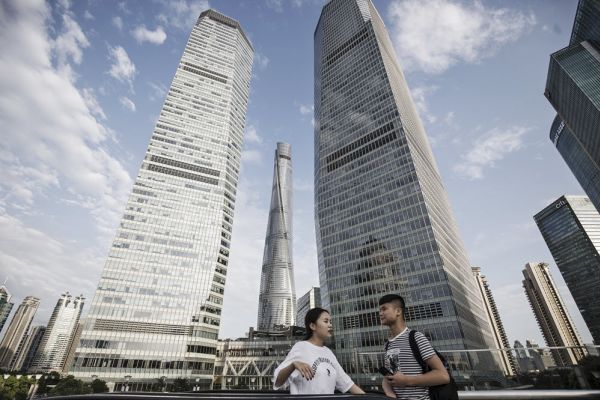 Australia's fastest lifts stuck in the slow lane compared with those in Asia, report finds
Lifts in Asia's tall buildings are now travelling at speeds of well over double the fastest lifts in commercial towers in Australia, a new report has found.
The two quickest lifts in the world are both in Chinese skyscrapers, and reach speeds of up to 20.5 metres a second, which equates to nearly 74 kilometres an hour if travelling horizontally by car.
In Australia, by contrast, the fastest lifts in our tallest buildings are only ascending at a stately 9 metres a second, or just over 32 kmh.
"The speed of lifts depends on the height of the building, and we simply don't have such tall buildings here," said expert Dean Morgan, director of LML Lift Consultants.
[dm-listing-recommendation experimentname='midcontent-listings' positiononpage='midcontent']
"They need to have a certain number of floors, and then some, to make sure there's a cavity over the top floor to make space for the overrun of a lift."
Two International Finance Centre tower in Hong Kong, which has the fifth-fastest lifts in the world. Photo: Robert Rough
The fastest lift in the world is in its second tallest building, the Shanghai Tower, according to research conducted by the Council on Tall Buildings and Urban Habitat, in conjunction with the Guinness World Records. A combined office and hotel mega skyscraper over 128 levels and 632 metres in height, its lifts travel at a speed of 20.5 metres a second.
The Guangzhou CTF Finance Centre has lifts that zip up its 530 metres and 111 floors at 20 metres a second. The next fastest is in Taiwan, the TAPEI 101, with a speed of 16.83 metres a second, and a height of 508 metres, with 101 floors.
The fourth speediest is in Japan, in Yokohama, where the 296 metre Landmark Tower has a lift that rises at 12.5 metres a second, faster than the fifth-placed, 412-metre Two International Finance Centre in Hong Kong, with a 10.6-metres-a-second lift.
In Australia our buildings do tend to be much shorter. Our tallest is Q1 on the Gold Coast at a mere 322 metres tall with 78 floors, Eureka Tower in Melbourne at 297 metres and 91 floors, and 120 Collins Street, also in Melbourne, at 265 metres and 52 floors.
Eureka's lifts travel at nine metres a second, the same as the four lifts in Sydney's 195-metre Liberty Place at 161 Castlereagh Street, the seven lifts in Q1 and the seven lifts in Brisbane's new 259-metre-high office building, 1 William Street.
The Liberty Place building, at 161 Castlereagh Street, Sydney, has lifts which are among the fastest in Australia. Photo: Supplied
Lifts in our low-rise buildings usually travel at 1-1.5 metres per second and on medium rise – between 10 and 15 floors – at 2-5 metres a second, says Mr Morgan.
"But when you're working on a lift and sitting on the top of the lift car, all those speeds feel extremely fast," he says. "When you're in the enclosed box underneath, not usually able to see out, it's impossible to feel how fast you're actually travelling.
"Today modern technology, aerodynamics, motor control, dampeners and sound-proofing give very smooth, comfortable rides."
What goes up also has to come down – but that doesn't happen at the same speed either, says Noel Smith, general manager of the Australian Elevator Association.
"With gravity pulling you down, when you go up, you don't get the same pressure on your body," he says. "But if you accelerated coming down, your ears would pop, your stomach would be in your mouth and everyone would feel sick.
"It's like when you drive over a hump in the road. You only feel it when you go down the other side, the same as you feel a hill when you start to drop."
A super-speed lift, such as in the Shanghai Tower, would probably come down at 12-13 metres a second, Smith says.
The Eureka Tower in Melbourne is another building with lifts that are among the country's fastest. Photo: AAP Image/Andrew Taylor
The Asian market focuses much more than Australia on the quality of a lift ride too, Mr Smith says. So there's lots of focus on supplying the best and most sophisticated lift equipment in the world, the 'Rolls Royce' of rides, whereas Australia is much more concerned with getting people in and out more quickly.
The new study also discovered the world's five tallest continuous lift runs. The Shanghai Tower was the top in this category too, with a lift run of 578 metres, while the Ping An Finance Centre in Shenzhen came in second at 573 metres. Third was
the CTF Finance Centre in Guangzhou at 516 metres, followed by the Burj Khalifa in Dubai at 504 metres and the Lotte World Tower in Seoul at 496 metres.
But many tall commercial buildings these days have lifts that go only to the level of a second lobby, where people then catch another lift to the top, says John Inglis, the president of the Lift Engineering Society of Australia.
"The lifts go in stages, maybe one to the first 50 floors, then the next to the other 50 floors," he says. "But every building will still have one or two lifts that go the full distance from the ground to the top level for the fire department. There has to be a
lift that goes all the way to the top if there's a fire." This is usually a goods lift.
There are now some lifts that detect your smartphone and will take you to the right floor, and an app enabling you to send a code to a friend's phone to allow them to your floor, says Mr Morgan.
The MULTI elevator system travels horizontally as well as vertically. Image: ThyssenKrupp
A new feature in some commercial high rises makes sure a lift doesn't stop for employees from rival companies who might happen to work in the same building and get into the same lift  – something in use at the moment in Sydney for two competing legal firms. In that situation those who got in last would have to get out and get the next lift.
"There are also lifts working horizontally as well as vertically to take you up a building and then across to different parts too," says Mr Morgan. "They're currently testing those in Germany."
But will lifts continue to get faster as buildings grow higher? No, says Mr Inglis. "I think that's very unlikely," he advises. "They say they've now reached their limit.
These lifts take a lot of machinery and power to drive them, and the changing pressures they put on passengers are also a limitation."
[dm-listing-recommendation experimentname='below-content-listings' positiononpage='belowContent']
Keep up with Commercial Real Estate news.
Keep up with Commercial Real Estate news.