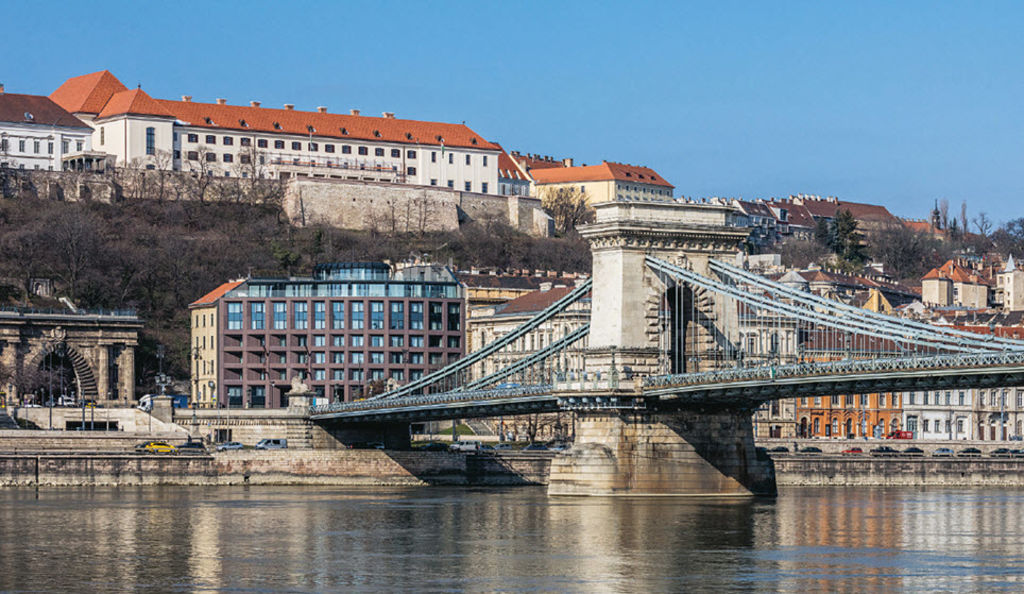 Australian architect Anthony Gall on his 30 years in Hungary and how he came to win that country's highest architecture prize
An Australian architect is redrawing history in south-eastern Europe, designing an award-winning hotel in one of Hungary's most treasured heritage areas, a Calvinist parsonage in Transylvania, and the building set to become the continent's biggest biodome.
Along the way, he's taken out two of the region's top architecture prizes, too.
Dr Anthony Gall, 53, who settled in Hungary's capital Budapest 30 years ago after winning scholarships to study there during his University of Queensland architecture degree, is also teaching a whole new generation of European architects the tenets of Australian architecture.
"We get taught quite well in Australia about the design process and, rather than ego or your own style, it's about how you build something respecting the history of the site and the people around it, and how you make a project work," he said, over coffee in a restored heritage hotel in Budapest.
"That's not so different from the arts and crafts movement's way of working. They were aware of the environment and thought about how people lived when working on the design. So, I was able to introduce more of a studio-based design element that isn't so well known here but is quite common in Australia."
Now with a raft of acclaimed work in the Balkans, Dr Gall has become a much-admired fixture on the European architecture scene. He's also been appointed dean of architecture of a university in Budapest, a city which, together with the Austrian city of Vienna, were significant centres of art and architecture within the Austro-Hungarian empire at the turn of the 20th century.
One of Dr Gall's best-known projects is the Hotel Clark, on the banks of the Danube at the foot of the Széchenyi Chain Bridge, which links the two parts of the city – Buda and Pest – and was considered one of the engineering wonders of the modern world when it was opened in 1849.
It was a delicate area in the national consciousness: the site of a World War II fire-ravaged bank that had been left derelict for 70 years because of disagreement over what should replace it. On an oddly shaped constricted space, it was within sight of the famed Buda Castle, a view that everyone was keen should not be distracted from.
But Dr Gall's result, a semi-circular earth-coloured modern façade with interiors that successfully blended heritage and contemporary features, was widely regarded as a triumph.
"Before we started, it became quite a debate," said Dr Gall, laughing. "It was about how you build in heritage areas. I think a lot of people want to show off all the time, but it's about how you can show restraint yet still be modern and make new things work. And that's what we do best."
That hotel was one of the main reasons Dr Gall was last year awarded Hungary's highest award in architecture, the Miklós Ybl Prize, comparable here to the Australian Institute of Architects' Gold Medal.
That came on top of another of Europe's most prestigious awards for heritage reconstruction, the Europa Nostra, given for his work as chief architect on the restoration of Budapest's famed zoo and botanical garden. The zoo and garden opened in 1866 and its first buildings were designed by renowned architects of the era.
Many of the buildings were damaged during WWII and some had to be pulled down and replaced, and others substantially reconstructed. Dr Gall, of Gall and Associates, has worked at the site, on and off, for 25 years now, although he returned to Australia in 2004/5 for a teaching stint at his old university.
He also designed The Savannah Stall and the attached Elephant House as well as, fittingly, The Koala House.
"Half of the zoo had disappeared in the war as it was right next to the railway station and had been bombed," said Dr Gall. "The elephant house looked like an eastern palace and there were lots of wooden buildings that looked like they'd come from Transylvania.
"But these types of architecture had gone out of vogue because they were connected to the Hungarian identity, which wasn't favoured during the socialist period, and not liked by some modernists. So often the buildings were knocked down rather than saved, and had to be rebuilt again from scratch.
"Originally the zoo, of its time, had little cages for animals and big areas for people, but we changed that around to give the animals lots of spaces and less for people."
Many of the most prized heritage buildings at the zoo were designed by the iconic Hungarian architect Károly Kós, also a writer, illustrator and politician. An arts and crafts architect, in the style of Britain's William Morris or Robin Dodds in Australia, his work fascinated the young Dr Gall, who decided to write his university thesis on him.
"He hadn't had a lot written about him as he'd fallen into disfavour under socialism, and people couldn't even talk about him," said Dr Gall, who's married to a Hungarian, with whom he has three children, one of whom is studying architecture.
"But I decided to write a book and, coming here at the time the previous political system was breaking down [after perestroika in Russia], I studied him and wrote about him in my Australian naivety and ended up in the strange position of knowing more about him than people here. Today, he's a national hero."
The 500-page book was eventually published after 10 years' work in 2002 and Dr Gall began winning more and more recognition for his own work. Among his burgeoning portfolio was a Calvinist parsonage and Catholic chapel in Transylvania – once part of Hungary but now of Romania; the Beres winery in Hungary's wine-making region Tokaj, which was voted the country's most beautiful vineyard in 2015; and the transformation and extension of a derelict cinema into a stunning 7000-square-metre performing arts centre in Hangvilla, Veszprem, a city named a European capital of culture in 2023.
Current projects include a new Olympic velodrome, part of Hungary's unsuccessful bid for the 2024 Olympics. A keen cyclist, Dr Gall hopes it might still play a role in a bid, perhaps for the 2028 Games.
Then there's the 18,000-square-metre biodome he's designing with a number of other prominent architects in Budapest, with half to be taken up by a subtropical climate with lush flora and fauna that once existed in the Carpathian Basin, and the other half an aquarium, all under what looks like a grassy hill and glass planes. "It's the biggest one of its type in Europe and has been designed to 'morph' into the area," he said.
But throughout it all, it's his Australian training and outlook that he believes has stood him in good stead. "I call it a kind of Australian-English pragmatism," said Dr Gall.
"It's about how design can be in synthesis with a lot of cultural and social factors, and achieved by experimenting through process; taking a problem and working through it rather than having a great vision imposed on it.
"It's about working it through and through and through, and then being creative rather than dogmatic – and that's something from our Australian design culture."