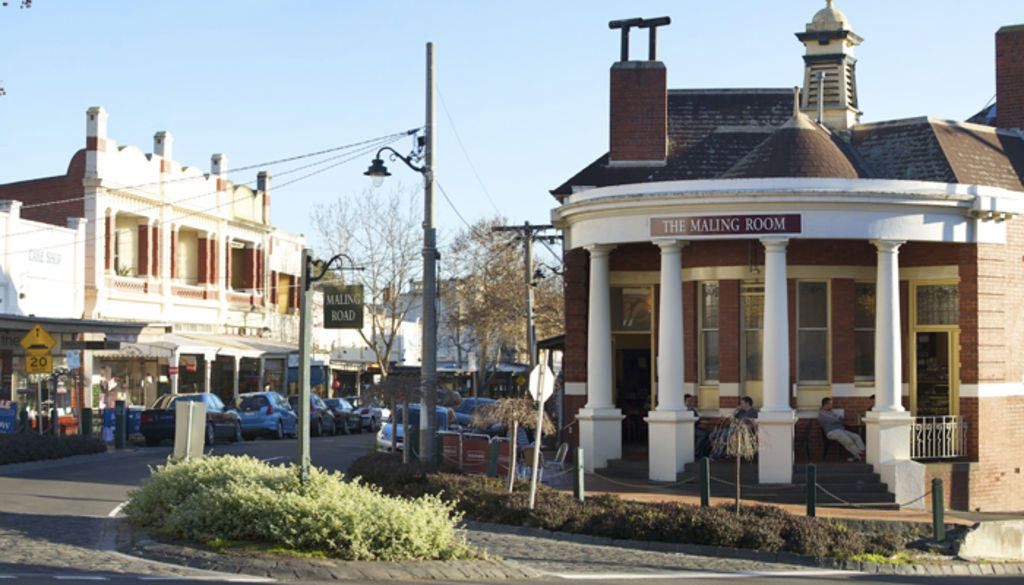 Australia Post sends off Canterbury trophy asset
Stamping the end of an era starting more than a century ago, cash-strapped Australia Post is selling the longest-held property within Melbourne's most tightly held commercial precinct.
The Maling Room, in Canterbury, is the latest asset approved for sale by Ahmed Fahour, Australia's highest-paid public servant, who took control of the government department after a successful stint leading National Australia Bank.
Ceasing operation as a post office in 1996 and now fully leased to five tenants, the 930-square-metre site occupying the prominent south-west corner of Canterbury Road and the quaint Maling Road shopping strip is expected to exchange for about $6 million.
"This sale represents only the ninth retail purchasing opportunity on Maling Road in the past decade," Colliers International's Tom Noonan said, describing it as "the epitome of a trophy asset". Noonan is marketing the property with colleagues Tim McIntosh and Ben Baines.
A year ago, Australia Post banked $40 million selling a 9200-square-metre site in Rosslyn Street, West Melbourne, to developer Trenerry Property Group, after lodging an application with the planning minister for a multi-building complex containing 501 flats.
In mid-2013, it reaped $23.9 million selling the CBD's historic Eliza Tinsley building at 640 Bourke Street. That 2764-square-metre block was offered with a permit for a 42-level, 563-unit tower.
Last year, Fahour applied for a $4.5 million extension and renovation of Hawthorn's historic Invergowrie estate, which he bought for about $20 million in 2013.
Abrahams buys $23m CBD asset
Fresh from the $10.5 million sale of 14-16 McKillop Street – a building he bought for $4.3 million in 2011 – prominent Melbourne lawyer Adrian Abrahams has bought another CBD asset.
At 406 Collins Street, Abrahams is paying Acupuncture Distributors Australia and New Zealand's owner, Dorian Ribush, $23.1 million for the 12-level city office formerly known as Praemium House.
With 3756 square metres of lettable area and on a 441-square-metre block, 406 Collins Street sold soon after being marketed by Savills Clinton Baxter and Nick Peden, and after another agency held the listing for 15 months. The sale price returns a solid capital gain for Mr Ribush who in 2006 paid $14.6 million.
Matthies offloads Canterbury site
Aged-care builder and service provider John Matthies has decided against redeveloping a supersite in Canterbury's tree-lined Balwyn Road, on-selling the opportunity for a speculated $5 million, or $1.5 million more than  he paid in mid-2013.
A private investor is understood to have outmuscled commercial users, including aged-care providers, for the former Canterbury Private Nursing Home, near the Canterbury train station.
On a 3756-square-metre block, the property includes a historic home up front, with a large extension occupying the bulk of the backyard. Colliers International's Ben Baines and Brendan Wenke marketed the property with Kay & Burton's Andrew Baines.
In 2012, Matthies purchased the iconic Saint Cloud estate – until that moment, South Yarra's largest privately owned land holding. The semi-circular home, soon to be razed for an aged-care facility, featured extensively when it was new, in the 1992 film Romper Stomper.
An acre of Blackburn sold
A consortium of local and interstate investors is paying about $8 million, sources speculate, for a major Blackburn development site with permission to build 105 apartments.
A consortium of local and interstate investors is paying about $8 million for a Blackburn development site.
The 1-5 Sergeant Street parcel was offloaded by an astute investor who amalgamated the blocks separately then obtained the valuable permit. He acquired the parcel known as 3-5 Sergeant Street for $3.9 million nearly a year ago.
Combined with number 1, the 4127-square-metre supersite was marketed by Gross Waddell's Raoul Salter and Michael Gross with Colliers International's Hamish Burgess, Bryson Cameron and Trent Hobart.
Box Hill central sale
Another major apartment development is earmarked for Box Hill following the speculated $8 million sale to a builder of a central 1390-square-metre site.
At 17-19 Arnold Street, between the Box Hill Institute and Box Hill Hospital, the property is currently configured with two low-rise homes and a car park.
It was marketed to builders being within Major Development Precinct F of a local structure plan, and capable of accommodating towers of more than ten levels. Peter Cox and John Hoskins of agency Hoskins represented the private investor vendor.
Buyer for Carlton Unilodge?
The controversial vendor of a Carlton student accommodation complex, built into what was once the Royal Women's Hospital nurses quarters, may have found a $30 million buyer, according to sources.
The 12-level UniLodge@Melbourne building at 746 Swanston Street includes 281 rooms with the capacity to sleep 313 students.
Accommodation provider UniLodge has a management agreement for six more years. Opposite the University of Melbourne, the complex was marketed as fully occupied by Colliers International's Matt Stagg, Guy Wells, Daniel Wolman and Oliver Hay who said no deal was concluded.
A multi-level basement, subdivided from the Unilodge apartments, recently sold separately.
The vendor, Majlis Amanah Rakyat, or MARA, a Malaysian government aid agency, last June made headlines for a rort allegedly involving kickbacks and paying above market value for a Caulfield East student accommodation complex.
Vasey RSL offloads another blue-ribbon block
Vasey RSL is banking a speculated $8 million selling a former Elsternwick nursing home – the latest in a string of blue-ribbon sites the organisation has offloaded recently.
Vasey RSL has sold a former nursing home at 87 Seymour Road, Elsternwick for a reported $8 million.
The 3735-square-metre site at 87 Seymour Road, known locally as White Lodge, includes an early Victorian residence surrounded by double-storey brick apartment complexes.
With 44 one-bedroom flats, the property was listed in February targeting developers who may propose a medium-density development capable of accommodating more than 100 units. The site is a short walk to the Caulfield Hospital, Harleston Park and the Glen Huntly Road shops and public transport.
Vasey RSL was represented by Gary Peer's Darren Krongold, Sally Zelman and Phillip Kingston.
Over the past five years, Vasey RSL has offloaded numerous large former aged care facilities, including 20 Lisson Grove, Hawthorn, which sold for $6.9 million in 2012.
Three separate Brighton sites – at 209-213 Bay, 18 Cochrane and 171 Church streets, were also listed carrying price hopes totalling more than $20 million. In nearby Sandringham, Vasey RSL sold 56 Abbott Street for $1.5 million in 2012.