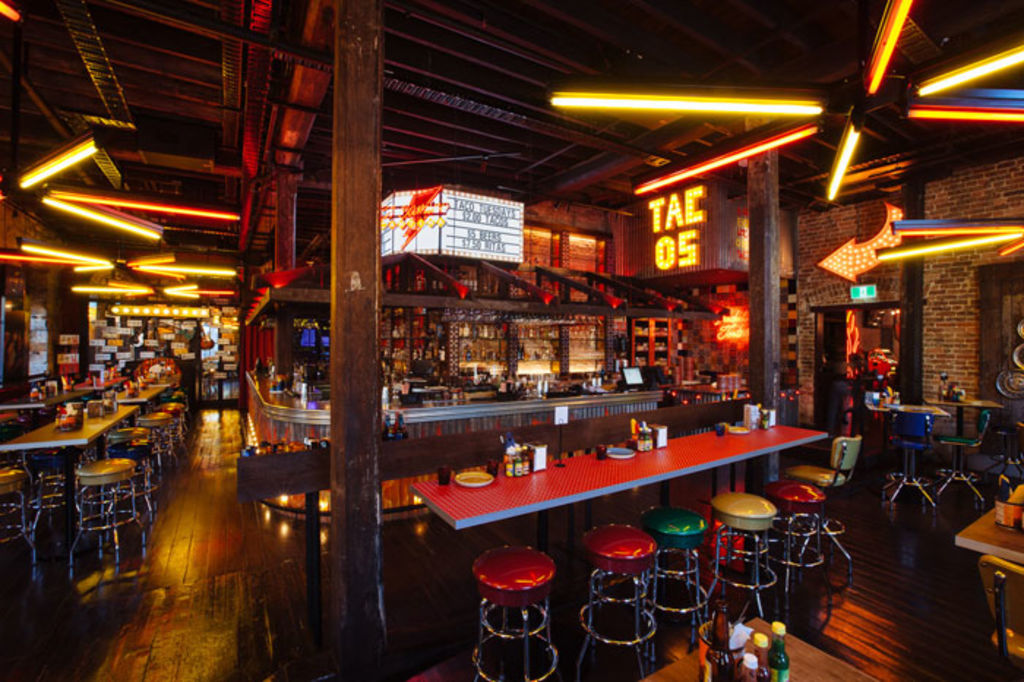 Appetite for change comes at a price as restaurant fit-outs cater to expensive tastes
Imagine the prospect of spending $1 million every time you thought the house needed an update.
That's the situation some of the country's leading restaurateurs face as they race to keep up with diners' expectations by introducing the latest interior designs.
With so much choice available, and facing increasingly fickle customers, they're spending big dollars on the look and feel of their restaurants and bars.
Urban Purveyor Group, which owns iconic brands such as Sake Restaurant and Bar and Bavarian Bier Cafe, can spend anywhere between $750,000, on small restaurants such as Sake Junior, to $5.5 million on the mega restaurant Munich Brauhaus Melbourne, said the group's chief executive Thomas Pash.
It can take up to four years for that investment to be made back in restaurant profits, but Mr Pash argues that fresh fit-outs are an important component of staying ahead of the competition and maintaining currency with diners.
Munich Brauhaus South Wharf Melbourne opened in August 2014. Photo: Nicole England
"It is competitive out there," Mr Pash said.
"We plate good food, but … it's all about the experience and selling the brand. We go and sweat out the really painstaking details and make sure the fit-out reflects that.
"Whatever the concept is, we really try and look out to incorporate that in the final design."
Rival dining supergroup Merivale – of Sydney's Coogee Pavilion, Mr Wong, The Paddington and The Newport fame – faced the same challenge, said Akin Creative group architect Kelvin Ho.
"Customers are becoming increasingly time-poor and also more knowledgeable so the expectations have risen for what a great hospitality experience should be," he said.
At Coogee Pavilion, diners are served gelato and coffee on arrival. On the ground floor there's casual dining and a games room for all ages offering petanque, giant Scrabble and table tennis. Upstairs, at the Rooftop bars, it's for grown-ups only.
While the food and the fun times are all about sharing, the financials are not. Merivale declined to comment about the cost of its fit-outs, but Mr Ho said competition and customer experience were setting the bar higher than ever.
"The standards are rising across the board – everything from the service, the produce and the design," he said.
Even restaurant refits are attracting a high price tag. Urban Purveyor's latest project El Camino Cantina, a refit of the former Ananas Bar and Brasserie located in a heritage-listed building in The Rocks, in Sydney, cost about $1.2 million.
Inside El Camino Cantina. Photo: Kai Leishman
The restaurant embraces the Tex-Mex dining experience and features a flame-painted bar, bright neon signage and lighting, huge wall murals of desert scenery and even a "ring of fire" entrance.
That "experience" word crops up again. Melissa Collison, whose interior design studio has been behind several Urban Purveyor projects, including El Camino Cantina as well as Sake Flinders Lane and Double Bay, believes restaurant design is increasingly about catering to diners from all walks of life. They want much more than good food on a plate – the music has to be right, as does the lighting.
"When you look at your partner or your friend and say 'What food do you want?' it's actually about what experience do you feel like," Ms Collison said.
Melissa Collison, the designer behind restaurants such as El Camino, pictured, and Sake. Photo: James Alcock/Fairfax media
"It's becoming more and more like fashion; there are strong trends in the marketplace that are followed. The really high-end fine dining thing has taken a backwards step.
"There's a real step now to organic and farm-to-table, and accessible menus.
"El Camino, for example,  is highly decorative. It's a fun bar, it's not too serious, if you take your children down there and they spill food on the floor, it's totally fine."
Ms Collison said the time between fit-outs was becoming increasingly short as the industry followed trends.
The turnaround between design phase and build can be as little as six weeks in some cases, a reflection of the level of competition and the tight nature of the hospitality real estate space in CBD markets.
Inside Sake Flinders Lane, which opened in April 2016. Photo: Nicole England
Urban Purveyor Group's Mr Pash said creating such wonderful design in these restaurants came with the bonus of "selling the brand", as diners took to social media to show the world.
"Definitely if you look at the social media platforms, you look at Snapchat and all the things like that, the design is choreographing the experience between iconic things, reconcilable brand items," he said.
"With El Camino, for example, we tried to look for a great photo moment, as long as it aligns with the brand."
Focal points such as a lipstick-stained bathroom mirror, images of geisha girls on the floor at Sake in Double Bay, right through to a car hanging from the wall act as "on-brand" vectors for smartphone cameras in Urban Purveyor's restaurants.