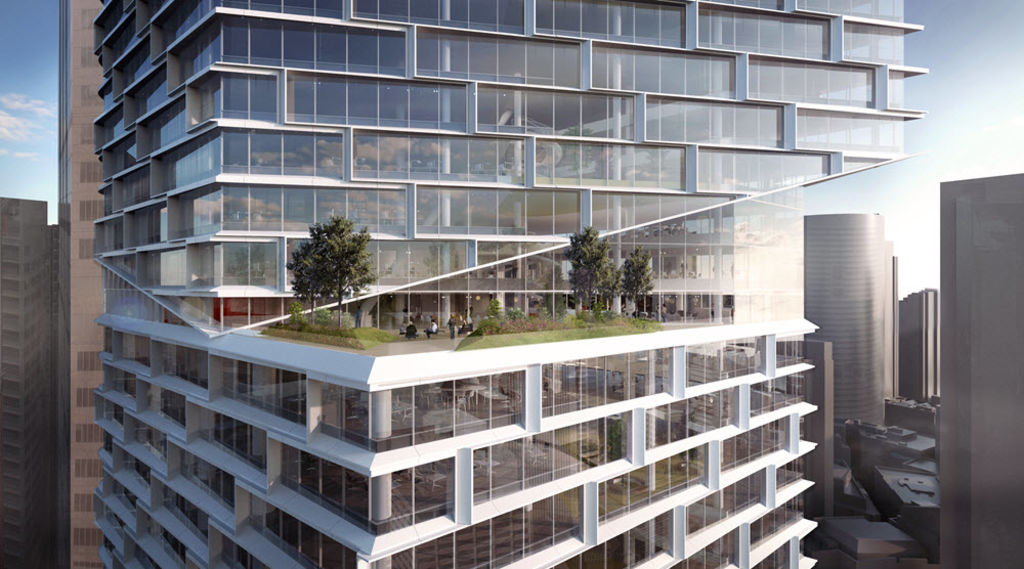 AMP's new Quay Quarter Tower to be a building of 'so many firsts'
The $1 billion AMP Quay Quarter Tower about to revitalise Sydney's Circular Quay will be the first new commercial building in Australia to be built around two-thirds of the retained core of an existing old high rise on the site.
The resulting carbon saving, it was announced on Monday, will be the equivalent of 10,000 Sydney to Melbourne air flights' worth.
"In addition, we believe this is going to be the first building in Australia – and perhaps even the world – to have a double-deck lift installed into an existing building," said Robert Saidman, the principal of Sydney building services company Arup, which specialises in sustainable refurbishments.
"With a double-deck lift you save so much space at the core which has helped make this such an efficient design, effectively doubling the area of the old building by adding an extra 45,000-square-metres."
Work will start on the 50-storey tower at 50 Bridge Street, with stunning views over the harbour, next year, with completion expected in 2020. With 90,000 square metres of premium-grade office space, 40 per cent of which will be taken up as the headquarters of anchor tenant financial services and asset management company AMP, it's being hailed as a benchmark development in the Sydney CBD.
Artist's impression of the Bridge Street view of the tower, building for which is expected to start next year.
"It is a building that has so many firsts," Eve Clark, design director of AMP Capital Investors, told the annual international conference of the Council on Tall Buildings and Urban Habitat, being held this year in Sydney, Melbourne and Brisbane.
"It's certainly the first building, too, to be offering so much totally connected amenity on the ground plane, and the first to have so much open atrium area.
"It will be a global flagship asset for us, offering so much top-quality commercial space and it will become a retail lifestyle destination. It sets new international benchmarks in excellence in work environments."
The tower is in the form of 'campus-style' offices formed into a series of five vertical villages stacked at different angles on each other, designed by Danish firm 3XN Architects, their sister company GXN Innovation, BVN Architects and the newly appointed Design Research Studio.
The building will be behind AMP's existing waterfront tower at Sydney's Circular Quay. Image: Supplied
The building will offer 2000-square-metre floorplates, with an atrium cut all the way through the building from bottom to top to maximise the daylight, sun and views for the people working inside. The double-deck lifts are essentially two cabs on top of each other which allow passengers on consecutive floors to use the lift at the same time.
Fred Holt, a partner at 3XN, says Quay Quarter Tower was designed from the inside out, with a behaviour psychologist advising on what workers really wanted from their office space. "It's a common catalyst that people say they want to be able to socialise at work," says Holt.
"Users all say they want a structure that facilitates that. It's all wound around the idea of collaboration and connection, sharing comfortable, stimulating spaces that help provide opportunities for interaction which aids creativity and raises productivity."
The core of the current 1976 building which, in its time, was Sydney's tallest at 186.5 metres, will have a third clipped off its vertical reach, and then the new exteriors and interiors will be grafted onto the existing slabs. Part of the building by the top will be sliced off to provide extensive atrium space.
The interiors will also be open through all the 'villages' with circular stairs winding their way up the atria and walls of glass to maximise the views, sunlight and opportunities for office staff to see what their colleagues are doing.
"Diversity in the type and character of spaces across large-scale floors supports a combination of work styles, from intimate gatherings to large-scale knowledge sharing, creating real workplace amenities," Holt says. Through enhancing the everyday working environment, architecture can shape behaviour."
The tower is targeting a 6-star Green Star rating 5, particularly through the design of the façade's sun-shading hoods that wrap the stacked blocks of the tower, says Chris Nunn, head of sustainability, real estate, at AMP Capital Investors. They eliminate the need for blinds, and the electricity to run them.
"We've found this green correlation is very popular with the market, leading to higher demand for green buildings, low vacancy rates and better returns," he says.
Inside, the interiors are being designed by Tom Dixon of his eponymous Design Research Studio in Britain. Extensive research has shown, he believes, that people love to have a seamless mix of facilities between pleasure and work, and are attracted to companies with offices offering that.
Modelled on the new business clubs springing up around London, he says Quay Quarter Tower will, as a result, have comfortable soft furnishings, a relaxed environment, plenty of different spaces for work or meetings, quality coffee and a roof terrace for exercise, casual recreation and relaxation.
"The less it feels like an office, the more it becomes a village with all the quality of services and finishes you would find in a boutique hotel, the more successful as an office it will become," Dixon says. "We'll be offering variety and plenty of outdoor space to make it feel like a village with its own village green on different levels."
There'll be an additional 8000 square metres of retail across the precinct with a series of revitalised laneways all around the building, while AMP's second building, behind the first, will be 'freshened up' and undergo an internal refit.