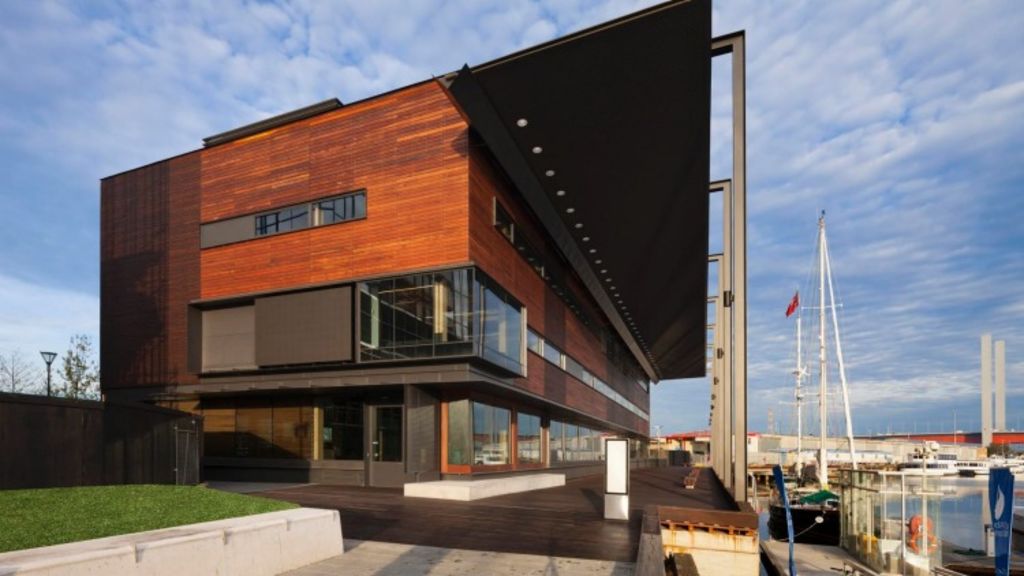 Alex de Rijke creates inspirational timber architecture
Building material cross laminated timber (known as CLT) possesses a warmth and tactility that lends itself to institutional and domestic environments.
That quality has been explored with stunning results by British architect Alex de Rijke, founder of dRMM in London, a long-time timber advocate.
In a series of talks in Australia, sponsored by Wood Solutions, Rijke has advocated that new engineered timbers, such as CLT, can replace concrete in large-scale buildings and also help save the environment; so long as demand doesn't outstrip timber plantation supplies.
Rijke introduced CLT to Lendlease​ leading up to the London Olympics and, in doing so, he says, played a part in changing Australia's construction history.
Melbourne is now home to Forte, Australia's tallest engineered timber apartment block, and Library at the Dock.
Forte in Docklands. Photo: Lendlease
CLT is made by stacking timber panels together at right angles and bonding them under high pressure in a factory to make one sheet.
"It's incredibly precise because it's made under computer-controlled conditions. Because it is flat packed, transport and storage is easy. You can make a whole house facade in one sheet and it's much faster, cleaner and safer to construct than with conventional materials."
However, the most obvious benefit of engineered timber is that timber hoards carbon, so it's environmentally friendly.
dRMM has used CLT in multiple projects including the Kingsdale School sports hall in London and a studio home for Hackney artist Richard Woods, where the artist's trademark cartoon-style illustrates the facade and staircase.
"This is a 100 per cent timber house, so all the floors, roof insulation and cladding are timber. Glass is the only other material, and that's unique in London," he says.
dRMM's beautiful sports facility for Kingsdale School in London. Photo: Michael Mack
As a domestic material, it's very practical.
"To hang a picture, you don't need to look for the stud or drill into a hard concrete wall. The whole house can be made in one material so you can change it easily, cut holes in it, mess with it."
CLT is one-fifth the weight of concrete but incredibly strong, so you can have much lighter foundations.
For this reason, Library at the Dock rests on a 75-year-old wharf, a structure that would not support the weight of a concrete and steel building without additional piling.
There are also perceived health benefits because it's dry and clean to use in construction.
"The only real danger is that it's heavy, so you have to be careful about procedures."
The interior of WoodBlock House by Alex de Rijke, printed with artist Richard Woods' cartoon-style artwork. Photo: Alex de Rijke
Rijke struggles to find a downside.
"If you were putting up a timber construction in the rain, it might stain depending on the level of pollution in your area."
However, scaffolding will address this issue.
You have to choose carefully to avoid toxic glues.
"One company makes CLT without glue and packs it together with hardwood pegs, which is very interesting."
And the obstacles to its wider use? Cultural prejudice.
"It's only in the last 200 years that we've stopped building in timber. Steel and concrete construction has overshadowed everything."
Getting insurers and financial institutions on board is one challenge.
"Mortgages and insurance may also be harder to raise on a new product," he says, dismissing the perception of fire risk.
"I think houses could be valued differently and perhaps will be in the future. You might value a house depending on how much carbon it has hoarded or released," he says.
In the Forte apartment block, much of the CLT is covered by white plasterboard.
"Lendlease should now have the confidence to be able to commission work that's more expressive of the material being used. It just needs the right designer, the right confidence and conditions. Forte was a prototype and now they will do something way, way, way more exciting."